JFNY Literary Series invites Dean Stephen Snyder as a Guest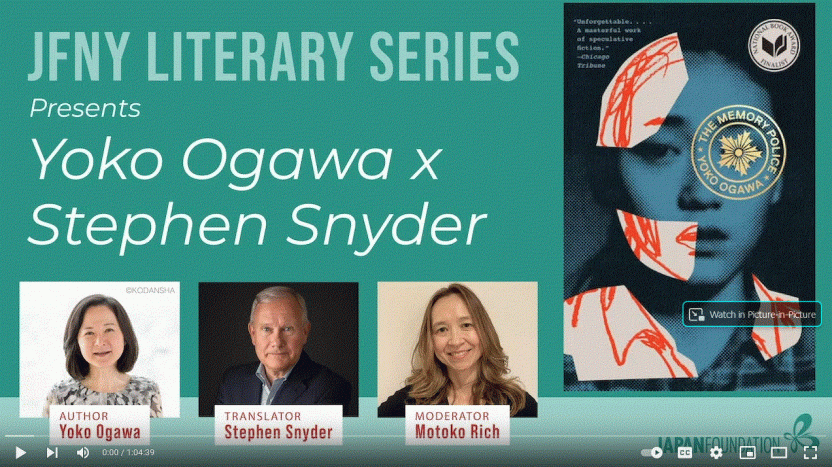 Stephen Snyder is the Dean of Language Schools and teaches Japanese at Middlebury College.
JFNY Literary Series invites notable writers in Japanese literature and their translators to discuss their work, speak on the art of translation, and touch upon the current literary scene in Japan. This session features renowned Japanese author Yoko Ogawa and her translator Stephen Snyder, moderated by Motoko Rich, Allison Markin Powell from the collective Strong Women, Soft Power and interpreter Bethan Jones also join the session. The English translation of Ogawa's book The Memory Police nominated for the International Booker Prize and the National Book Award.
Speakers Yoko Ogawa has written more than 20 works of fiction and nonfiction. Her fiction has appeared in the New Yorker, Zoetrope, and A Public Space. She has received every major Japanese literary prize. Her works have been translated into more than 30 languages.
Stephen Snyder, Kawashima Professor of Japanese Studies at Middlebury College, serves as Vice President for Academic Affairs and Dean of Language Schools. He has translated works by Yoko Ogawa and Kenzaburo Oe, among others. His translation of Ogawa's The Memory Police was a finalist for National Book Award for Translated Literature and for the International Booker Prize and winner of the American Book Award.
Motoko Rich is the Tokyo bureau chief of The New York Times, where she covers Japanese politics, society, gender, and the arts, as well as news and features on the Korean peninsula. She has covered a broad range of beats at The Times, including real estate, the economy, books, and education.