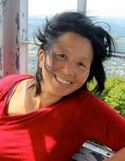 I am writing to share the sad news that Anna Sun, the former coordinator for the Chinese School, and for the Chinese, French, and Japanese Departments at Middlebury, died on Saturday, October 15, after a brief battle with pancreatic cancer. She was 60 years old.
Anna worked at Middlebury from 1995 to 2014. Subsequently, she worked as a caregiver, a babysitter, and a tutor. In the past year, she developed a curriculum to help local students become bicultural and biliterate in Chinese. After pausing her college education while raising her kids, she earned a bachelor's degree and an ESL certification by taking classes at Johnson State College—now Northern Vermont University—and St. Michael's College in Colchester. During the pandemic, Anna devoted hours to reading short stories by her mother, Lihua Yu—a renowned writer—in Chinese, working virtually with teachers in China. After her mother's death in 2020, Anna advocated for her writing to be translated into English, a project that we will continue in her honor. 
Steve Snyder, dean of the Language Schools and vice president for Academic Affairs, recalled Anna as a beloved member of the Language Schools family for many years.  
"Her colleagues remember her generous nature and her constant concern for the students in the Chinese School. She understood and lived the global values of the Language Schools in a deeply human way, and we will all miss her." 
Anna was born in Princeton, New Jersey, on April 27, 1962. Her parents were both first-generation Chinese immigrants to the United States. Her father, Chih-Ree Sun, was a physicist. Anna was raised for the first five years of her life in Taiwan by her maternal grandmother, Liu Hsing Ch'ing. This experience affected Anna deeply, creating a lifelong connection to her heritage and culture. After returning to the United States, Anna lived in Queens and Schenectady, New York. She moved to the town of Middlebury to attend college and would spend most of the next 42 years there. 
While a student at Middlebury College, Anna met her former husband, Tom Vanacore. They married in 1983, then moved to Florence, Italy, where their daughter, Tara, was born, and stayed there until 1985. Their son, Michael, was born when they returned to Vermont. 
One of Anna's greatest joys was becoming an Abo and Nainai (grandmother), and she spent some of her happiest days exploring Washington, D.C., and Vermont with her three grandchildren.  
Anna is survived by her daughter, Tara Sun Vanacore '06, who attended the Chinese School in 2005, son-in-law Joshua Axelrod '05, and their children Silas and Vera; her son, Michael Vanacore, who attended the Italian School in 2007, daughter-in-law Rosa Saavedra-Vanacore '10, who also attended the Italian School in 2007, their son Manuel Gustavo; and other family members. 
Anna's family suggested that memorial gifts in her honor may be made to the Respite House in Colchester or to the Lois McClure-Bee Tabakin Hope Lodge in Burlington, which provides free lodging to cancer patients and their caregivers. 
A memorial service will be held on November 19 at the Champlain Valley Unitarian Universalist Society at 2 Duane Court in Middlebury at 10:30 a.m. The service will be livestreamed and recorded. The links will be posted at her memorial site. 
Sincerely,  
Caitlin Goss
Vice President of Human Resources and Chief People Officer