In Memoriam: Daniel F. Jourlait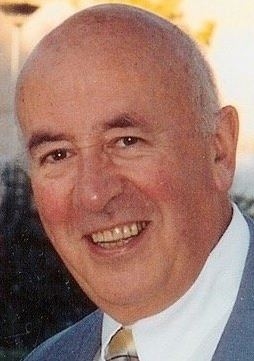 Former Language Schools professor Dr. Daniel F. Jourlait died peacefully, surrounded by his daughter, Claire, and son Marc, on August 3, 2022, in Paris, where he had been living since the summer of 2019 after living 40 years in Aix-en-Provence. He taught for many years in the Betty Ashbury Jones MA '86 School of French during the 1970s and 1980s and served as director from 1987 to 1997.
Edward C. Knox, director of the Language Schools from 1982 to 1993, writes, "Daniel Jourlait was a pillar of the School of French program for over 15 years, and then became its director for 10 more. All will remember him as the most generous and thoughtful of colleagues. Many will also remember him as Molière's bourgeois gentilhomme, in a role he filled to perfection. My keenest personal memory is—along with his love of music—his annual role as the leading tenor in the School of French choir, which frankly gave me a place to hide. He was always a pleasure to work with and his devotion to French language and culture, and to the life of the French School, was a model for us all."
Daniel François Jourlait was born in November 1934 in Paris, France. He grew up in Paris and the Jura region close to the French-Swiss border. After graduating from the Sorbonne, where he earned a Doctor of Philosophy, he sailed to New York, his first of many trans-Atlantic trips, and moved to Ann Arbor, Michigan, where he had been invited to teach at the University of Michigan by Professor Jean Carduner, who later became the director of Middlebury's School of French. While at the University of Michigan, Daniel met his wife, Anne McKenzie, an alumna of Middlebury's Class of 1960, who was pursuing her PhD in comparative literature. They moved to Toronto, Ontario, Canada, where he taught at the University of Toronto for nearly two decades. In 1980, he and his family moved to Aix-en-Provence, where he taught at the Institut pour Etudiants Etrangers at the Université Aix-Marseille.
His first summer at the School of French was 1972, the same year Jean Carduner became director. He and Anne moved into le Château and lived that summer in the same east tower room Anne had lived in while an undergraduate. She would tell people, "Only my roommate had changed!" They then spent almost every summer at Middlebury, passionately engaged in teaching and actively participating in all the cultural and social activities on campus during the summer session. Aline Germain-Rutherford, former professor and director of the School of French from 2006 to 2014, remembers, "Daniel was all kindness and generosity, and I will always remember the image of him and his dear wife, Anne, welcoming us each summer with such graciousness, at the Château de l'École française, 'their' Château, in Middlebury. In his role as director, Daniel combined great intellectual rigor in bringing together a high-quality faculty each summer; humor and fun (we cannot forget his magnificent performances at the School of French theater); and gourmandise thanks to his great talents as a chef at the annual School of French picnic. Daniel was, for many of us, the very heart of the school. And for me, who followed him a few years later as director, he was an exceptional mentor who gave me confidence at the head of that wonderful school."
Predeceased by wife Anne, Daniel is survived by son Marc and his wife Jennifer, MA French '93, MA Spanish '97; daughter Claire '95, MA German '97 and husband Guillaume; and four grandchildren, Matthew, School of Spanish '17, James, Anthony, and Benjamin. 
A small family ceremony was held August 13 at the Père Lachaise Cemetery in Paris. On September 30, the family will hold a celebration of Daniel's life at Reid Hall, 4 rue de Chevreuse, in Paris from 5 to 8 p.m. for any who can make it. You can RSVP to jourlait@gmail.com. In lieu of flowers, the family requests donations be made to the Little Sisters of Le Tubet in Aix-en-Provence. Please contact Marc Jourlait at jourlait@gmail.com for details on how to donate.
Posted on News and Announcements for Middlebury College.