Seeking the universal in the specific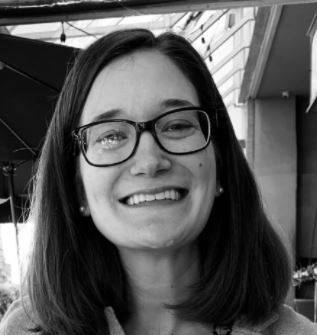 As if earning your doctorate weren't intense enough, try adding in the worldwide changes brought on by COVID.
"I defended the prospectus for my dissertation the day before UCLA shut down," says Rebecca Glasberg, a Ph.D. student in the French Section of the Department of European Languages and Transcultural Studies. "Now I'm working on writing my dissertation, but all my experiences doing this are during a pandemic."
The fact that Glasberg's dissertation charts new academic waters compounds the challenges she faces as she moves closer to completing her doctorate. Glasberg draws on interdisciplinary sources to examine representations of Jews and Jewishness in North African postcolonial French-language literature. In doing this, she investigates how authors of Muslim background have challenged dominant narratives of interreligious conflict in the area.
"The field of Jewish studies is generally dominated by narratives of European Jewishness, so my focus on Jews from North Africa—and in particular authors writing about them who are non-Jewish—puts me in an unbelievably specific niche," Glasberg says. "I'm very lucky to be at UCLA and have the support of the Alan D. Leve Center for Jewish Studies to explore really interesting questions."
Born and raised in Virginia, Glasberg grew up knowing she wanted to be an educator. Although she loved her seven years as a middle and high school French teacher, she was deeply inspired by the intellectual rigor and emphasis on curiosity she found while earning her Master's in French-language program at Vermont's Middlebury Language Schools. The decision to proceed to UCLA, where she was impressed by faculty innovators and student collaborators, was easy—even if her subsequent research hasn't always been.
"There's no database of the authors who fit my criteria, so it's a lot of reading to discover what could work, searching used bookstores, talking to other scholars and following seemingly unrelated tangents in search of stumbling onto something that could go into my dissertation," Glasberg says. "It can be slow going, but the exploration and the questions it raises keep me going. It's a fascinating knot to unravel."
After earning the Fritz, Jenny & Gustav Berger Fellowship in Holocaust Studies, Glasberg has been able to add another layer to her research by studying Arabic to enrich her linguistic and cultural access to these texts. She hopes, too, to be able to conduct firsthand research in France and North Africa, but first there's COVID to navigate—as well as the round-the-clock demands of teaching, research and, of course, actually writing her dissertation.
"It's taken me a long time to figure out how to set boundaries on my academic work while I'm facing this huge, monstrous project with the world outside so uncertain," she says. "What I've found is if I set a schedule and stick to it, I chug along steadily and keep my sanity. I love doing my nerdy academic thing, but it's also important for me to get out of my head and go hiking, eat delicious doughnuts and talk to my friends and family about things beyond what it means to be a "French" or "Francophone" author."
Keeping those real-life connections so alive helps her stay a sensitive, curious reader—after all, the universal aspects of the human experience are what all the authors she studies are writing about. Their books and words have power because they speak to greater truths that affect us all, especially those wise and willing enough to listen.
"One of the questions I keep thinking through is, 'What does it mean when we talk about a text being authentic?' It's an important question, but we need to keep an open mind," she says. "For example, you might not expect a contemporary Algerian author to write about the Holocaust, but that doesn't mean they haven't. So it's important to remember to keep looking even in unexpected places to find value, significance and poignant understanding."
Article featured by UCLA on January 27: Seeking the universal in the specific – UCLA College