Graduate Student Ambassadors
Speaking with a master's student ambassador is a great way to get a previous student's perspective on the Language Schools graduate experience.
If you would like to connect with a student ambassador to ask questions, please contact Mimi Clark, Chinese School Assistant Director, at mclark@middlebury.edu.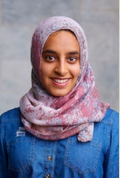 Hometown: London, England; currently Orlando, Florida
Program: Master's Degree, four summers in Middlebury option
Current: University of Central Florida, Instructional Systems
What surprised you about your experience at the Middlebury Language Schools?
The beautiful campus and location of the college. As an international student, I hadn't realized that Middlebury is especially well-known in the U.S. for its high standard of Chinese teaching, which of course, was a pleasant surprise.
Why did you choose to study at the Middlebury Language Schools?
I was intrigued by two key features of the program: firstly, the Language Pledge which provides an immersive language environment; and, secondly, the extracurricular activities, which not only help to develop cultural understanding but also provide an opportunity for language learning for all students outside of the classroom and the textbooks.
Please describe how your language skills improved due to your studies at Middlebury.
I use my Chinese skills primarily in educational settings, as a private tutor and an aspiring Chinese instructor. Other than that, my language skills come in especially useful for travel purposes, making new friends, and bargaining while shopping with locals!