Outside the classroom, you'll participate in a range of organized cocurricular activities and clubs designed to help you build new vocabulary while developing cultural fluency.
View the gallery in a new window.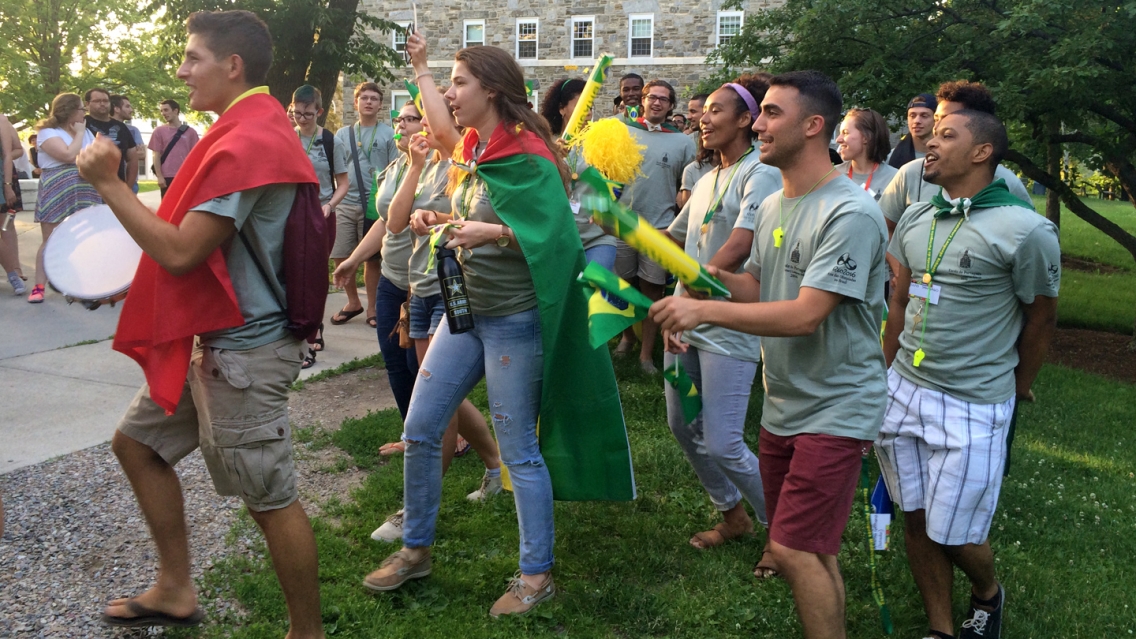 Portuguese School Activities
With activities such as capoeira, samba, forro, soccer, and cooking, you will learn how to speak Portuguese and gain insight into various aspects of Brazilian and Portuguese culture.
The Portuguese School also brings in special guests every year, including a Brazilian writer-in-residence. Past writers include the following:
Roberto DaMatta
Marina Colasanti
Affonso Romano de Sant'Anna
Moacyr Scliar
Conceição Evaristo
Miriam Alves
Álvaro Cardoso
Ana Maria Gonçalves
Laurentino Gomes
Lira Neto
European Portuguese Variant
We continue honoring the European Portuguese variant with a faculty and/or writer-in-residence each year. To celebrate our diversity, African writer Ondjak and the Ambassadors of Cape Verde and Mozambique have given lectures and workshops in the program. Ondjak also taught a class while here. In 2018 we had Jean- Michel Mabeko-Tali, born in Congo, former Professor at Agostinho Neto University in Angola and currently teaching at Howard University.
Lectures
Jean-Michel Tali: The role of MLPA in Angola's Independence
Darien Davis: A Brazilian diaspora in Europe, from the from the II World War to present
Meryleen Mena: Women Detained: Justice and Institutional Violence in the San Paulo Criminal Justice System
Débora Teixeira: The Arabs in Brazil and their influence on Brazilian cuisine
Christiane Kokubo:Extraordinary voyages: Japan—Brazil and Vermont-São Paulo
Luci Moreira and Alan Parma: Etiquette and Manners: Invisible Culture.
Steve Butterman:A voz poética da mulher lusófona pós-colonial: Noémia de Sousa (Moçambique), Alda Lara (Angola), e Cristiane Sobral
Richard Miller: Chega de Saudade: History of Bossa Nova
Rui Zink, Writer-in-Residence: Mini lectures in each class.
Symposia
Symposium of Literatures in Portuguese with João Almino, Rui Zink, and Sidney Molina
João Almino, acclaimed Brazilian author, having received notable awards by literary critic, he is a member of the Brazilian Academy of Letters (ABL)
Rui Zink, Portuguese writer, translator, and creative writing teacher, he has written more than thirty books from fiction to plays, cartoons, and operas.
Sidney Molina, musician, founding member of Quaternaglia Guitar Quartet, award-winning Brazilian guitar ensemble, and music critic for Folha de S. Paulo.
Workshops
Christiane Kokubo: Origami workshop
Irene Amaral: Portuguese Tile workshop
Alan Parma: Oficina de Girias. Slang Workshop