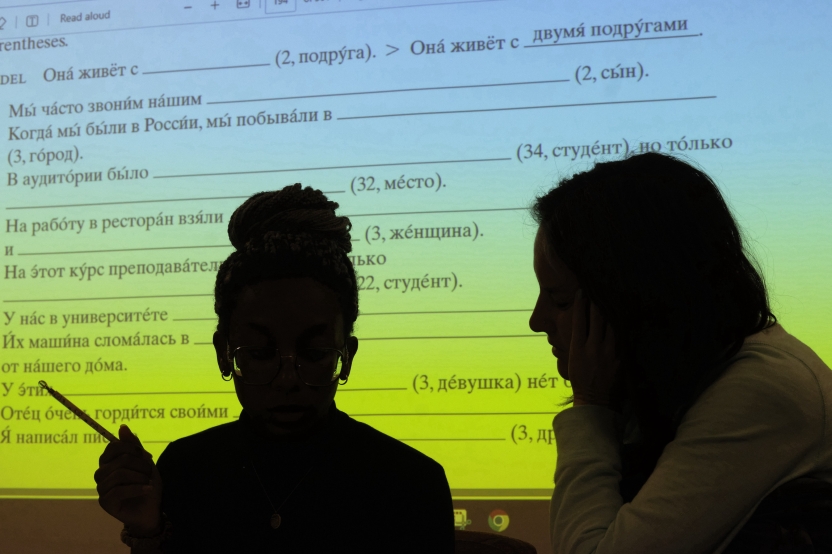 Return to the School of Russian and refresh your language skills during our Refresher Course, designed for alumni or other students with a solid foundation in Russian who have been away from the language for a while, from a few years to a few decades.
Refresher Course Format
The 4-week online Refresher meets for one hour daily, Monday through Friday. Classes will be held online via Zoom, with course materials shared on Canvas. The 4-week online Refresher makes the most of the remote format and available technology, while keeping the focus on reactivating your Russian language skills through engaging activities, conversation practice, and lessons on Russian grammar, vocabulary development, and phonetics. The daily hour of instruction will be scheduled to accommodate a wide range of work and family schedules.
Enrollment is limited to 12 students.
Summer 2024 Dates and Fees
Dates: June 24 - July 19 (tentative)
Cost: $865
Online classes will meet Monday through Friday for 50 minutes daily, at times to be determined. This course is not for credit.
Deadline
Applications are due by May 15 at the latest. We encourage you to apply as early as possible, as the course could fill before May 15.
Application
Please apply using the Language Schools online application. On the application, select "Summer Language Immersion: Beginner Thru Advanced." The 4-week online Refresher will appear as a program option in the drop-down list.
Applicants should have studied Russian for at least three years (or the equivalent) in the past. Their current speaking proficiency should be Intermediate Mid or higher on the ACTFL scale. Proficiency testing may be required.
The application fee is waived for Refresher applicants.
Alumni of the School of Russian, Middlebury College, or Middlebury Institute of International Studies at Monterey do not need to submit supplementary materials.
New applicants should email their scanned university transcripts to schoolofrussian@middlebury.edu.
Financial Aid
Financial aid is not available for this program, as it is not offered for academic credit.
Contact
For more information, please contact the School of Russian at 802-443-2006 or schoolofrussian@middlebury.edu.