CCNY's Angelina Coronado and Rachel Ferretti win State Dept. language scholarships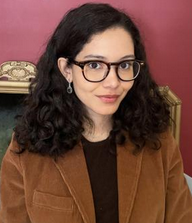 Graduating senior Angelina Coronado, who's been admitted to PhD programs at Johns Hopkins, New York University and Columbia University, is headed to Brazil in June after receiving her second Critical Language Scholarship (CLS) in Portuguese. Rachel A. Ferretti, a junior majoring in International Studies, is the other City College of New York CLS Scholar. She'll take a virtual course in Arabic as part of the intensive and coveted U.S. Department of State-sponsored program.
About Angelina Coronado
An English Literature major, with a minor in Portuguese Language and Lusophone Cultures, Coronado enjoyed a stellar 2021. She received her first CLS award then and was also chosen to attend the highly competitive Middlebury Language Schools' Immersion Program in Spanish. Because the two scholarships overlapped, Coronado, whose grandparents emigrated from the Dominican Republic, opted for the intensive seven-week Middlebury program in Middlebury, Vermont. It's hailed as the summer home for some of the most talented teachers, scholars, and artists in the Spanish-speaking world and offers nine credits.
The Ridgefield Park, New Jersey, resident will finally be Brazil-bound after graduation in June on her CLS.  She'll spend two months studying Portuguese at the University of Santa Catarina in Florianópolis. Coronado will then enter Columbia University in the fall to pursue a PhD degree in Latin American and Iberian Cultures. She chose Columbia over PhD programs at Johns Hopkins and NYU.
"It will take approximately five to six years at Columbia and I plan on becoming a professor and a researcher on the literature of early modern Santo Domingo — presently known as the Dominican Republic — and the Iberian Peninsula," she said. "I chose Portuguese for my CLS summer program because it is necessary in my work not only as a scholar but as a literary translator."
About Rachel A. Ferretti
Ferretti's concentration in the Colin Powell School for Civic and Global Leadership where she is majoring international studies is comparative public policy.
Originally a CLS alternate in Arabic, the Astoria, Queens, resident will remain close to home after opting to study the language through a virtual program with the Noor Marjan Training Institute in Oman. The program runs June 6 – July 29.
Ferretti is a Skadden Scholar in the Honors Program in Legal Studies at the Colin Powell School. She plans to attend law school after graduation and pursue human rights and asylum law.