Learning Spanish at the Middlebury Language Schools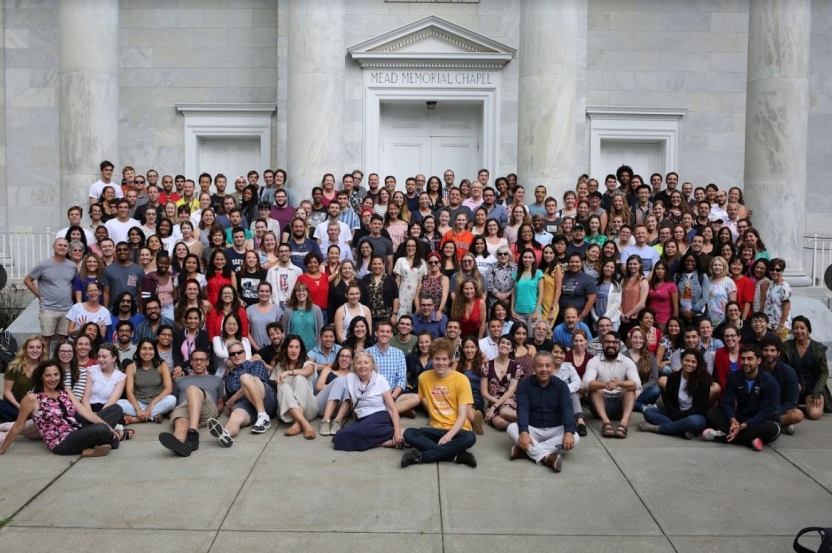 By: Holly Stark, Assistant Director of the School of Spanish

People often ask how they can become fluent in Spanish so quickly during one summer. I tell them to enroll in the Middlebury Language Schools to find out. 

Below are questions from a prospective student about the Spanish Immersion Program at Middlebury.
How far will my Spanish progress in seven-weeks if I start as a complete beginner?
By the end of the summer, you will be at the intermediate level and ready for the 200 level or sophomore Spanish classes at a university in the fall.
What is the daily schedule like and what makes it so different from just taking a class?
One of our prospective students took one semester of French. Nonetheless, she needed another semester before she could move up to the 200 level.
She finds it hard to have conversations apart from asking about how someone is doing or talking about the weather.
There are two factors that speed your progress and increase it exponentially every week that you are in Middlebury. 
The first factor is intensity.
You have three classes, which consist of four hours daily from Monday to Friday. Though that sounds like a typical university student schedule, the difference is all classes are in Spanish and about Spanish culture, literature, and grammar. 
The second factor is the Language Pledge.
The Language Pledge is a promise to speak only Spanish for the whole summer and that distinguishes the Language Schools from other immersion programs.
How can I get over the fact that I am shy about speaking a language or making mistakes
Being perfect is something you can let go of while learning a language.
In the first day or two, students might be hesitant to speak when they don't have the words to express themselves.
I have seen students speaking with a few words and some gestures to help them make their point.
You might hear one student say, "tengo un…una…uh?" and then point to his hat and another student gleefully cries out, "sombrero!"
Students quickly see that everyone is in the same boat and they help each other find the word or help figure out which verb tense to use.
Layering onto the Language Pledge and the rigorous course schedule are all the hours of the day in between when you will still be speaking Spanish.
Upon leaving class and enthusiastic about the new vocabulary that was just introduced, you head to the dining hall and sit with classmates or your roommate and practice that new vocabulary.
You might end up at a table with a student from a different level who describes what she was taught in her class. Then one of your classmates brings up a grammar point that was introduced that he did not understand very well.
Other people chime in about what they did and did not understand and help the fellow who brought it up. In the meantime, everyone gains a greater understanding of that grammar point. As students finish their coffee and tea preparing to go to another class or perhaps back to the dorm to get started on homework, someone complains about how much homework there is, but she does it in Spanish!
Back in the dorm as you tackle your homework, you might get to a section that has you stymied. With a boldness that comes over virtually every student in attendance, you walk down the hall and knock on the door of a classmate to see if they understand that part. After discussion of the homework, you end up chatting about your family or a trip you recently took and all this happens in Spanish.
After all that academic practice, you decide you need to move, so you go to one of the many co-curricular activities offered like soccer or volleyball, or salsa dance lessons.
If you are a singer or actor, you choose to join the chorus or the play and attend rehearsals regularly. Maybe you will decide to take a walk by yourself or go to the gym or the pool. During that solitary time, Spanish will keep bouncing around your brain even as you get the physical break you need.
Other popular co-curricular activities are the pronunciation clinic, discussion of current events, yoga, video game club, and cooking club. These are taught by a different faculty member each week.
One week the club might prepare asado or barbecue with a teacher from Argentina or paella with a teacher from Spain.
Now the day is not done! You have already been speaking, listening, reading, writing and thinking in Spanish for 12 hours before dinner begins.
Back at the dining hall, you likely sit with different students than those you had lunch with. Perhaps you are seated with a professor from Mexico or another from Spain.
One of those professors is from Spain and the other from Mexico and the conversation at the table moves to grammar and vocabulary differences between the two countries, not to mention the difference in accents and culture.
After dinner, you go to a film in Spanish and just listen and watch, increasing your exposure to the language.
Another night, you might attend a round table discussion given by a panel of teachers. Just listening and letting it wash over you is the only job you have for those events.
You may find it challenging and not understand everything, which is normal, but even by the second week, you will find yourself understanding more than you did the week before. 
Students, even at the advanced level, do not understand everything they hear, but they are more used to tolerating ambiguity and trying to puzzle together meaning from other parts of the discussion or simply by joining in and asking questions. 
"What did you mean when you said…?" 
As your listening comprehension increases, you will read more and then apply that in a writing assignment. This, in turn, will enable you to utter new things in conversation.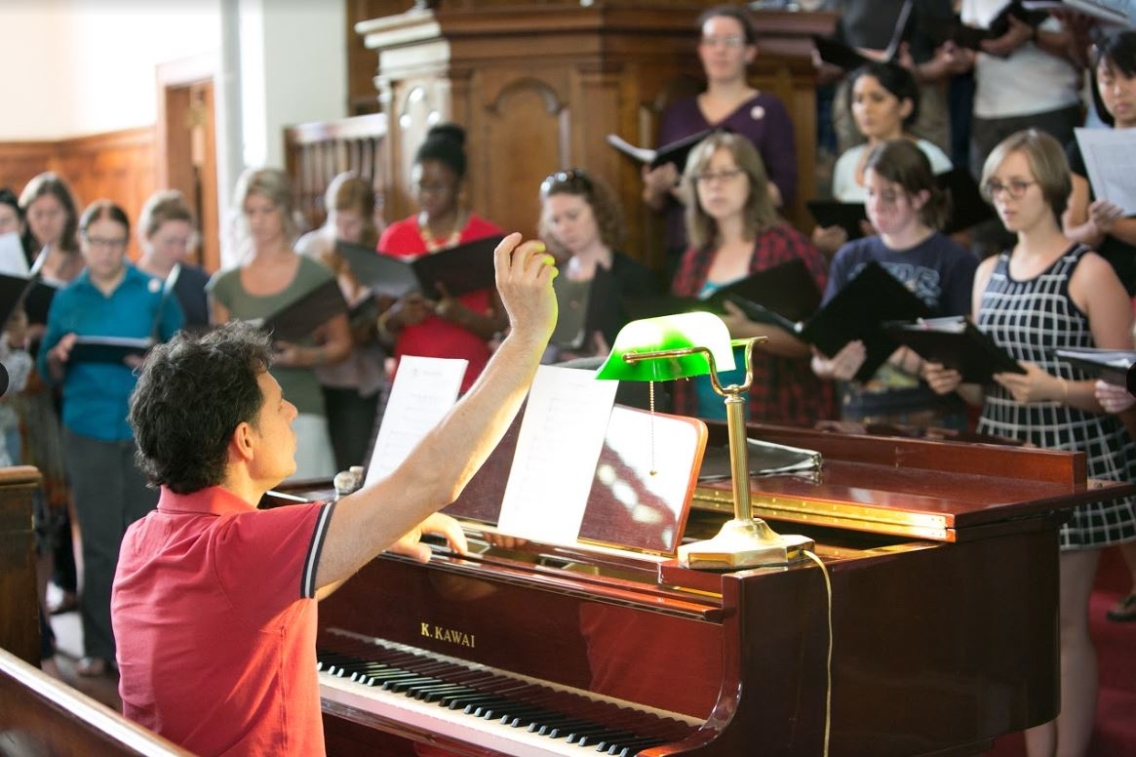 If I graduated from college a while ago, will I feel out of place among all the young people?
Out of about 140 students, typically only one-third of those are in college.
Another 30 or so are out of college but under age 30.
About 30 more are in their 30s.
About 20 are between 40-60 and then around a dozen range in age from 60 and up.
In the last decade that I have worked here, the School of Spanish has had a handful of students at or over 80. There are also about 100 Spanish graduate students who live in the same dorms. They eat in the dining hall with the 7-week students and attend co-curricular activities.
Their ages range mostly between the mid-20s to mid-40s.  In addition to that, the faculty (and in some cases), their spouses and children make up about another 60 to form a large and diverse community of about 250 Spanish speakers.
Will I be fluent by the end of the summer?
To be fluent does not mean one precise, measurable level.
You will be able to respond without hesitation when spoken to, understand general conversation topics, pose questions, and be a full participant in the conversation.
What kind of Spanish is taught?  
The Spanish taught in the School of Spanish is as wide-ranging as the origins of our faculty. 
Our director is from Mexico, one Associate Director from Cuba, one from Argentina and one is from Spain. 
We have faculty from Spain, Mexico, Puerto Rico, Argentina, Dominican Republic, and many other countries.
During the academic year, some of them return to their countries of origin where they teach. Several are scattered throughout the United States where they teach Spanish in universities and schools across the country.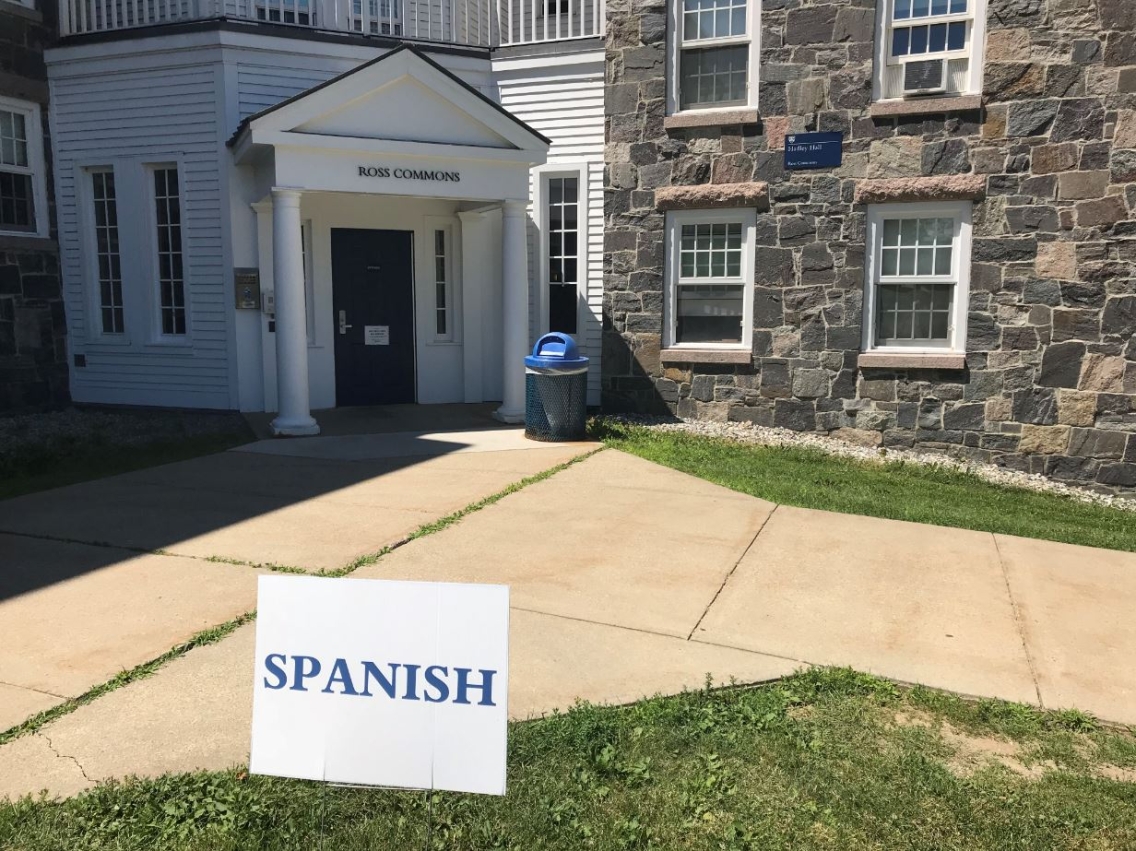 I work part-time while attending the program. Is communicating in English a problem?
It is not allowed because that would mean breaking the Language Pledge.
The Pledge is there to keep your brain focused on Spanish all the time. Interrupting that with periods of English would slow your progress.
Your classmates who are sticking to the Pledge will noticeably make greater strides in their Spanish proficiency and you will start to fall behind.
Furthermore, you will not have time to work!  With all of the courses, co-curricular activities, homework, and spontaneous conversations described above, you can see there just isn't time for anything else.
Do students ever take a break? What do they do?
Sometimes students walk into the charming village of Middlebury to do some shopping or have coffee or have a meal out or a drink.
Sometimes they go to a nearby lake for swimming and the sun, but they do it while speaking Spanish.
On Thursday nights, students and faculty, both, can be found in town dancing together at a local restaurant and bar called Two Brothers for salsa night.
Come join us at the Middlebury Language Schools and find out for yourself!
I continue to have these conversations daily and would be happy to connect with you and tell you more.