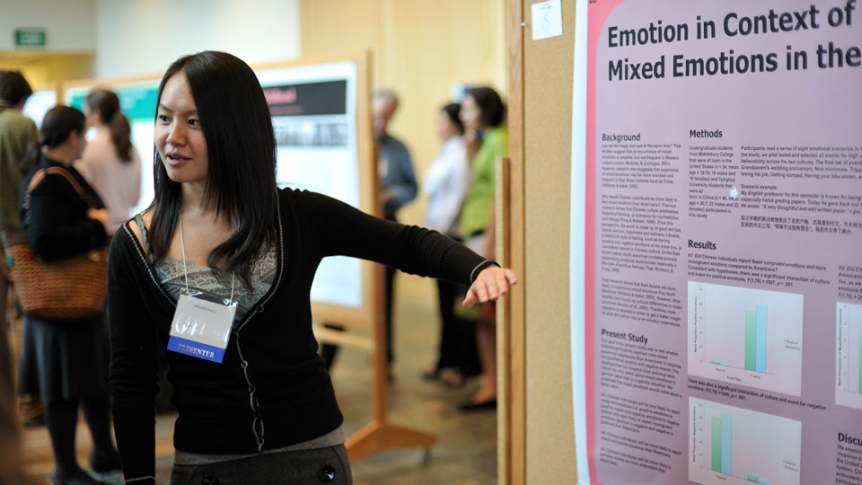 Middlebury offers students opportunities for research and creative works across disciplines.
Students engage in research and creative works with Middlebury faculty; work with faculty at other universities and research institutions; and pursue their own independent research and projects. Students present their work at the Spring Student Symposium and professional conferences and even publish their findings in undergraduate research journals and professional journals as co-authors with Middlebury faculty.
Every discipline has opportunities for student inquiry. Depending on the field, this may take place in a lab, in a studio, in an archive or out in the field. It may lead to a publication, a film, a performance, an innovative technique, a new understanding, a debunked old theory…the possibilities are endless.
The Undergraduate Research Office (URO) supports students in these endeavors with advising, information about opportunities, and funding for senior work, academic conference participation, and summer research support for Middlebury faculty working with undergraduate students..
What Middlebury Students Have to Say
"During my time doing field research, I gained invaluable experience in both academic research and archival research methods. In addition to gaining these skills, I also discovered a love of medieval studies and manuscript studies, which I am seriously considering pursuing in some form as post-graduate plans. In terms of my academic experience at Middlebury, being afforded this opportunity has allowed me to delve into nuanced and complex academic topics that I would never have been able to experience without doing this field research." —Jess Garner '19.5
"My research was an excellent capstone to my academic experience at Middlebury, and it also inspired me to pursue art history in a professional context. This experience also opened my eyes to the importance of architecture in the way in which it both shapes and is shaped by a city's culture, and now this is something I am considering pursuing in graduate school." —Elaine Velie '20
"From start to finish, the research I have conducted on Bi Gan has truly felt like the culmination of all my film studies courses. Every class and every single paper I have written in the film department, particularly those in Professor Keathley and Professor Grindon's courses, have all built upon one another and given me the critical skills I've needed to carry out such thorough and in depth research." —Shams Mohajerani '20
Contact
Undergraduate Research is located in 225 Davis Family Library, in the Center for Teaching, Learning, and Research (CTLR).

uro@middlebury.edu

(802) 443-3026
Undergraduate Research Deadlines
Faculty Resources
Research Information for faculty, including how to hire research assistants during the academic year and summer, can be found in the CTLR's faculty resources.
Center for Teaching, Learning, and Research
Davis Family Library, Suite 225
Middlebury, VT 05753