The Undergraduate Research program oversees funds that support student research, senior work, academic conference participation and mentored summer research with Middlebury faculty.
Review the funding options below to find the one(s) that best suit your needs.
Questions? Contact Undergraduate Research at uro@middlebury.edu.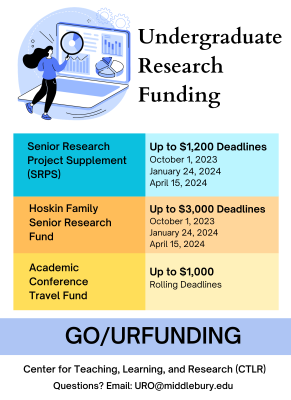 Undergraduate Research Funding Deadlines
Each fall the funding deadlines for the year are announced. The dates are consistent from year to year to help with planning, this means occasionally a deadline will fall on a weekend. When that happens, the deadline is extended to the next Monday.
Additional Resources for Funding
Become a Research Assistant funded by college funding or a faculty grant.
See a list of Middlebury's summer funding opportunities.
You can find additional information on project, travel and funding logistics in our resources section.
Making a Donation
These funds are available due to generous donations. To find out more about how to contribute to a research position please contact the Advancement Office about the Undergraduate Collaborative Research Funds, which support academic year or summer research assistants in all disciplines.
For example, $6,750 pays for a 10-week full-time position and project-related supplies or travel for one student in the summer.
Faculty Research Funding
Information on funding to support research assistants and scholarship can be found in the CTLR Faculty Resources.
Center for Teaching, Learning, and Research
Davis Family Library, Suite 225
Middlebury, VT 05753