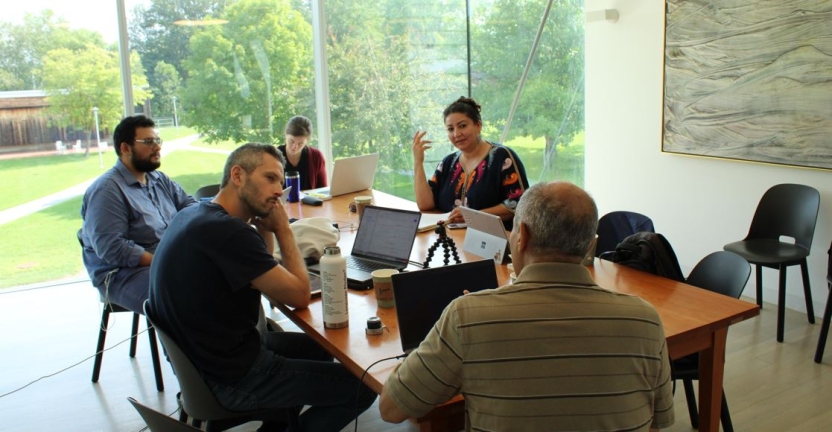 The Arabic School's master's degree program offers two academic tracks—a general track in Arabic studies and the Arabic language pedagogy track.
Each track includes units equivalent to three semester course hours at a regular academic-year program. To earn a master's degree, students must successfully complete a total of 12 units in the appropriate areas within a 10-year period.
After the initial summer, master's degree candidates may transfer up to three courses toward the degree. A transfer course must meet certain requirements and be approved in advance (before the course is taken) by the director and registrar. 
General Arabic Studies Track
The general track in Arabic studies features in-language coursework on topics in literature, history, religion, popular culture and art, and contemporary politics and society (including current events). Academic requirements include the following:
3 units in Arabic language and linguistics
3 units in literature
3 units in civilization, culture, and society
3 elective units
Arabic Language Pedagogy Track
The Arabic language pedagogy track focuses on Teaching Arabic as a Foreign Language (TAFL), combining advanced coursework in Arabic and Arabic linguistics with training in second language acquisition, modern teaching methods, language assessment, classroom technology, and related areas. The Arabic pedagogy track is suitable for both current and prospective teachers of Arabic, at the primary, secondary, and college levels. Academic requirements include the following:
5 units in Arabic linguistics and/or pedagogy
3 units in literature, civilization, culture, and society
1 unit of language practicum
3 elective units
Program Options
In addition to choosing a track, master's students must select a program option.
OPTION 1
4 summers (6 weeks each) Arabic School, Vermont (Bennington)
OPTION 2
1 summer (6 weeks each) Arabic School, Vermont (Bennington)
+ 1 academic year Middlebury Institute of International Studies (Monterey) 
+ 1 summer (6 weeks each) Arabic School, Vermont (Bennington)
Option 1 is suitable for students pursuing either academic track. The four summer sessions at Bennington do not need to be consecutive. (Graduate credits may be applied toward the master's degree for up to 10 years.)
Option 2 is intended for candidates on the Arabic pedagogy (TAFL) track only. Students should submit their application through Middlebury Language Schools for this option as well. 
During the academic year at the Middlebury Institute of International Studies at Monterey, students are enrolled in 18-20 credits of coursework in areas such as Arabic language pedagogy, Arabic linguistics, curriculum development, language assessment, sociolinguistics, and second language acquisition. Although some Institute courses may be conducted primarily in Arabic, the Language Pledge will not be in effect during the year.
Middlebury Institute Additional Information (Option 2)
Application Instructions: 
1. Apply and receive admission to the Middlebury Arabic School M.A. program. (application instructions).
2. Apply to the Middlebury Institute Teaching a Foreign Language program. (application instructions below)
Log in to the application and choose the Middlebury Institute of International Studies, with program type Teaching a Foreign Language.
With the exception of transcripts, all other required documents are waived. 
You can use your own name and email in the Letter of Recommendation section. 
As a placeholder for Resume and Personal Statement you can attach a document that reads "Please see previous essay/ resume in Middlebury Chinese/ Arabic School application." 
When you have completed the application, please use application fee waiver code: MIISMIDD
Any questions you have, please reach out to: enroll@middlebury.edu.
Funding and Housing:
To apply for federal loans to help cover the cost of tuition and living expenses at the Middlebury Institute, students must complete the FAFSA (school code 001241) and the Institute's financial aid application. Enrolled students receive a 50% scholarship. For questions, email miisfinaid@middlebury.edu.
The Institute offers housing options including limited on-campus housing, and a proprietary list of off-campus housing available in the community. For an estimate of costs for housing, books, and other living expenses, please visit the Institute tuition page.