Exploring Careers in International Development
Exploring Careers in International Development is a collaborative series developed by the Center for Careers and Internships and Middlebury in DC with content contribution from members of the Middlebury Professional Network and Middlebury students.
In the field of international or global development, professionals work to address the inequalities and alleviation of poverty while improving access to health, education and economic opportunities. The field is quite multidisciplinary and encourages practitioners from varied sectors like intergovernmental agencies, nongovernmental organizations/NGOs, development consulting firms, foundations, policy institutes and academia. This series will highlight alumni practitioners from a diverse array of careers offering their perspectives within the field, the challenges they face, and entry points for prospective roles and opportunities.
Episode 8: The Work of Humanitarian NGOs Compared With International Development Organizations
Guest Speaker: Trisha Bury '07 MIIS, Area Director of Programs for Mercy Corps in Northeast Syria
Interviewer: Scott Webb, MIIS Career & Academic Advisor and MIIS '07 Alum
Video: 34 minutes
Trisha Bury '07 MIIS - Trisha Bury is the Area Director of Programs for Mercy Corps in Northeast Syria, overseeing livelihoods, social cohesion, and water and sanitation programs that serve Syrians affected by conflict. Her role entails strategic planning, quality control and accountability of programs, budget management, and institutional fundraising. She has worked on humanitarian responses with the International Rescue Committee in Colombia and Nigeria, and with Relief International in Bangladesh, Iraq, and Myanmar. Before working with NGOs, Trisha served in the public sector, working for USAID in Afghanistan and the US Department of Defense in Iraq. She earned undergraduate degrees in International Relations and Japanese from the University of the Pacific (2006) and a Master's degree in International Policy Studies with a specialization in International Development from MIIS (2007).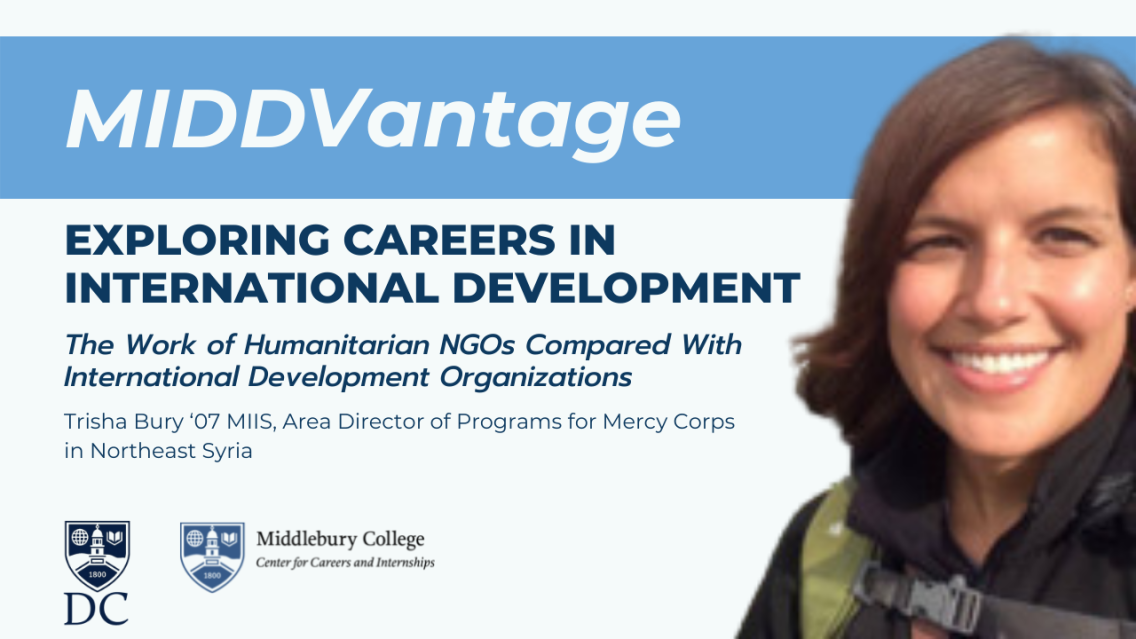 ---
Episode 7: Fiscal Policy and Economic Governance
Guest Speaker: Steve Rozner '96, Senior Advisor, Bureau for Economic Growth, Education, and the Environment, USAID
Interviewer: Joe Hanlon '23.5
Video: 34 minutes
Steve Rozner '96 - Steve Rozner is senior fiscal advisor in USAID's Bureau for Economic Growth, Education and the Environment. Steve supports the Agency's programming, technical leadership, and international cooperation in the area of domestic resource mobilization (DRM). In his capacity, he regularly collaborates with USAID's Washington and overseas operating units to integrate DRM and public financial management into development strategies and project designs. Prior to joining USAID, he directed the Public Finance and Economic Policy practice at DAI and served as director for USAID's worldwide Fiscal Reform and Economic Governance program. Steve has more than 15 years of experience designing, managing, and implementing technical assistance in fiscal policy and management in countries spanning Africa, Asia, Central and Eastern Europe, the Middle East, and the LAC region. He has authored or co-authored articles, reports and case studies on tax policy, tax administration modernization, PFM, and fiscal regimes for natural resource extraction. He was also part of the team that led the U.S. Government's participation in launching the Addis Tax Initiative at the Financing for Development Conference in Ethiopia in July 2015. (from ICGFM)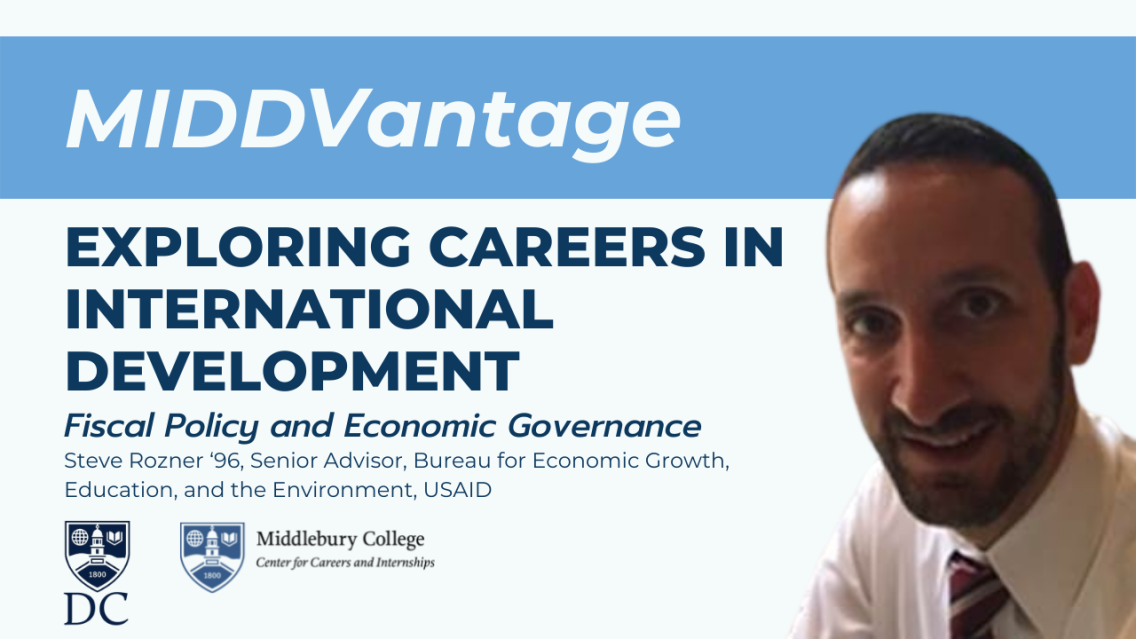 ---
Episode 6: An NGO Experience Within International Development
Guest Speaker: David Torres '84, Professor of the Practice, Middlebury College
Interviewer: Isabella Martus '19.5
Video: 29 minutes
David Torres '84 is the Professor of the Practice of Social Entrepreneurship and Global Health, Middlebury College. David joined the faculty at Middlebury in January, 2019, to teach courses in the Global Health Minor and support Social Entrepreneurship efforts across the Campus. He brings 35 years of varied work experience to the College, from the world of Global Health and Social Entrepreneurship, and Global Finance.
 
Previously, David served as Senior Advisor to the President and CEO of mothers2mothers, a Cape Town-based NGO working in the field of HIV and maternal and child health.  David worked at m2m for 12 years in a number if leadership roles, covering special projects, business development across Sub-Saharan Africa, fundraising and donor relationship management, and organizational governance.
 
Prior to joining m2m, David worked for 22 years in Latin America, the US and the UK for JPMorgan Chase and Co. and predecessor firm, The Chase Manhattan Bank.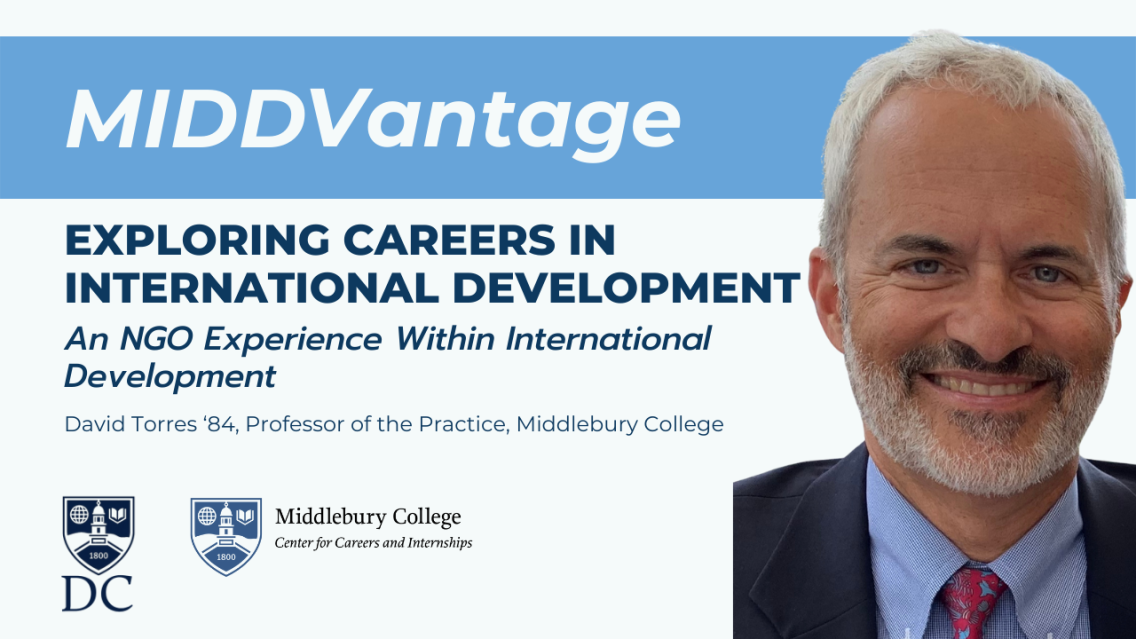 ---
Episode 5: Chemonics International: an International Development Consultancy
Guest Speakers: Nathan Williams '10, Director, Global Health Division at Chemonics International and Lauren Redfield '11, Manager East and Southern Africa at Chemonics International
Interviewer: Catherine Blizzard '20
Video: 37 minutes
Lauren Redfield '11 is an international development project manager with more than seven years of experience designing and managing projects related to innovative finance, private sector engagement, food security and climate change adaptation. Lauren graduated from Middlebury in 2011 with a major in International Politics and Economics and from the Middlebury Institute of International Studies in Monterey in 2012 with a Master of Arts in International Development Policy. After MIIS, Lauren spent a year in Peru working on youth employment for the International Labor Organization, and a year supporting vulnerability assessments through the Tetra Tech-implemented African and Latin American Resilience to Climate Change project. Lauren joined Chemonics in 2014, where she has worked on governance programs in Somalia, food security systems in Latin America and East and Southern Africa, and the technical design of financial inclusion and investment activities in Rwanda, Nigeria and Uganda. She recently returned from a year in South Africa where she set up and strengthened regional transboundary water resilience and combating wildlife crime programs as Operations and Finance Director.
Connect with Lauren on Midd2Midd.
Nathan Williams '10 is an international development project manager with eight years of experience overseeing USAID program in Sub-Saharan Africa, focused on implementing complex, fast-paced programs in conflict-affected and fragile settings such as the Sahel countries and the Democratic Republic of the Congo. Nathan graduated from Middlebury College in 2010 with a major in International Politics and Economics and a minor in German. After Middlebury, he taught English on Reunion Island, an overseas department of France, through the Teaching Assistantship Program in France (TAPIF). Nathan then joined Chemonics through the Entry Level Professionals Program and has worked in a variety of technical sectors, including food security, democracy and governance, education, global health, and peace, stability, and transition. Nathan is now relocating to Burkina Faso as the Deputy Chief of Party for a program funded by USAID's Office of Transition Initiatives, focused on countering violent extremism and stabilization.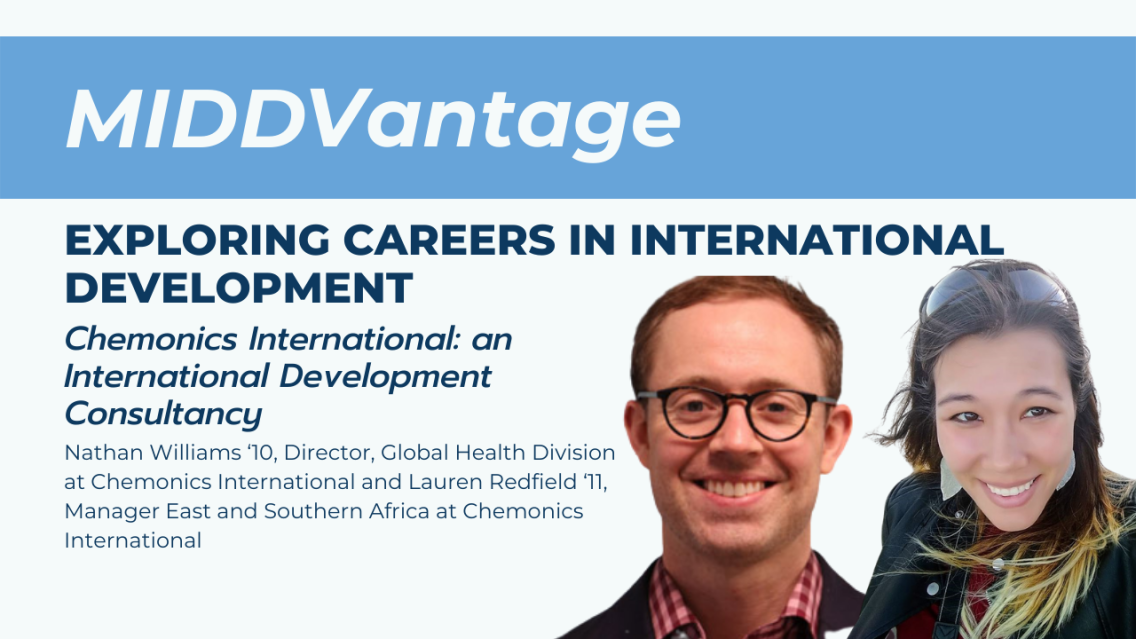 ---
Episode 4: The Importance of Supply Chain Management to Development Efforts
Guest Speaker: Ellen Tompsett '02, Global Collaboration Manager, Reproductive Health at Chemonics International
Interviewer: Lia Swiniarski '21.5
Video: 28 minutes
Ellen Tompsett '02 is the Global Collaboration Manager for Population and Reproductive Health for the USAID Global Health Supply Chain-Procurement and Supply Management (GHSC-PSM) project. She is responsible for enhancing collaboration in global contraceptive market by forging and maintaining strong relationships with major procurers of reproductive health (RH) products.She previously worked as senior program officer for Reducing Stockouts at the Reproductive Health Supplies Coalition where she oversaw the health systems strengthening portfolio of activities, including the Stockout Initiative. A supply chain management expert, Tompsett has over a decade of experience working in logistics coordination in reproductive health, disaster response, and humanitarian relief for various U.N., nonprofit and for-profit entities, which included travel to Egypt, India, and Sudan. Ellen holds an MBA from the Massachusetts Institute of Technology Sloan School of Management and a BA in political science from Middlebury College.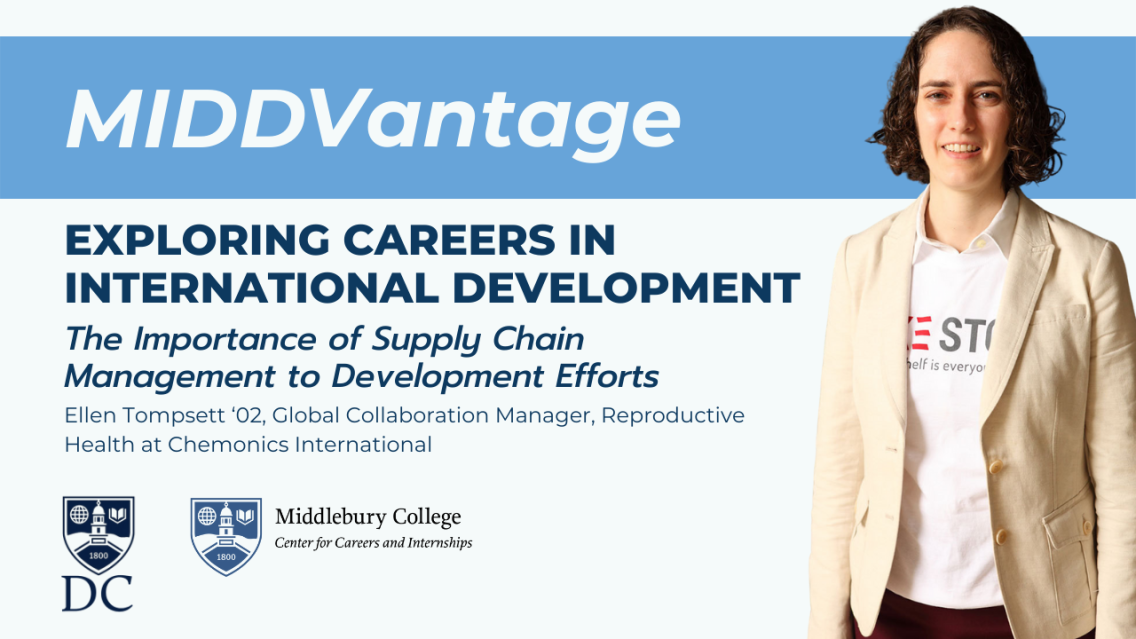 ---
Episode 3: Private Sector Players: Development Consulting Firms
Guest Speaker: Matt Sommerville '02, Chief of Party of USAID's Tenure and Global Climate Change Program implemented by Tetra Tech
Interviewer: Elsa Soderstrom
Video: 45 minutes
Matt Sommerville '02 - Dr. Matt Sommerville (Middlebury '02) is a Senior Associate within Tetra Tech's Land Tenure and Property Rights Sector. He currently is the Chief of Party (COP) for the USAID Integrated Land and Resource Governance Project, based in Zambia and overseeing a portfolio across Zambia, Mozambique, Malawi, Madagascar, India, Ghana and Liberia. He was formerly COP of the Tenure and Global Climate Change (TGCC) project, his work focuses on securing of property rights and resource tenure in achieving economic growth, gender equity, forest and biodiversity outcomes and climate change mitigation and adaptation objectives. He has a PhD in structuring payment for environmental service incentive mechanisms. Prior to joining Tetra Tech, Matt worked in experiential education in Switzerland, Madagascar, Alaska and Florida; and also worked on community-based biodiversity conservation programs in Madagascar and California. When not in living in Zambia or supporting country-level work, Matt is based in Burlington, Vermont, keeping an eye on Lake Champlain.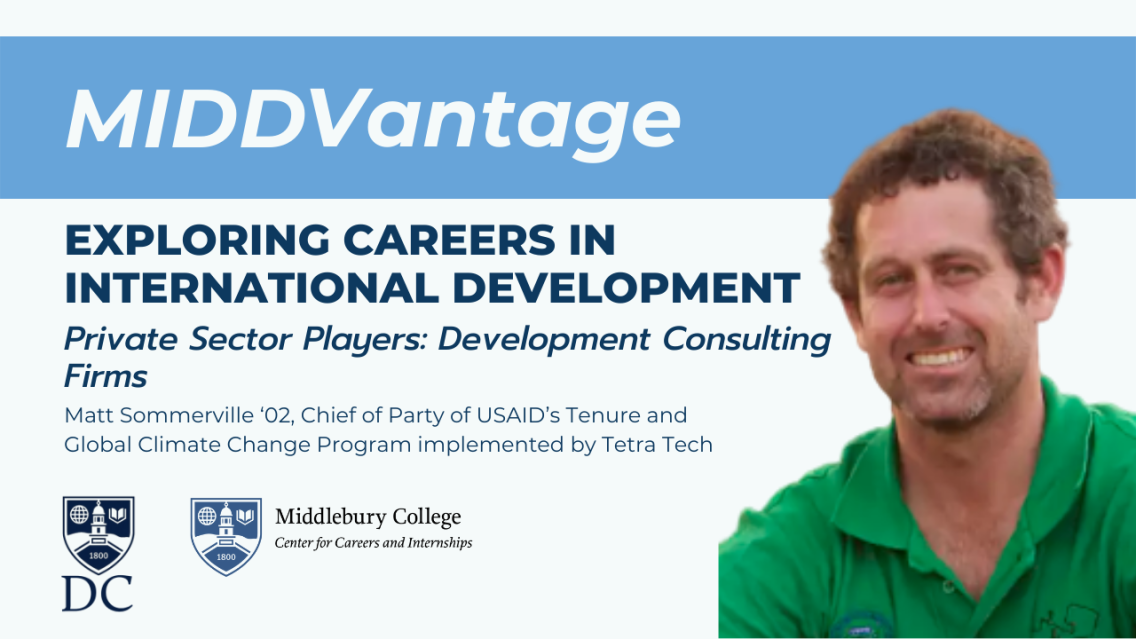 ---
Episode 2: Public Sector Players
Guest Speaker: Andy Karas '84, Mission Director of USAID Tanzania
Interviewer: Catherine Blizzard '20
Video: 36 minutes
Andy Karas '84 - Andy Karas, a career member of the Senior Foreign Service, joined USAID in 2000.  Andy took up his assignment as Mission Director of USAID/Tanzania in August 2017.  He served overseas with USAID in Rwanda, Kenya (with the regional mission), Afghanistan, Djibouti, and as the Mission Director of USAID/Ghana.  Prior to joining USAID, Andy worked with local and international non-governmental organizations in Rwanda and Kenya, and also, with community-based organizations serving homeless and low-income populations in New York City and San Francisco, USA.  Andy gained his formative experience as a U.S. Peace Corps Volunteer in Kenya from 1985-88, supporting rural women's groups on agriculture projects.  Andy earned his B.A. in History (Africa concentration) from Middlebury College, and a M.S. in International Agriculture Development from the University of California, Davis.  He speaks Kiswahili and is conversational in French.  Andy's spouse Konah Tolbert-Karas earned her M.S. in social work at Howard University, Washington, DC, and has worked with social service organizations and schools in the US and Africa, and also, served as the US Embassy's Community Liaison Office in Rwanda and Ghana.  Most importantly, Andy and Konah are the proud parents of daughters Zina, a senior at New York University, and Zaiya, a sophomore at American University, who both grew up and flourished in central, west, and east Africa.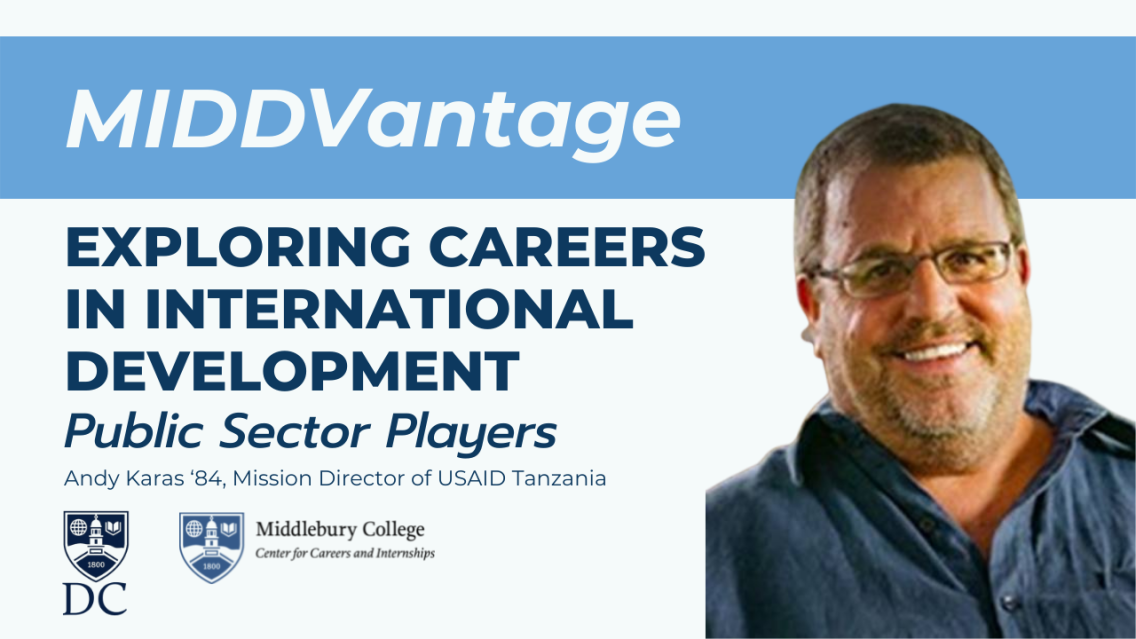 ---
Episode 1: An Overview of Global Development: Key Players, Power Dynamics and Likely Effects of the Covid Pandemic
Guest Speaker: Charlie MacCormack, PhD '63, former president and CEO of Save the Children USA, chair of the board of InterAction, founding member of Malaria No More, and former CEO of World Learning
Interviewer: Sarah Stroup, Associate Professor of Political Science, Middlebury College
Video: 35 minutes
Charles MacCormack is currently Senior Fellow at Interaction, the national association of more than 200 International Non- Governmental Organizations, where he chairs the board on NGO Futures. Most recently he has served as Senior Fellow at Yale University, Advanced Leadership Fellow at Harvard University, and Executive-in Residence at Middlebury College. He was CEO of Save the Children for 18 years and of World Learning/ School for International Training for sixteen years. He is a graduate of Middlebury College and earned his Master's and Ph.D. degrees from Columbia University.
Sarah Stroup (BA Dartmouth, PhD UC Berkeley) has been teaching courses in global politics, humanitarian relief, and political economy at Middlebury since 2008.  She is author of Borders Among Activists (2012) and co-author of The Authority Trap (2017), which won the 2019 Outstanding Book Award in Nonprofit and Voluntary Action Research.  Her current projects explore the EU's humanitarian relief portfolio, the relationship between democracy and human rights promotion, and the "rise and demise of NGOs" (a five-year grant from Canada's Social Sciences and Humanities Research Council).