Exploring Careers in Public Health
Exploring Careers in Public Health is a collaborative series developed by the Center for Careers and Internships and Middlebury in DC with content contribution from members of the Middlebury Professional Network and Middlebury students.
The worldwide coronavirus pandemic is inspiring a new generation extremely interested in public health. Washington, DC is central to the fight against this pandemic as it is the home of the National Institute of Health (NIH), the World Bank, and the nearby Johns Hopkins School of Public Health. This series includes interviews with many different professionals within the career field who will share their perspectives on the challenges within public health as well as the various career roles within.
---
Episode 6: Preparing for the 'New Normal': How COVID-19 will change Healthcare
 
Guest Speaker: Chris Bernene '90, Partner, Oliver Wyman
Interviewer: Jeff Sawyer, Director of Employer and Professional Network Development
Video: 35 minutes
Chris Bernene is a Founding Partner in Oliver Wyman's Health & Life Sciences Practice. His expertise spans a broad range of strategic issues facing health plans, including consumer strategy, digital healthcare, healthcare financing, distribution strategy, and ancillary product strategy. Chris has been with Oliver Wyman for over 20 years and started the healthcare practice with three other Partners in 2004.  Chris received a BA in English (Summa Cum Laude) from Middlebury College in 1990, an MPhil in English literature from the University of Oxford, and an MBA from the Amos Tuck School of Business at Dartmouth College.  In addition to being involved in his class year's reunion planning, Chris has also been very active within the Middlebury Professional Network as a participant in CCI on-campus career programming, recruiting, and in the Consulting Case Interview Mentoring Program.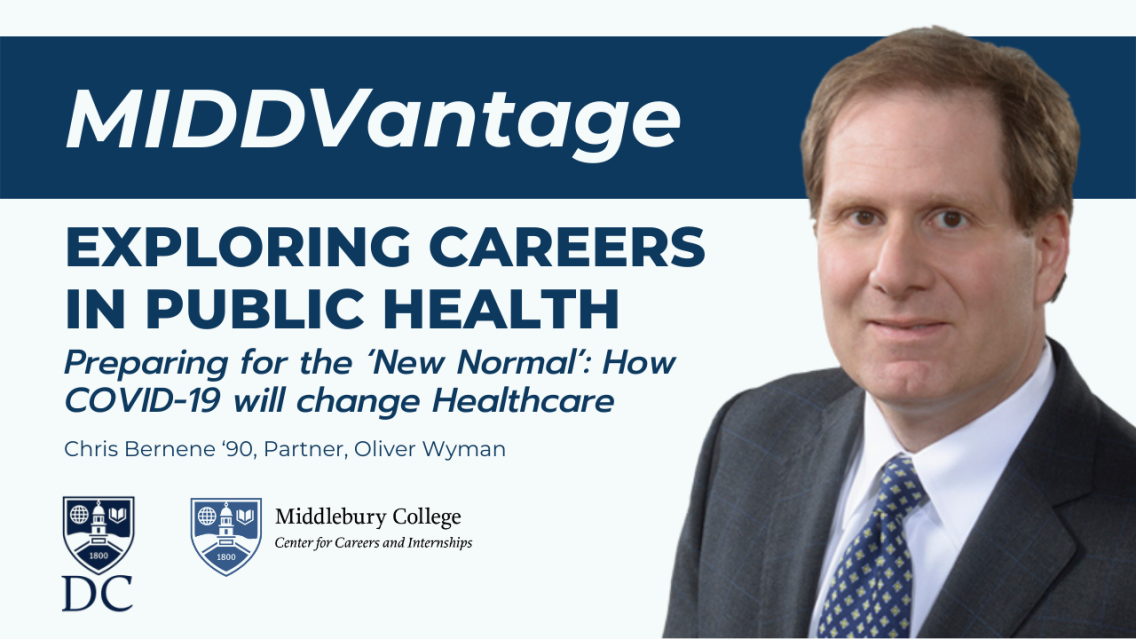 ---
Episode 5: Views from Infectious Disease and ER Physicians
Guest Speaker: Dr. Andrew Hale '06, Infectious Disease Specialist and Assistant Professor of Medicine at the University of Vermont and Dr. Russ Johanson '06, Emergency Medicine Physician
Interviewer: Allegra Molkenthin '19.5
Video: 22 minutes
Andrew Hale, MD is an infectious diseases specialist, medical educator, and researcher. He graduated from Middlebury College in 2006 and then went to medical school at Tufts University in Boston, MA, then completed residency, chief residency, and fellowship training at Beth Israel Deaconess Medical Center and Harvard Medical School, Boston, MA. He now is assistant professor of medicine at the University of Vermont Larner College of Medicine.
Russ Johanson, MD is a practicing emergency physician at MatSu Regional Hospital in Palmer, AK. He graduated from Middlebury College in 2006 and is Vice President of MatSu Emergency Phycians, and on the Board of Directors for the Alaska Chapter of the American College of Emergency Physicians. After graduating Middlebury, Russ attended the University of Connecticut School of Medicine, and then the University of Massachusetts Emergency Medicine Residency Program before moving to the great white North. He and Andy have teamed up to teach three J-Term classes on Emerging Infectious Diseases and hope to return for many more.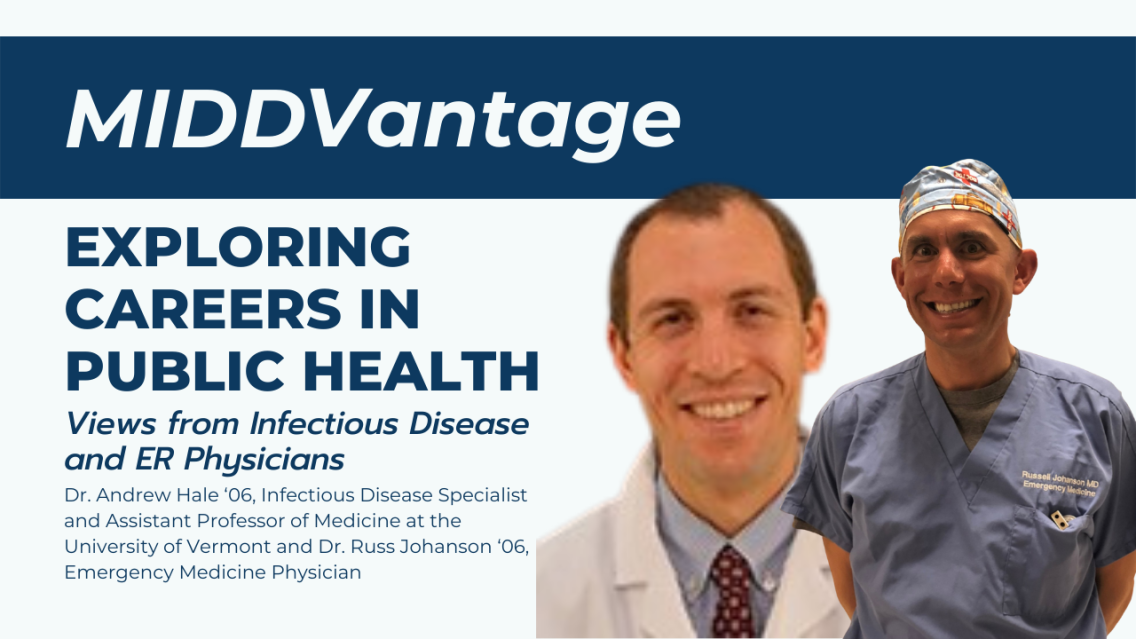 ---
Episode 4, Part 2: Global Health: From Campus to Career
Guest Speaker: Mikail Dastgir '10, Public Health Specialist at World Bank Group
Interviewer: Asra Muhammadi '20
Video: 23 minutes
Mikail Dastgir is a Public Health Specialist at World Bank Group. A graduate of the United World College of Southern Africa (UWCSA) in eSwatini, Mikail then graduated from Middlebury College in 2010 with a major in International Politics and Economics, and a minor in African Studies. After Middlebury, he went on to be selected for the two-year Junior Professionals program with the World Bank Group, based in Washington, DC, working with the Urban and Water, and Health, Nutrition and Population departments for the Sub-Saharan Africa region. Between 2012-2014 he attended Harvard University's School of Public Health, graduating with a Master of Science in Global Health and Population, concentrating in Infectious Disease Epidemiology, and Maternal and Child Health. He subsequently returned to the World Bank as a Health Specialist in 2014, managing the Bank's health sector portfolio in Southern Africa and South Asia.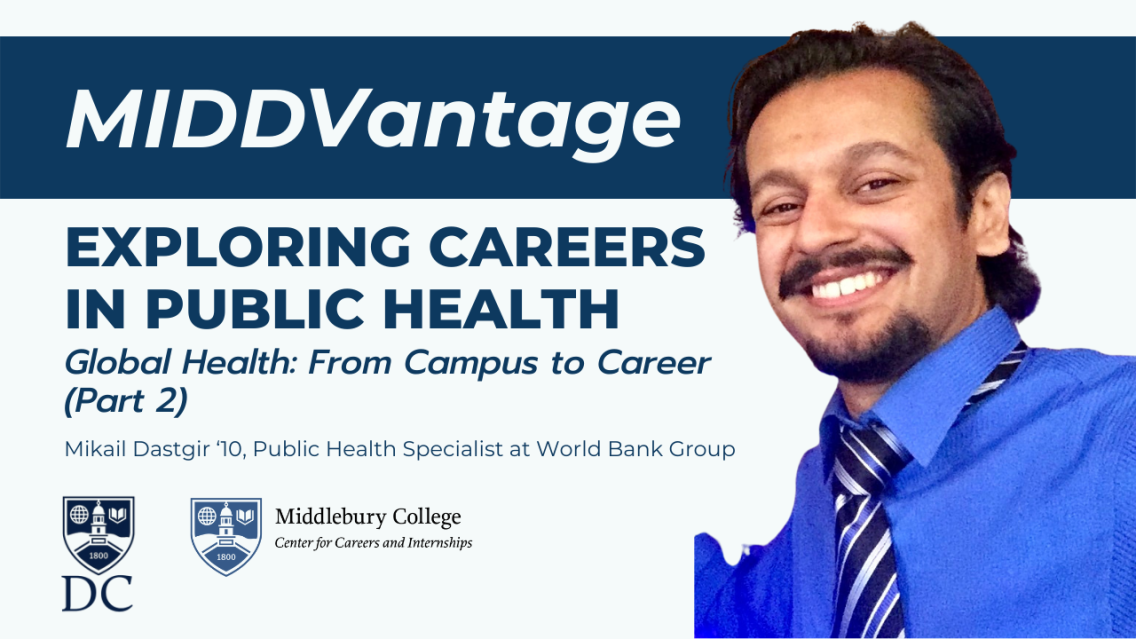 ---
Episode 4, Part 1: The World Bank's Role in Global Health
Guest Speaker: Mikail Dastgir '10, Public Health Specialist at World Bank Group
Interviewer: Asra Muhammadi '20
Video: 41 minutes
See bio above in part 2.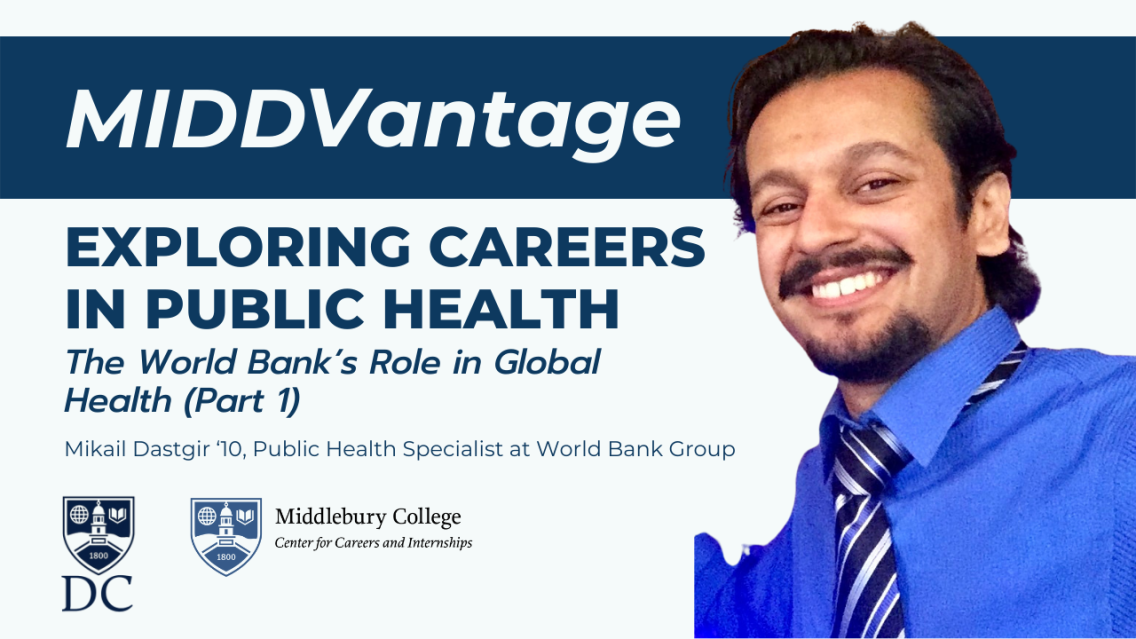 ---
Episode 3: Vaccine Development Experiences from a Private and Public Enterprise Perspective
Guest Speaker:  Agnes Mwakingwe-Omari '02, MD, PhD, Senior Clinical and Research Development Lead, GlaxoSmithKline (GSK)
Interviewer: Guadalupe Vega '20
Video: 31 minutes
Agnes Mwakingwe, MD, PhD, is a physician scientist who since August 2019 has been working as a senior clinical and research development lead at GlaxoSmithKline (GSK) conducting research in vaccines. Dr. Mwakingwe-Omari was born in Tanzania and says she was lucky to get a scholarship to attend high school at United World Colleges of the Atlantic. She emigrated to the US for education where she attended Middlebury College. Matriculating in February, Agnes remembers being in shock when she stepped out of the Greyhound bus in front of the old library building to find herself in knee deep snow! Since graduating from Middlebury in 2002 with a major in chemistry, Agnes enrolled in a Medical Scientist Training Program at Albert Einstein College of Medicine in Bronx, NY and in 2010 she obtained her MD/PhD in molecular biology and immunology studying host – malaria parasite interactions. She then went on to complete an internal medicine residency training program at Johns Hopkins Bayview Medical Center in 2013. Before joining GSK, Agnes spent 6 years at the National Institute of Allergy and Infectious Diseases at the National Institutes of Health (NIH) as an adult infectious diseases clinical and research fellow and staff clinician. Agnes says she was introduced and immersed in clinical research at the NIH, an area that combines her passion for patient care and medical research. Although through the majority of her career she has worked on the malaria parasite both in the lab and in clinic, Agnes is now working on a different vaccine at GSK and is excited to learn a new industry, and apply and further develop her skills in a new field.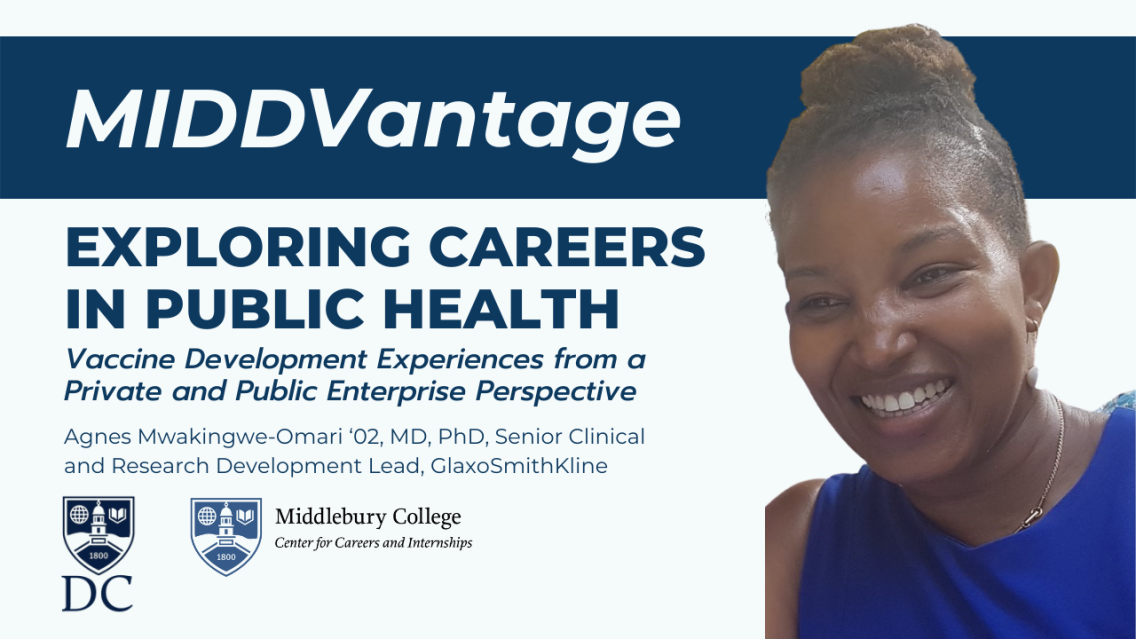 ---
Episode 2: Policymaking at the Centers for Disease Control and Prevention
Guest Speaker:  Seth Kroop '02, Associate Director for Policy in the Division of Healthcare Quality Promotion at the Centers for Disease Control and Prevention
Interviewer: John Carew '20
Video: 24 minutes
Seth Kroop is the Associate Director for Policy in the Division of Healthcare Quality Promotion at the Centers for Disease Control and Prevention (CDC). He graduated from Middlebury College in 2002. Currently, as part of CDC's novel coronavirus emergency response, he serves at the policy lead for CDC's Health Systems Response and Worker Safety Task Force and was recently the deputy policy lead for the CDC emergency response.
Previously, Seth was the lead special assistant to the CDC Director, and he also worked in policy roles in various emergency responses, including the Ebola outbreak in the Democratic Republic of Congo in 2018-19, the Zika emergency response in 2016, and West African Ebola emergency response in 2014-2016. Seth joined the CDC as a Presidential Management Fellow 2012, and he has a master's of public of public administration from the Andrew Young School of Policy Studies at Georgia State University.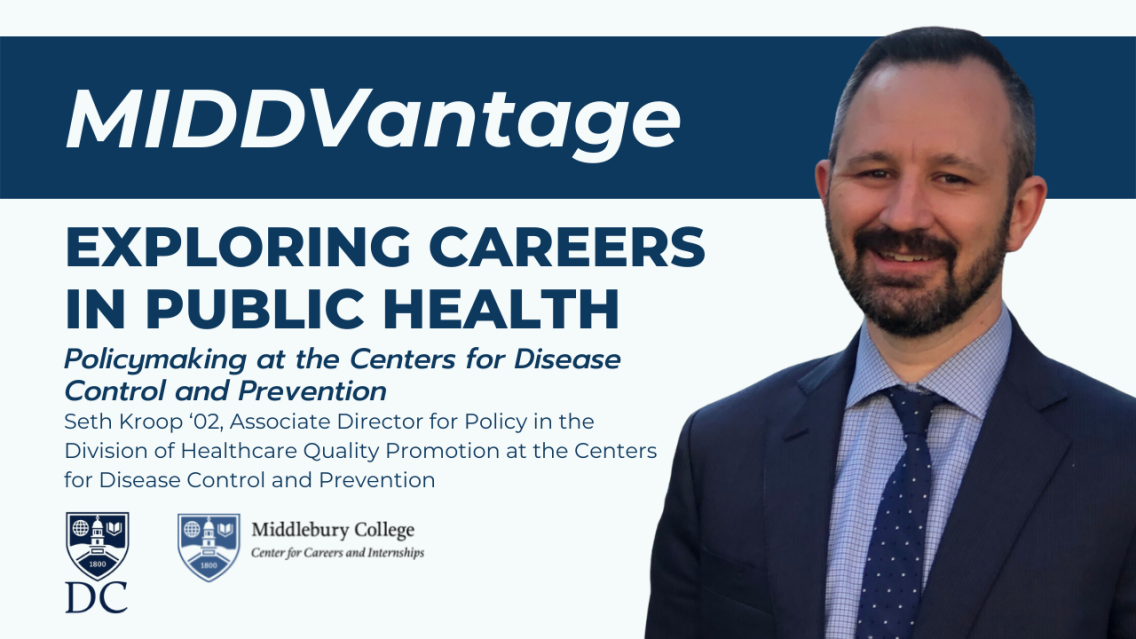 ---
Episode 1: An Overview of the Global Health Landscape: Issues, Challenges, and the State of Affairs
Guest Speaker:  Pam Berenbaum, Director Global Health Program at Middlebury College
Interviewer: Fariha Haque, Director, Middlebury in DC
Video: 27 minutes
Pam Berenbaum is Director of the Global Health Program, Professor of the Practice of Global Health, and a member of the leadership team for the Experiential Learning Centers. She has taught at Middlebury since 2010, teaching courses on global health, public health policy, and disaster public health. Pam holds a Master of Science in Health Policy and Management from the Harvard School of Public Health. She has worked in many sectors, including government, academic, consulting, and non-profit. For ten years, she was an infectious disease epidemiologist in the Epidemiology Field Unit at the Vermont Department of Health, where she specialized in syndromic surveillance, bioterrorism, and all-hazards emergency preparedness, collaborating with personnel from other state agencies as well as the CDC.