Carolyn Finney
Artist-in-Residence, Environmental Affairs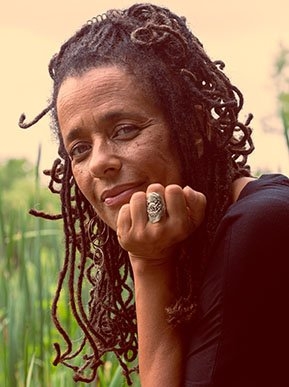 Office

Franklin Env Ctr-Hillcrest 121

Tel

Email

Office Hours

Tuesday, 1-3pm, or by appointment (in person and virtual)
Additional Programs
Carolyn Finney, PhD is a storyteller, author and a cultural geographer who is grounded in both artistic and intellectual ways of knowing - she pursued an acting career for eleven years, but five years of backpacking trips through Africa and Asia, and living in Nepal changed the course of her life.
Motivated by these experiences, Carolyn returned to school after a 15-year absence to complete a B.A., M.A. (gender and environmental issues in Kenya and Nepal) and a Ph.D. (where she was a Fulbright and a Canon National Science Scholar Fellow).
Along with public speaking (nationally & internationally), writing, media engagements, consulting & teaching (she has held positions at Wellesley College, the University of California, Berkeley & the University of Kentucky), she served on the U.S. National Parks Advisory Board for eight years. Her first book, Black Faces, White Spaces:Reimagining the Relationship of African Americans to the Great Outdoors was released in 2014.
Recent publications include Self-Evident: Reflections on the Invisibility of Black Bodies in Environmental Histories (BESIDE Magazine, Montreal, Spring 2020), The Perils of Being Black in Public: We are all Christian Cooper and George Floyd (The Guardian, June 3rd 2020), and Who Gets Left Out of the Great Outdoors Story? (New York Times, November 4, 2021).
She is currently working on her new book (creative non-fiction) that takes a more personal journey into the very complicated relationship between race, land & belonging in the United States, and a performance piece entitled The N Word: Nature Revisited as part of an Andrew W. Mellon residency at the New York Botanical Gardens Humanities Institute.
Along with being the new columnist at the Earth Island Journal, she was recently awarded the Alexander and Ilse Melamid Medal from the American Geographical Society and is an artist-in-residence in the Franklin Environmental Center at Hillcrest at Middlebury College.
Courses Taught
Course Description
The N Word: Nature, Revisited
What do voices from American History, both past and present, reveal about the way race, and privilege shape how we understand conservation, climate change and environmental justice today? How does your voice matter in this current moment? We will consider the foundations of environmental ideas and attitudes. In particular, in this current climate where Black Lives Matter and systemic racism are central in our conversations about place and space, we will explore the construction of environmental narratives and how race impacts environmental participation. In addition, we will explore how representations of the natural environment are structurally and culturally racialized within environmental institutions and the media by engaging in "conversations" with environmental icons such as John Muir and other historical and contemporary figures such as Zora Neale Hurston and James Baldwin. 3 hrs. sem.
Terms Taught
Fall 2020, Spring 2021, Fall 2021, Spring 2022, Fall 2022, Spring 2023, Fall 2023, Spring 2024
Requirements
AMR
Course Description
Independent Study
In this course, students (non-seniors) carry out an independent research or creative project on a topic pertinent to the relationship between humans and the environment. The project, carried out under the supervision of a faculty member with related expertise who is appointed in or affiliated with the Environmental Studies Program, must involve a significant amount of independent research and analysis. The expectations and any associated final products will be defined in consultation with the faculty advisor. Students may enroll in ENVS 0500 no more than twice for a given project. (Approval only)
Terms Taught
Spring 2020, Winter 2023, Winter 2024
Course Description
Senior Independent Study
In this course, seniors complete an independent research or creative project on a topic pertinent to the relationship between humans and the environment. During the term prior to enrolling in ENVS 0700, a student must discuss and agree upon a project topic with a faculty advisor who is appointed in or affiliated with the Environmental Studies Program and submit a brief project proposal to the Director of Environmental Studies for Approval. The expectations and any associated final products will be defined in consultation with the faculty advisor. Students may enroll in ENVS 0700 as a one-term independent study OR up to twice as part of a multi-term project, including as a lead-up to ENVS 0701 (ES Senior Thesis) or ENVS 0703 (ES Senior Integrated Thesis). (Senior standing; Approval only)
Terms Taught
Spring 2020, Winter 2021, Winter 2022, Winter 2023, Winter 2024