Michael French
Visiting Assistant Professor of Chemistry/Biochemistry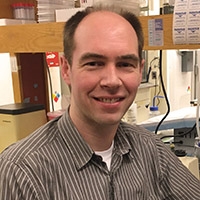 Office

McCardell Bicentennial Hall

Tel

Email

Office Hours

Spring 2022: Tues. and Thurs. from 12:30-2 p.m. and by appointment
Additional Programs
My research group focuses on the molecular mechanisms of protein degradation, with an emphasis on understanding the biochemistry of how ubiquitin ligases work. In eukaryotic organisms, proteins that are damaged, misfolded, or no longer needed are degraded through a specialized pathway known as the ubiquitin-proteasome system. In this system, the small protein modifier ubiquitin is covalently attached to a protein substrate, usually in the form of a polyubiquitin chain, by a series of enzymes. The ubiquitinated protein, marked for destruction, is then shuttled to a large, multi-subunit complex known as the proteasome, which unfolds the protein substrate and cleaves it into pieces. Current work in my group is focused on understanding how ubiquitin ligases, the key regulatory enzymes in this cascade, modify their substrates with different types of polyubiquitin chains. We are specifically interested in understanding how the Nedd4 family of ubiquitin ligases, which consists of nine different members in humans, builds polyubiquitin chains on its substrates. Recent work suggests a two-phase mechanism that imparts these enzymes with the ability to synthesize two distinct types of polyubiquitin signals, the functions of which have yet to be fully defined (French et al., JBC 2017; Ohtake et al., PNAS, 2018). Using the tools of biochemistry and proteomics, we seek to understand the general relevance and functional importance of this mechanism for ubiquitin ligases within the Nedd4 family.
Academic Degrees
B.S./M.S., Biochemistry/Cell Biology, Bucknell University
Ph.D., Biochemistry and Molecular Biology, Northwestern University
Postdoctoral Fellowship, The Scripps Research Institute and The Salk Institute
Publications
French, M.E., Koehler, C.*, and Hunter T. Emerging functions of branched ubiquitin chains. Cell Discov., 7(1):6, 2021. *C. Koehler is a former undergraduate student at Grinnell College
French, M.E., Klosowiak, J.L., Aslanian, A., Reed, S.I., Yates, J.R. III and Hunter, T. Mechanism of ubiquitin chain synthesis employed by a HECT domain ubiquitin ligase. J. Biol. Chem. 292:10398-10413, 2017.
Klosowiak, J.L., Park, S.N., Smith, K.P., French, M.E., Focia, P.J., Freymann, D.M. and Rice, S.E. Structural insights into Parkin substrate lysine targeting from minimal Miro substrates. Sci. Rep. 6:33019, 2016.
French, M.E., Kretzmann, B.R.* and Hicke, L. Regulation of the Rsp5 ubiquitin ligase by an intrinsic ubiquitin-binding site. J. Biol. Chem. 284:12071-12079, 2009. *B.R. Kretzmann is a former undergraduate student advisee at Northwestern University
Stamenova, S.D., French, M.E., He, Y., Francis, S., Kramer, Z.* and Hicke, L. Ubiquitin binds to and regulates a subset of SH3 domains. Mol. Cell 25:273-284, 2007. *Z. Kramer is a former undergraduate student advisee at Northwestern University
French, M.E., Swanson, K., Shih, S., Radhakrishnan, I. and Hicke, L. Identification and characterization of modular domains that bind ubiquitin. Methods Enzymol. 399:135-157, 2005.
Zhou, L., Thompson, R., Reamer, R.A., Lin, Z., French, M., Ellison, D. and Wyvratt, J. Mechanistic study of the enantiomeric recognition of a basic compound with negatively charged single isomer gamma-cyclodextrin derivatives using capillary electrophoresis, nuclear magnetic resonance spectroscopy, and infrared spectroscopy. Electrophoresis 24:2448-2455, 2003.
Zhou, L., Thompson, R., French, M., Ellison, D. and Wyvratt, J. Simultaneous enantioseparation of a basic drug compound and its acidic intermediate by capillary electrophoresis. J. Sep. Sci. 25:1183-1189, 2002.