Speaking with a student ambassador is a great way to get a previous student's perspective on the Language Schools experience.
If you would like to connect with a student ambassador to ask questions, please contact the School of Hebrew at hebrew-ls@middlebury.edu.
Robert Hildebrandi
Hometown: Los Angeles, California
Program: 7-week Immersion
Current: George Washington University, PhD, Anthropology, 2025
Why did you choose to study at the Middlebury Language Schools?
My summer in Middlebury's Arabic language program has always been my most successful language-learning period. I knew that I was about to embark on fieldwork in Israel and wanted to boost my Hebrew language abilities as much as possible before arrival. After a series of average-quality Hebrew courses in Israel, I realized that a summer at Middlebury would be the only way to get the kind of quality language training and practice that I needed to help move me to a higher language level.
Please describe how your language skills improved due to your studies at Middlebury. 
One of my favorite aspects of our course was our weekly additional readings from a collection of Hebrew short stories. Working through these texts and those from the coursebook dramatically improved my reading comprehension skills and my ability to understand the main argument of a passage, even if I didn't know every word. Similarly, the need to communicate and understand basic concepts through daily speech in Hebrew forced me to communicate complex ideas with my limited vocabulary and to continue in conversations where I didn't understand every word used by the person with whom I was speaking.
While my dissertation fieldwork largely takes place in an Arabic-speaking Palestinian village in Israel, these improved Hebrew-language skills will allow me to understand both the Hebrew loan words in villagers' everyday speech as well as the spoken Hebrew that Israeli visitors speak when they visit the village. Furthermore, I am interested in learning more about the connections between my field site and the neighboring Jewish villages. Having strong reading and speaking skills will allow me to access local archives and conduct ethnography and interviews with local Hebrew-speaking Israelis about their experiences with their neighboring Palestinian villages.
Describe a typical day at Middlebury.
Wake up around 7; brush teeth while listening to a Hebrew podcast; walk to the dining hall while either listening to Israeli music or chatting with a fellow classmate; eat a big bowl of oatmeal and stock up on coffee for the day (remember to bring a travel mug!!); rush to my 8:15 class with my fellow classmates; have lessons, games, and coffee breaks until 11:45; eat too much cheese while chatting with friends in Atwater dining hall; stock up on more coffee; change into exercise clothes so I can go straight from class to yoga/volleyball/frisbee/tennis; go back to class for another hour and a half; head out to the sport of the day (or, if it's a Friday, meet for a hike!); shower; plan to do homework but get caught up in discussions in Hebrew with whomever is sitting at the table in front of the student lounge; practice my Hebrew song for the talent show; go to dinner, eat too much maple creamie ice cream, and tell dumb jokes/puns in Hebrew over dinner; go to story time/sing-a-long/cooking class/music jam class; make some herbal tea with bags swiped from dining hall; belatedly start homework; brush teeth while listening to a Hebrew podcast; sleep; dream in Hebrew.
Elizabeth Ho
Hometown: Irvine, California
Program: 7-week Immersion
Current: Harvard Divinity School, Islamic and Judaic Comparative Studies
What surprised you about your experience at the Middlebury Language Schools?
How much of a catalyst the immersion process was to my learning experience, and just how much of a difference it made in my Hebrew study.
Why did you choose to study at the Middlebury Language Schools?
I knew that it was the only place I could be guaranteed both a fully immersive environment and world-class instruction from leading scholars in Hebrew studies.
Please describe how your language skills improved due to your studies at Middlebury.
Prior to Middlebury, I had taken Hebrew courses for 3 years in a university setting, and yet still could not actually speak the language. After just one summer, I could speak fluidly and comfortably. After two summers, I was near fluency.
What advice would you give someone wanting to attend the School of Hebrew?
Middlebury can be incredibly intensive and challenging, but also a truly enjoyable and magical experience. There's no place like it around—it's a program, an adventure, and a full life experience.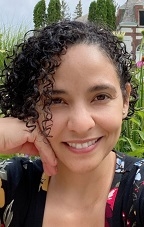 KMarie Tejeda
Hometown: Boston, MA
Program: 7-week Immersion
Current: Boston University, Graduate, Ph.D. Program of Religion, 2026
Why did you choose to study at the Middlebury Language Schools?
My Hebrew teacher recommended me to attend Middlebury Language Schools because although I had two years of studying Modern Hebrew in the past,I couldn't understand and speak the language.
Describe a typical day at Middlebury.
A typical day at Middlebury would be waking up early in the morning, take a shower, go to each breakfast, go to class until noon, getting help with our homework, attend various fun extracurricular activities–or having time for yourself–having breakfast, and in the evening eating dinner, and engage either in more extracurricular activities or be in your room finishing homework if you haven't done so. Over the weekend, there are several extracurricular fun activities, or some people might go to the nearest cities for internal tourism.
What other language learning opportunities have you had?  How would you compare this experience to Middlebury?
I studied Modern Hebrew during my undergraduate and master's studies. However, I couldn't understand or speak the language until I came to Middlebury. Modern Hebrew is still a challenge for me, but I can communicate and engage with people who speak the language after Middlebury.