Graduate Program in Hebrew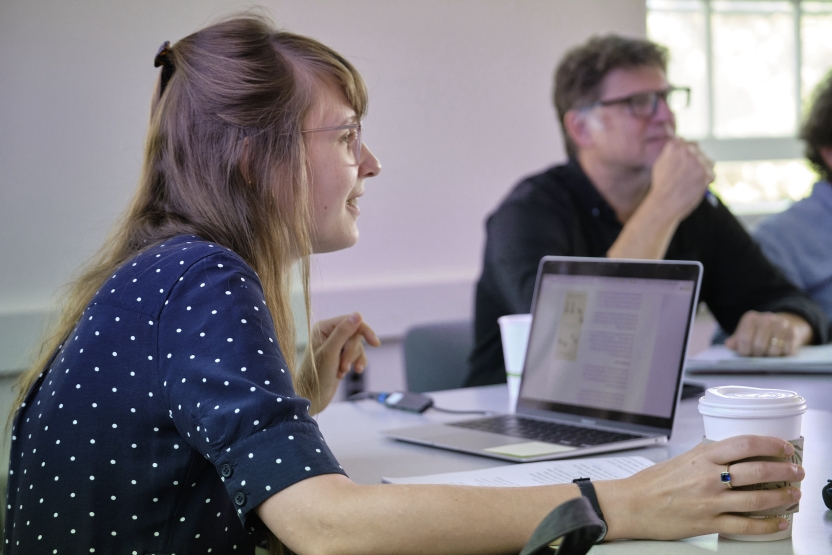 Learn the most advanced pedagogy in teaching Hebrew language and culture.
For over 100 years, the Middlebury Language Schools have set the standard for rigorous and transformative foreign language study. Since 2008, Middlebury's School of Hebrew has combined distinctive immersion methodology with a unique and proven pedagogical approach. The School of Hebrew also allows teachers of Hebrew as a second language to advance in their own teaching and to professionalize their field.
Eligibility
Master of Arts
The Middlebury Master of Arts in Teaching Hebrew as a Second Language gives educators the skills to support learners in becoming proficient in Hebrew. Master's degrees are for students who have generally studied their language for four years or longer, unless they are native speakers. The GRE is not required. See additional Hebrew application instructions.
You can complete your degree in a year and a half. Students start with an initial 6-week summer session on the Middlebury, Vermont campus. The second and third semester are completed online during the academic year, followed by a 6-week summer on the Middlebury, Vermont campus and final online semester.
Prospective and active teachers of Hebrew can combine cultural immersion with superb pedagogical training.
Doctor of Modern Languages
The DML in Hebrew prepares excellent language educators who want to advance the field of teaching and learning Hebrew as leading educators and researchers.
Students in the DML program spend the equivalent of three semesters at the School of Hebrew or in another approved program (total of 9 units). An additional three courses are taken in the form of independent study over three academic years. See the DML in Hebrew Guildelines and Requirements.
The DML degree in Hebrew, launched in 2017, represents a new language pedagogy track in the DML program. Language pedagogy track requirements will differ in some respects from the requirements of the traditional DML in French, German, Italian, Russian, and Spanish. For more information, please contact the School of Hebrew at hebrew-ls@middlebury.edu.
Funding
Thanks to the support of generous donors (including many Language Schools alumni) and Middlebury's commitment to provide an opportunity for as many students as possible, we are pleased to offer significant need-based financial aid and merit-based fellowships and scholarships for graduate students.
Career Outcomes
Students who earn a graduate degree in Hebrew pursue rewarding careers and opportunities in a range of fields:
Doctoral programs
Teaching or academic administration
Social work
Speech and language pathology
Government
Nonprofit organizations
Talk to a graduate of our MA program, and you'll likely hear them describe the remarkable language acquisition and academic achievement that has dramatically broadened their perspective and helped them to realize their career goals.
Apply Now
Inquire Now