Master of Arts in Russian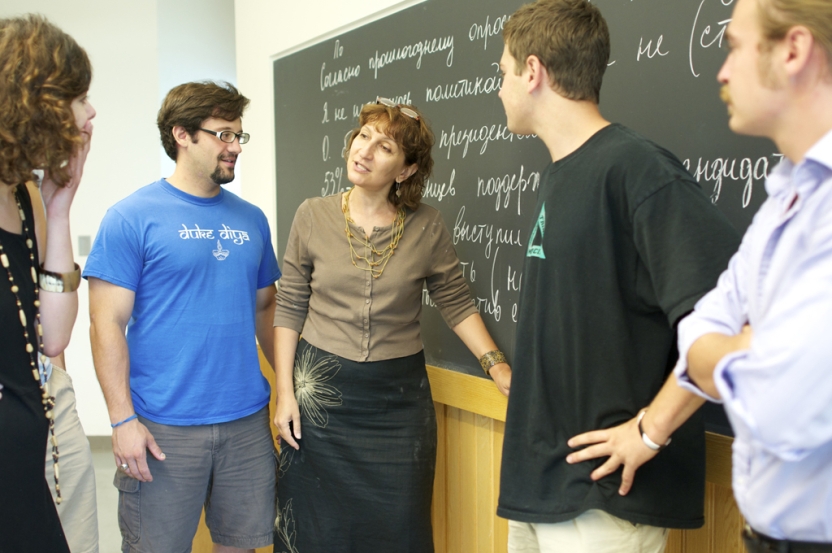 Focus on linguistic excellence, cultural fluency, and regional expertise to prepare for careers in academia, government, business, or the nonprofit sector.
The MA in Russian is designed as a broadly based program of study in itself, rather than as the first stage of a doctoral program. You may choose to earn your MA in one of the following ways:
Four summers in Vermont
Two summers in Vermont, with an academic year in Astana, Kazakhstan
Three summers in Vermont, with a semester in Astana, Kazakhstan
See locations for more information and course listings.
Curriculum
Middlebury awards one unit of graduate credit (equivalent to three semester hours) for each graduate course. The normal course load is three course units per summer or semester abroad.
Candidates for the MA in Russian are expected to take a balanced program. Studies should include at least two courses in each of the following areas:
Language, linguistics, or pedagogy
Literature
Civilization (history, politics, art, film, music, popular culture, etc.)
An MA capstone project, such as a thesis, is required.
As one of the required 12 units, during the final summer in Vermont, candidates register for an independent study course (RUSS 6888), representing the capstone project/thesis. The topic, nature, and scope of the capstone project should be approved by a faculty advisor, assigned by the director. Research is usually started during the year abroad in Kazakhstan or during the second or third summer at Middlebury.
Graduate summer sessions and semesters abroad need not be consecutive.
All credits toward a Middlebury MA are valid for a maximum of 10 years.
Options
You have several options for completing your master's degree.
OPTION 1
4 summers (6 weeks each) Russian School, Vermont
OPTION 2
1 summer (6 weeks) Russian School, Vermont
+ 1 academic year Middlebury School in Astana, Kazakhstan
+ 1 summer (6 weeks) Russian School, Vermont
OPTION 3
1 summer (6 weeks) Russian School, Vermont
+ 1 semester Middlebury School in Astana, Kazakhstan
+ 2 summers Russian School, Vermont