Exploring Careers in Data Analytics
Exploring Careers in Data Analytics is a collaborative series developed by the Center for Careers and Internships and Middlebury in DC with content contributions from members of the Middlebury Professional Network and Middlebury students.
Data analytics is broken down into four basic types. Descriptive analytics describes what has happened over a given period. Diagnostic analytics focuses more on why something happened and predictive analytics moves to what is likely going to happen in the near term. Finally, prescriptive analytics suggests a course of action. Market watchers project the number of jobs for data professionals in the U.S will increase to over 3 million by 2022. This series includes interviews with many professionals who will share their vantage points on how they use data analytics in their career roles, their paths from campus to career, and career advice they would have for students interested in this career space.
Episode 6: History Major to a Machine Learning Engineer in Fin Tech
Guest Speaker: Winnie Yeung '15, Machine Learning Engineer, Block
Interviewer: Steven Shi '23
Video: 28 minutes
Winnie Yeung '15 is a machine learning engineer at Block in the San Francisco Bay Area, working on developing and deploying Natural Language Processing (NLP) and Computer Vision-related machine learning solutions to improve customer onboarding experiences. She earned her master's in analytics at the Georgia Institute of Technology and has previously worked at Fidelity Investments and Visa. She has co-authored an NLP course with Mannings Publication and actively contributes to the open-source community by giving talks at PyCon Hong Kong. While at Middlebury ('15), she majored in History and worked with Professor Febe Armanios researching Halal food traditions.
Episode 5: Data Visualization Mapping the Planet
Guest Speaker: Max Borrmann '20, Data Visualization Associate, Planet
Interviewer: Charlotte Gray '21
Video: 23 minutes
Max Borrmann '20, Data Visualization Associate, Planet. After graduating from Middlebury with a B.A. in Environmental Studies and Geography, Max joined Planet, applying his GIS skills, and mapping the planet. As a member of the marketing team, he creates visualizations of the planet Earth to support private and public sector clients, as well as NGOs. While at Middlebury, he worked in the Sustainability Solutions lab, designing sustainability-themed graphics and animations in Adobe Illustrator for display on building energy dashboard and to be included in a multimedia video series explaining the details of Middlebury's energy system to a general audience.
---
Episode 4: Data Science at the Intersection of Strategy, Product, and Engineering
Guest Speakers: Jeb Burchenal '10, Director of Data Science, Meta
Interviewer: Cathy Han '22
Video: 36 minutes
Jeb Burchenal '10, Director of Data Science, Meta. Within Meta, Data Science is the primary quantitative analytical arm of the organization. In his role, Jeb leads a team that uses data to make strategic decisions, set performance goals, and answer many day-to-day operational questions. Prior to joining Meta, he worked with Uber as a Director for New Mobility and Uber Eats. Jeb's first role after graduating from Middlebury with a B.A. in Economics was as an Associate with Brown Brothers Harriman.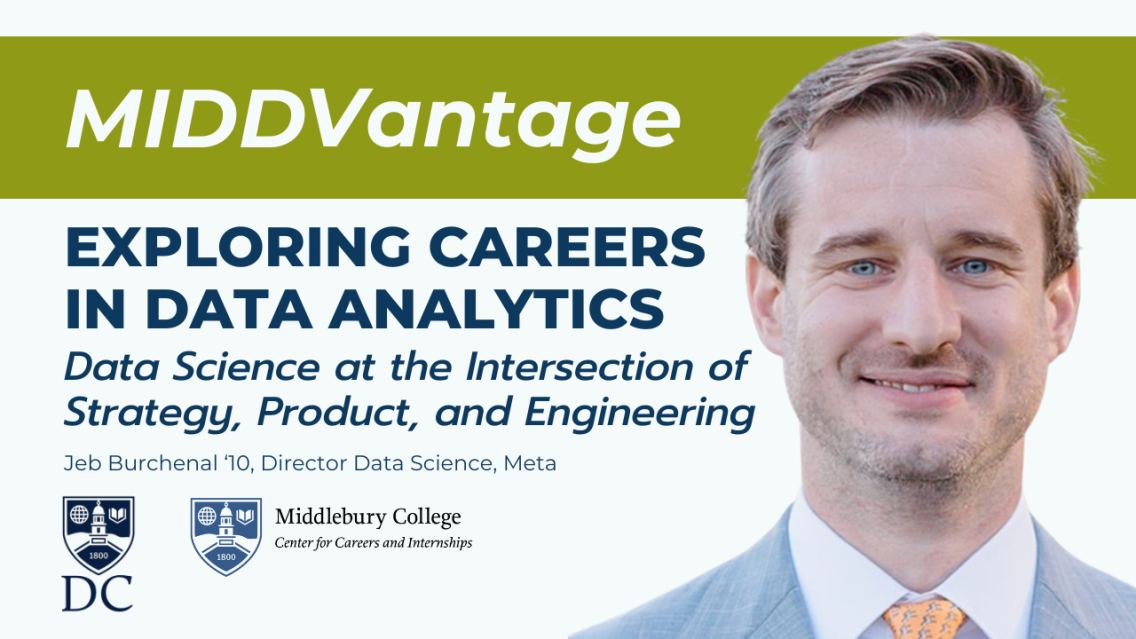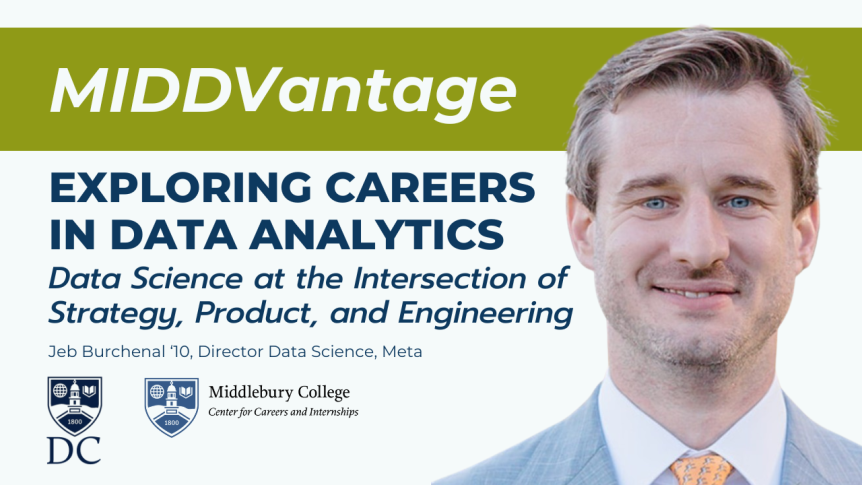 ---
Episode 3: Decade of the Drone in Data Analytics
Guest Speaker: Kat James '14, Founder, Four Hundred Feet
Interviewer: Brooke Laird '22
Video: 38 minutes
Kat James '14, Founder, Four Hundred Feet.  As the founder of Four Hundred Feet, Kat helps researchers, NGOs, and governmental organizations leverage drone technology for spatial data collection, supply chain management, and visual storytelling.  She has over a decade of working at the intersection of emerging technologies and global health with experience working in over 10 countries around the world. Kat received a B.A. in Geography (specializing in Geographic Information Systems) and Global Health and has a dual Master's in Public Health and Information Science from the University of Michigan.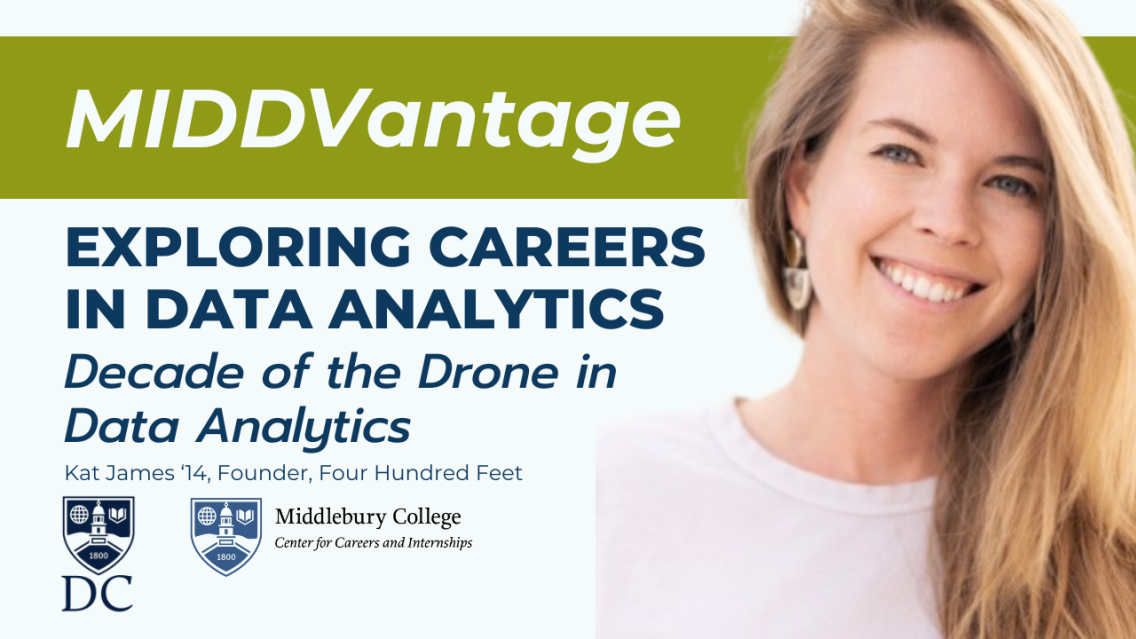 ---
Episode 2: Mapping Humanity
Guest Speaker: Carmen Tedesco '01.5, Director Data Analytics, Fraym
Interviewer: Kate Talano '22
Video: 47 minutes
Carmen Tedesco '01.5, Director Analytics at Fraym. Carmen is an international development practitioner specializing in data systems, impacts, and results. She's a geospatial expert with a track record of building partnerships across public and private organizations and providing thought leadership on data systems issues for development. She has sector experience in climate change/climate services, WASH, youth development, agriculture/food security, and infectious disease epidemiology and has worked in: Armenia, Austria, Bangladesh, Bermuda, Bhutan, El Salvador, Germany, Haiti, Honduras, India, Indonesia, Kenya, Mozambique, Nepal, Thailand, Tunisia, Russia, Uruguay, and Vietnam.  Carmen graduated from Middlebury with a B.A. in Geography and has a Masters in Geography from the University of Illinois.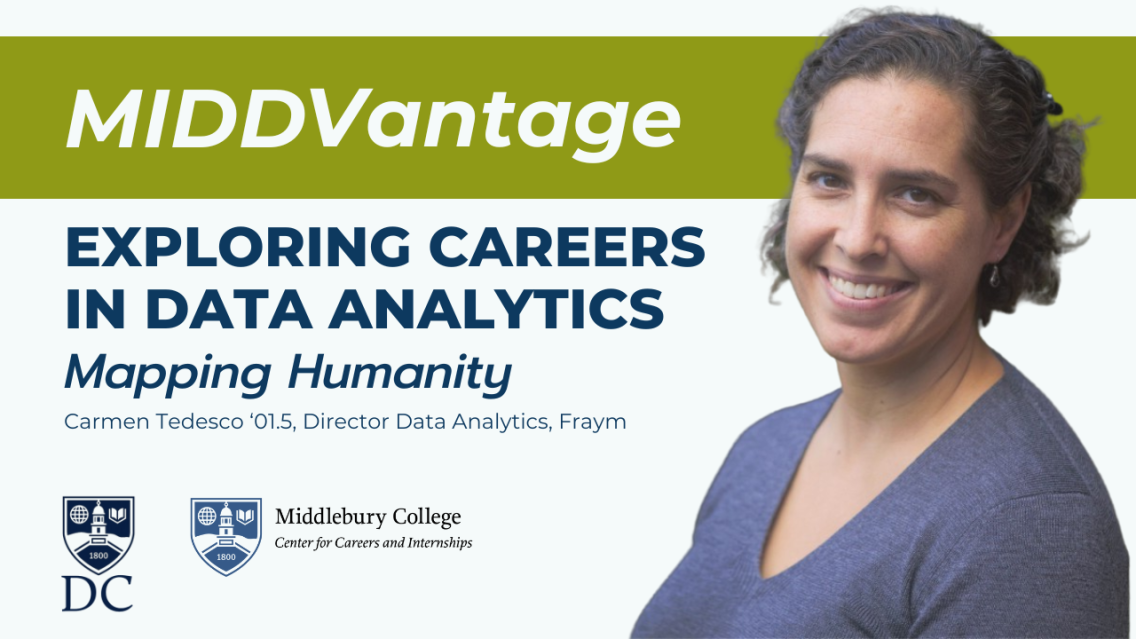 ---
Episode 1: Data Science in Politics
Guest Speaker: Alec MacMillen '14, Voter Protection & Insights Analyst, Democratic National Committee
Interviewer: Breanna Guo '24.5
Video: 26 minutes
Alec MacMillen '14, graduated from Middlebury in 2014 with a BA in International Politics and Economics. After completing a Fulbright English teaching fellowship in Jordan, he returned to the United States and worked in economic policy and analysis at the Congressional Budget Office and Edgeworth Economics. He earned an MS in Computational Analysis and Public Policy from the University of Chicago in 2020 and currently works as a data analyst specializing in voter protection at the Democratic National Committee.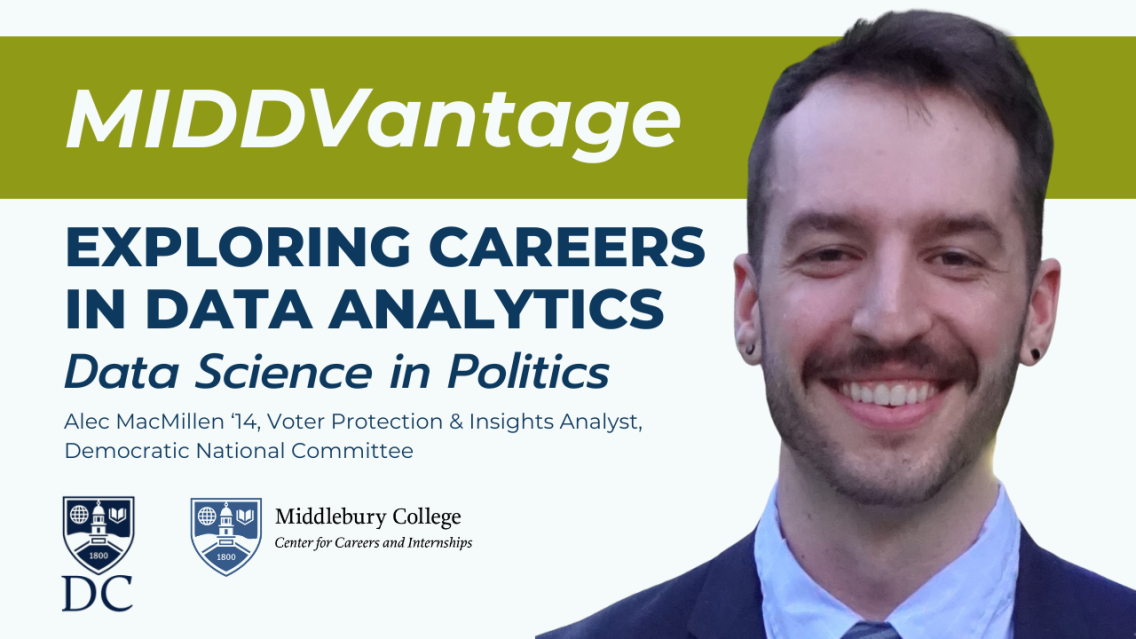 Episodes coming Fall 2022
Episode 7: Data Science Research Supporting Technical Infrastructure - release date 12/6/22
Guest Speakers: Trisha Singh '18, Research Data Scientist, Meta
Interviewer: Lila Kosowsky '24
Video: 26 minutes
Episode 8: Operational Data Analytics in a Tech Company - release date 12/13/22
Guest Speakers: Archer Newell '16, Senior Data Analyst, Fivetran
Interviewer: Josh Rosenstein '24
Video: 25 minutes
Episode 9: Data Analytics in a Non-Profit Environment - release date 1/17/23
Guest Speakers: Michelle Roman '17, Senior Manager of Analytics, uAspire
Interviewer: Ulysses Kamp '24
Video: 25 minutes
Episode 10: The Personal Communications Side of Data Analytics - release date 1/24/23
Guest Speakers: Raffie Parke '13 (Psychology), Account Executive Data & AI, IBM
Interviewer: John Cambefort '22
Video: 27 minutes
Episode 11: Reducing Violence and Harms of the Criminal Justice System - release date 2/7/23
Guest Speakers: Nathan Weil '15, Analytics Manager, University of Chicago Crime Lab
Interviewer: Eli Drachman '24
Video: 28 minutes
Episode 12: Data Analytics and the Justice System - release date 2/14/22
Guest Speakers: Nick Delehanty '17, Data Director, Federal Public Defenders office in Brooklyn
Interviewer: Ellie Thompson '22
Video: 20 minutes
Data Analytics Guest Speaker Biographies
Nick Delehanty '17 (he/him) is currently the Data Director at the Brooklyn office of the Federal Defenders of New York. Federal Defenders, the federal public defender organization for New York City, represents people accused of crimes in federal court. Nick's data collection and analysis work support Federal Defenders' day-to-day operations, casework and trials, and strategic litigation. Previously he was a paralegal and chief paralegal at Federal Defenders. At Middlebury, he majored in history with minors in French and global health.
Archer Newell '16, Senior Data Analyst at Fivetran. In her role at Fivetran, Archer focuses on building data models to support financial and operational reporting and analysis which enable the company to make more informed business decisions. Prior to her time with her present employer, she worked with Lucis LLC as a Business Intelligence (BI) Analyst and then as a BI Engineer. While at Middlebury, she worked in the Media Lab and through her Geography coursework exposed her to GIS which stimulated her interest in data and technology. Archer graduated from Middlebury with a major in Environmental Studies and Geography, minor in Spanish.
Raffie Parke '13 is an account executive at IBM with a focus on Data & AI solutions for commercial businesses. In this role, she serves as her clients' main point of contact for IBM's Information Architecture portfolio (in other words, the infrastructure that businesses need to manage and analyze their data). Before joining IBM, she spent eight years in consulting: first in CPG shopper marketing at Kantar Retail, then in nonprofit strategy at Community Wealth Partners. She graduated from Middlebury College in 2013 with a BA in Psychology and a minor in French. She is currently pursuing a part-time MBA at Boston University's Questrom School of Business.
Michelle Roman '17 is the Senior Manager of Analytics at uAspire, a national nonprofit that is hyper-focused on college affordability for marginalized communities. Their mission is a personal one for Michelle who joined this organization soon after graduating Middlebury as a first-generation low-income student of color.
In her current role, oversees the processing of student data, aligns external data dissemination systems with evolving organizational needs, collaborates with stakeholders on program evaluation, and contributes to research on student outcomes.
Michelle received her BA in Sociology and Anthropology with Minors in Spanish and Russian Language from Middlebury College in 2017.
Trisha Singh '18 is a Research Data Scientist at Meta, where she uses applied math and machine learning techniques to support Meta's infrastructure. Prior to Meta, she worked at Analysis Group in Health and Economics Outcomes Research. She holds an MS in Statistics from Stanford University and a BA in Math and Economics from Middlebury College.
Nathan Weil '15, Analytics Manager, University of Chicago Crime Lab.  Nathan applies data science and rigorous research to design, test, and scale programs and policies that enhance public safety and advance justice.  The University of Chicago Crime Lab is a research center at the University of Chicago dedicated to studying crime and developing and evaluating crime-reduction programs and seeks to reduce crime and violence by helping government agencies and non-profit organizations rigorously evaluate new pilot programs.  Nathan graduated from Middlebury with a B.A. in Economics.  While at Middlebury, he founded Middlebury Foods.