COVID-19 Update: Campus Visits Are Currently Suspended
Since March 10, Middlebury College's campus visit program has been suspended because of the rapid spread of COVID-19. While we can't currently welcome you to campus for in-person information sessions and campus tours, we invite you to have a Virtual Visit and let us know that you're interested in Middlebury. We'll put you on our mailing list, and we'll let you know when we resume our in-person visit program.
Planning Your Visit
You should plan to spend several hours at Middlebury College during your campus visit. Our in-person visit program includes the following:
Information Session (one hour)
Monday through Friday
10:00 a.m. and 1:30 p.m.
Please arrive at least 10 minutes prior to the start of your session.
Saturdays (July 13–November 9 only)
10:00 a.m.
Information sessions are led by an admissions representative. You'll learn about Middlebury's academic, residential, international, and extracurricular opportunities. Please register at least two weeks in advance, if possible.
Campus Tours
Plan on approximately 75 minutes on campus and two miles of walking.
Monday through Friday
11:00 a.m. and 2:30 p.m.
Saturdays (July 13–November 9 only)
11:00 a.m.
Our campus tours are a great opportunity for you and your family to explore some of Middlebury's campus with a current student as your guide.
Please register at least two weeks in advance of your visit, if possible.
Class Visits
A class visit can provide an inside look at what Middlebury's academic life has to offer. Consult our course schedule to choose a class (we recommend choosing a course at the 100 or 200 level). We ask you to email the professor in advance to ask permission to visit, and arrive a few minutes before class to confirm your attendance.
Group Visits
Groups of 10 or more are welcome, subject to the academic calendar and availability of Admissions staff and tour guides. If you would like to visit with a group, please fill out our group visit request form at least three weeks in advance. We will review your request and do our best to accommodate you.
Accessibility
Middlebury's campus is ADA accessible. If you or someone in your party requires accommodation (e.g., wheelchair accessible tour or ASL interpreter) please contact Admissions at least two weeks in advance.
Visitor Pet Policy
Middlebury College is a pet-friendly campus. However, for the well-being of our visitors, students, and staff members, pets (with the exception of service dogs) are not permitted in Emma Willard House. We do provide a shaded area on our back patio for your pet's convenience, and we have a water bowl to borrow at our front desk.
Getting Here
Middlebury College is located in the heart of the town of Middlebury, Vermont. We are approximately a three-hour drive from Boston and six hours from New York City. The nearest airport is Burlington International Airport, which is 35 miles away.
Directions to the Admissions Office
Middlebury Admissions Office
Emma Willard House
131 South Main Street
Middlebury, VT 05753
Hours: Monday through Friday
8:15 a.m.–5:00 p.m.
Visitor parking is available in the lot next to the Admissions Office or in the lot behind the Mahaney Arts Center, a short walk from our office.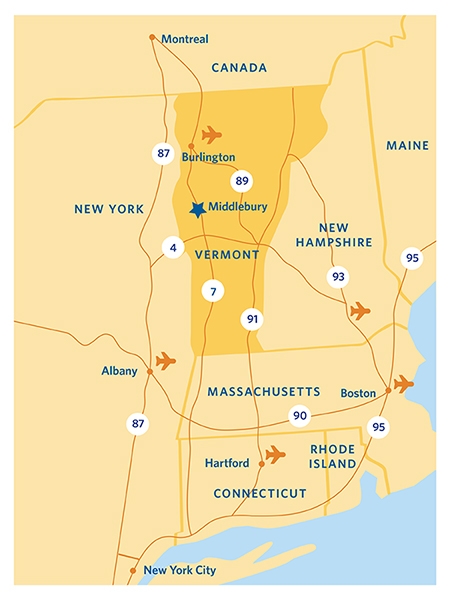 Transportation Options
Burlington International Airport
Amtrak
Megabus Burlington
Vermont Translines Bus
Greyhound
Shuttle Services
Middlebury Transit
Jessica's Vital Transit
Addison County Transit Resources (ACTR)
Burlington Taxi - BTV Shuttle
Local Road Conditions
Lodging and Restaurants
Middlebury, a small, scenic, and vibrant town in the heart of Addison County, Vermont, is home to a variety of hotels, inns, and bed-and-breakfasts, and a wide array of dining options. Burlington, Vermont, the state's largest metro area, is approximately 35 miles north.
Where to Stay
Choose from small inns to larger hotels within walking distance of or a short drive from campus. Lodging that is ADA accessible is noted with an asterisk. Please be aware that accessibility varies and may be limited.
Where to Eat
Enjoy some of our students' favorite eateries within walking distance of or a short drive from campus. Restaurants that are ADA accessible are noted with an asterisk. Please be aware that accessibility varies and may be limited.