You're invited to visit Middlebury College and experience campus for yourself. Our beautiful location in the heart of Vermont is within a day's drive of most Northeastern cities and a short flight from many airports. 
Planning Your Trip
We look forward to welcoming you to Middlebury! Here are some tips for planning your campus visit.
We encourage you to plan your trip to Middlebury in advance. Our programs require preregistration, and some area lodgings tend to book up quickly. 
Our hometown, Middlebury, Vermont, is highly walkable, with eateries, shops, museums, and the 16-mile Trail Around Middlebury (TAM) all a short distance from the center of campus. Burlington, Vermont's biggest city, is less than an hour's drive north.  
Register for Your Campus Visit
Visit Programs
Campus Tours: Preregistration Required
The tours will be Monday through Friday. If an official tour isn't available when you're visiting, self-guided tours are always available. 
Please arrive 10 minutes before the start of your tour so we can check you in. Check-in takes place at the Admissions Office.
Our campus tours are a great opportunity for you and your family to get an overview of Middlebury's campus with a current student as your guide. Each tour will have a limited number of families joining, and each registering student is limited to three additional family members/guests. 
Your tour experience will include approximately two miles of walking. 
Self-Guided Tours
If there are no tour slots available on a day when you will be in the Middlebury area, self-guided tour maps are available in the Admissions office. We also have students and staff members available to answer any questions visitors may have.
Accessibility
Middlebury's campus is ADA accessible. If you or someone in your party requires accommodation (e.g., wheelchair-accessible tour or ASL interpreter) please contact Admissions at least two weeks in advance.
Group Visits
Please fill out this form if you are bringing a group of 10 or more students to campus. 
Class Visits
We are not currently offering class visits.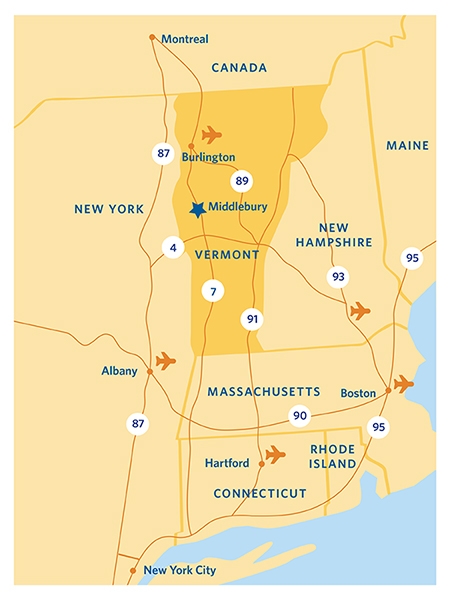 Getting Here
Middlebury College is located in the heart of the town of Middlebury, Vermont. We are approximately a three-hour drive from Boston and six hours from New York City. The nearest airport is Burlington International Airport, which is 35 miles away.
Our street address:
Middlebury Admissions Office
Emma Willard House
131 South Main Street
Middlebury, VT 05753
Visitor parking is available in the lot next to the Admissions Office or in the lot behind the Mahaney Arts Center, a short walk from our office.
Transportation Information
Information about public transportation and other ways of traveling to Middlebury, VT can be found here.
Local Road Conditions
We encourage you to consult with Vermont 511 for road conditions.
Visitor Pet Policy
Middlebury College is a pet-friendly campus. However, for the well-being of our visitors, students, and staff members, pets (with the exception of service dogs) are not permitted inside Emma Willard House. We do provide a shaded area on our back patio for your pet's convenience, and we have a water bowl to borrow at our front desk.
Lodging and Restaurants
Picturesque and vibrant, Middlebury has long drawn visitors from around the world. A quintessential New England town in the heart of Addison County, Vermont, Middlebury is home to a variety of hotels, inns, and bed-and-breakfasts, and a wide array of restaurants. Burlington, Vermont, the state's largest metro area, is approximately 35 miles north, with many more hotels, eateries, and tourist attractions. Want to know if any community events will be happening while you're in town? Check out Experience Middlebury and the Addison County Chamber of Commerce. 
Where to Stay in Middlebury
You can choose from small inns to larger hotels within walking distance of or a short drive from campus. Lodging that is ADA accessible is noted with an asterisk. Please be aware that accessibility varies and may be limited.
Where to Eat
Enjoy some of our students' favorite eateries within walking distance of or a short drive from campus. Restaurants that are ADA accessible are noted with an asterisk. Please be aware that accessibility varies and may be limited.