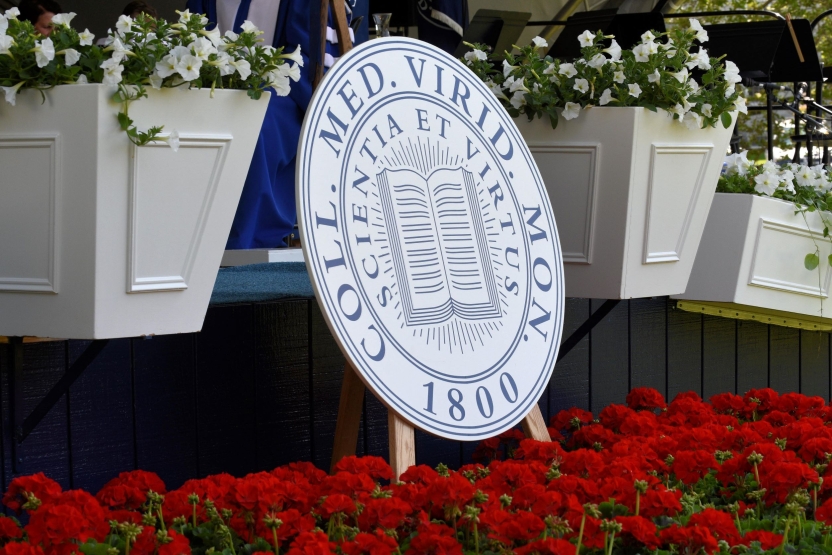 We join you in celebrating your student's academic achievements and hope the following information helps you enjoy this special occasion to its fullest. Congratulations!
Tickets
Tickets are not required for Commencement Weekend events.
Lodging in Middlebury and Surrounding Areas
We encourage families and guests to make lodging arrangements as soon as possible.
Pets
Service and assistance animals that are required because of a disability and are trained to work or perform a task are welcome. Guests are encouraged to leave pets at home. Even the most well-behaved pet can become frightened and unpredictable in a crowded, noisy setting. Pets are not allowed in College buildings including residence halls. Animals visiting campus grounds shall be leashed at all times and may not be left unattended or tied to any objects.
Directions to Campus
Driving directions and transportation options.
GPS Locations
GPS locations for primary parking areas off Route 30 are 72 Porter Field Road and 219 South Main Street.
Parking and Shuttle Service
There are several public parking areas around campus. There will be continuous shuttle service from these lots to the Commencement site. See the Commencement Parking and Shuttle Map.
Traffic will be heavy. We encourage guests at hotels and inns in town to take advantage of free shuttle service, which departs at approximately 7:30 a.m., 8:15 a.m., and 9:00 a.m.
Campus shuttle sites:
•  Mahaney Arts Center (the MAC)
•  Freeman International Center (FIC)
•  Alumni Stadium (weather permitting)
•  Ridgeline
•  Wright Theatre
Free shuttle service is available from these area hotels:
•  Courtyard Marriott
•  Middlebury Inn
•  Swift House Inn
Guest Seating
Seating is first come, first served. We respectfully ask that guests refrain from saving multiple seats for large groups. "Early birds" begin arriving at least an hour before the ceremony. Attendance will grow steadily by 9:30 a.m.
Reserved Seating
The graduating class sits in front of the stage. The Parents' Committee and special guests sit immediately behind them. Faculty sit in tents on either side of the stage. An area for American Sign Language (ASL) interpretation is located to the graduates' left, and an area for wheelchair seating is to the graduates' right. These areas are clearly marked. General seating is behind the Parents' Committee and special guest seating.
Indoor Venues
A tent to provide sun or rain protection will be located behind the general seating area. For those who wish to be inside, we provide a live broadcast of the ceremony in Wilson Hall in the McCullough Student Center (directly behind the rain tent) and Middlebury Chapel (up the hill).
Where Is My Grad Seated?
Graduates sit with the department or program with which they chose to march and are called to the stage alphabetically by department. Whether a department sits to the left or the right of the center aisle depends on the number of graduates in each department, which we do not know until several days before the event. Often (but not always) the departments seated on the right-hand side of the aisle with the valedictorian are American Studies through Independent Scholar. The departments seated on the left side of the aisle with the salutatorian often begin with International and Global Studies programs.
Staff at the program tables can tell guests where the departments are divided.
Services
Complimentary programs are available at the three small tents along the primary walkways into the Commencement site, as well as at the entrances to indoor venues. Large-print programs are available at these locations.
Complimentary beverages such as coffee, tea, and water are available at the two round beverage tents.
Flowers are available for purchase at vendor tents around the perimeter of the venue.
A first-aid tent is staffed by members of Middlebury Regional Emergency Medical Services for medical emergencies.
The accessibility-services tent provides information and assistance for guests with disabilities.
Student ushers provide directions and assist with seating guests.
Portable toilet facilities (including accessible toilets) are situated around the Commencement site's perimeter for your convenience, as many campus buildings are locked for security reasons.