Kristin Bright
Assistant Professor of Anthropology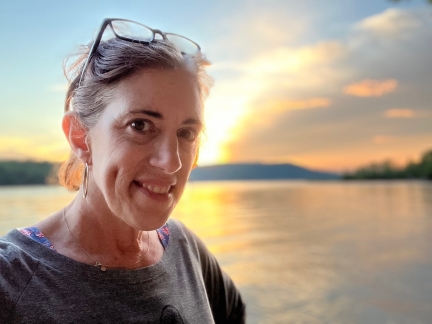 Office

Munroe Hall 103

Tel

Email

Office Hours

Fall Term: Tuesdays 2:30-4:30pm
Additional Programs
Kristin Bright is a cultural and medical anthropologist at Middlebury College and affiliated graduate faculty at the University of Toronto. She has extensive experience in international healthcare systems research and policy, as well as multimodal ethnographic research in South Asia and North America.
At Middlebury and UofT, she leads the Body Online lab where she and students are researching sociocultural dimensions of adolescent mental health, cancer treatment, relational and sexual health, holistic and integrative medicine, digital ecosystems, and end of life care. Across these projects, they are interested in the diverse ways people imagine and interact with emerging practices of digital communication and activism.
After finishing her PhD in 1998 at the University of California at Santa Cruz, Bright completed postdoc work in medical humanities at UC Irvine and Stanford (1999-2002). She then carried out NIH funded postdoc work at UC Berkeley on young adult substance use and mental health. She has directed large multi-site studies including a sociocultural/clinical study of advanced breast cancer in Egypt, India, Mexico, South Africa, and the US, and a large policy study on access to novel therapeutics for lethal cancers in Canada and the US.
Current research: In '23-24, Bright is working on the implementation and evaluation of a state-funded program in school-based healthcare with partners at Mount Abraham Union School District, Mountain Health Center, Middlebury Union High School, and Porter Hospital Pediatrics. In a second project, she and students at Dartmouth and Middlebury are researching digital media innovations in cancer treatment communication. In a third ongoing project with colleagues at the UofT, she is researching sociocultural relations and expressions of legacy, life, and materiality in hospice care and medically assisted death. 
Advising and teaching: Bright advises student research in cultural and medical anthropology, GSFS, pre-health and pre-med, IGST, South Asia and North America. Areas of teaching specialty include: medical anthropology, South Asia and the diaspora, anthropologies of the body, critical science and technology (STS), anthropologies of design, therapeutic landscapes, decolonizing medicine and medical history, multimodal ethnographic research and practice, and critical theory (biopolitics, affect, infra/structure, body, human/nonhuman relations, queer theory, kinship, anthropocene).
| Links | Social Links |
| --- | --- |
| Links | Social Links |