Gender, Sexuality, and Feminist Studies
Feminist studies is a dynamic interdisciplinary field that examines the social construction of gender and sexuality.
At Middlebury, gender, sexuality, and feminist studies (GSFS) courses utilize gender and sexuality as modes of inquiry and analysis, and we pay particular attention to the ways in which gendered ideologies are produced in relation to race, class, ability, and geography. Consistent across our courses is a focus on how power operates in the social world and informs our own place within it. 
Our Interdisciplinary Approach
Our curriculum examines the intersections of sexuality and gender in a variety of contexts. We have courses that draw upon the humanities, the social sciences, and the natural sciences. By questioning common-sense understandings of gender and sexuality, our program highlights the possibilities for transformation and change.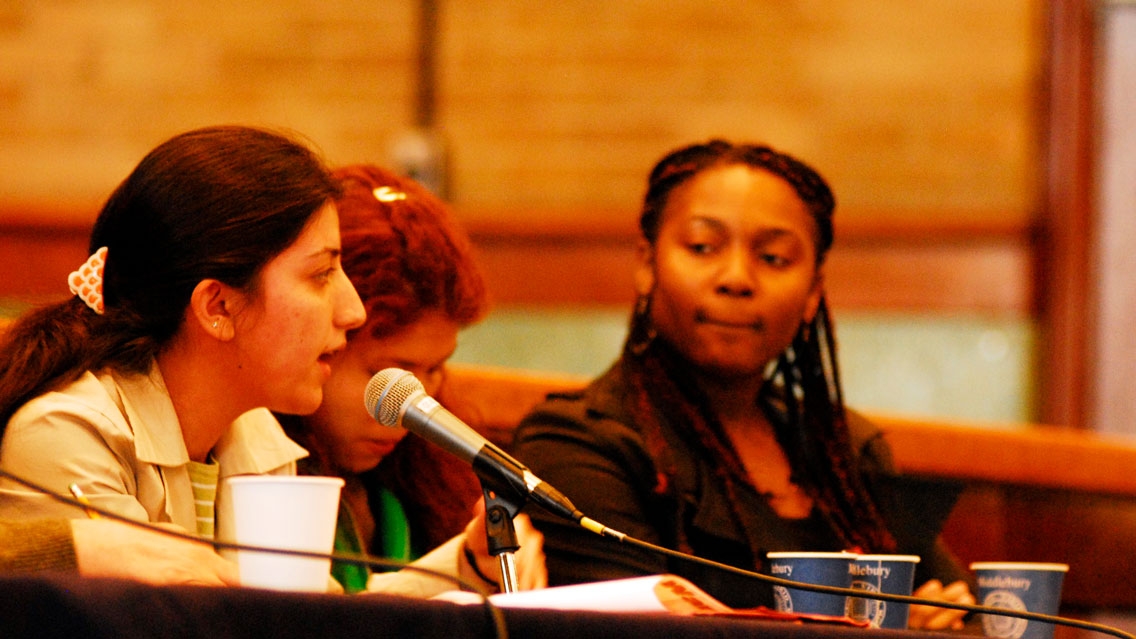 About the Department
Students take introductory courses that investigate gender as a category deeply embedded in race, feminisms from a historical and global perspective, and queer critique. Part of our commitment to feminist pedagogy means that many of our courses encourage engaged research and translation of projects and papers into forms of "public feminisms." 
Chellis House
Located in the Feminist Resource Center at Chellis House, GSFS serves as a hub for feminist and queer inquiry and activism at Middlebury. Students have the opportunity to conduct research with GSFS faculty, work at the Feminist Resource Center, live in the Queer Studies House, and apply for funding for their own research and activist interests. Our majors go on to careers in a diverse range of fields, including medicine and health care, law, education, government, and arts and media. 
Our Alumni
These are just some of the many interesting ways our graduates have applied their liberal arts learning to engage the world.
Beyond the Green, Cofounder and Developer
Seattle Arts & Lectures, Business Manager
The Nielsen Company, Recruiter
Adams County Social Services (Colorado), Intake Caseworker/Child Protection
Western Oregon University, Instruction Librarian
YMCA, Program Coordinator
Judge Baker Children's Center, Clinician
Food Network, Digital Producer
Legal Solutions, Team Lead, Hosting Litigation Technology Services
Bronx Defenders,Civil Legal Advocate
Deutsche Bank, Associate (Consultant)
NYC Department of Health & Mental Hygiene, Evaluation Specialist
The Architects, Founder/Dancer
South Shore Natural Science Center, Executive Director
IDEXX Laboratories Inc., Senior IT Business Analyst
Ketubah-Arts, Founder and Owner
JSA Advisors, COO
JCC Human Resources, Director of Benefits