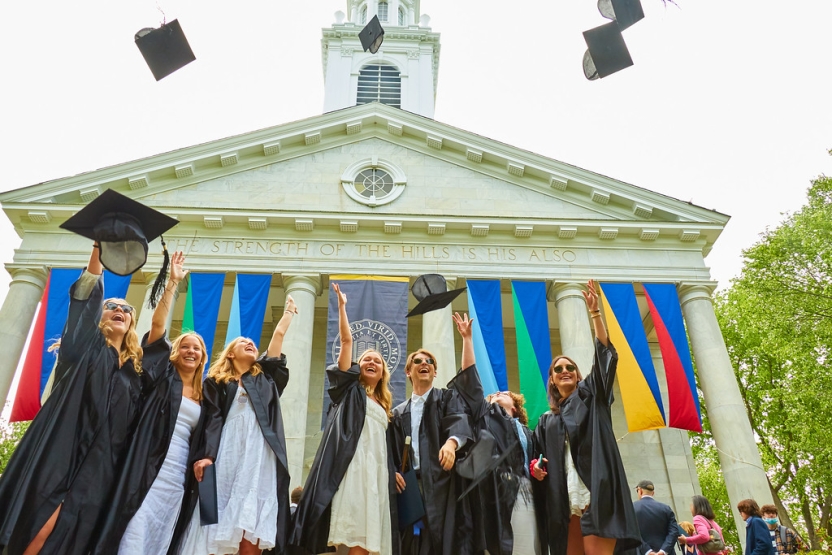 Congratulations, Class of 2020 and 2020.5! In May we celebrate your graduation with an in-person ceremony. 
Graduates will receive additional information via email about attending Commencement 2020. Details of the event will be added to this web page as they develop.

Haven't received Commencement 2020 email communications? Visit go.middlebury.edu/update to update your contact information.
Participant Deadlines
Tuesday, May 2
Midnight
Graduate Lodging Registration Deadline
The registration form is found on our Graduate Lodging page.
Monday, May 30
3:00 - 10:00 p.m.
Hillcrest 103, "The Orchard"
Graduate Lodging Check-In
Graduates registered for on-campus overnight lodging will check in to receive room assignments and access cards.
Cap and Gown Distribution
Pick up cap, gown, and two keepsake Commencement invitations. 
Tuesday, May 31
Commencement Day
9:00 a.m. Processional Lineup
Graduates check in at registration tents in front of the Davis Family Library.
4:00 p.m. Graduate Departure 
Graduates lodging on campus must check out of their rooms by 4:00 p.m.
Celebratory Arrival Dinner
Graduates and their partners are invited to reconnect and celebrate on the eve of their Commencement ceremony. Come as you are to Proctor Dining Hall any time between 5:00 and 8:00 p.m. 
Regalia and Attire
Middlebury College provides complimentary regalia (caps and gowns), which may be kept as souvenirs. Graduates who kept the caps and gowns from their virtual ceremony are encouraged to bring them. If that is not possible, please indicate your need on the event registration form.
Information on receiving caps, gowns, and two keepsake Commencement invitations will be provided in future communications.
Attire is typically smart casual. All ceremony participants must wear regalia at Commencement.
Tips
Wear the tassel on the right side of the mortarboard until after the bachelor's degree is conferred, at which time you move the tassel to the left.
The dye in the gowns may bleed when wet. If it rains, you may want to wear rain gear beneath the gown to protect your clothing. In the event of rain, the College provides ponchos at lineup that you can use for this purpose.
Remember to remove your tassel before throwing your cap!
Canes
Class of 2020.5, please bring your Gamaliel Painter canes. The Class of 2020 will receive their canes at the ceremony. Then you can all tap your canes to a rousing chorus of Gamaliel Painter's Cane!
Commencement Day Instructions
Arrive at the Davis Family Library at 9:00 a.m.
Check in at the correct registration tent. You will check in alphabetically by last name (look for signs on each of four tents). You will receive the tassel for your mortarboard here!
Proceed to the walkway along Starr Hall and the Axinn Center—only after checking in at the registration tent.
Locate the department/program with which you have chosen to march. Signs for each department will be posted along both sides of the walkway in alphabetical order. You will march in two lines, divided roughly in half by department (A–I and I–T). Line up alphabetically by last name within your department, as indicated on the sign. Staff from the Dean of Students Office will be there to assist.
Remain in line and wait for the two student marshals to begin the procession. All seniors should be registered and lined up by 9:40 a.m. We do not wait for late arrivals!
The procession begins at 9:50 a.m. Please remain in double lines as you march.
As prompted by the student marshals, the procession will stop when it reaches the senior seating area. The two lines of graduates turn to face each other and step back to let the faculty pass between. Please applaud your faculty as they pass.
Once faculty have passed through, follow the student marshals to your seats.
At the end of the ceremony, you will "recess" in similar fashion. Stand at your seats and file out after the faculty, in the same order that you marched in. The recessional proceeds up the hill to the chapel lawn for Commencement luncheon. Please prearrange a meeting place with your family.
Graduate Departure
All graduates must check out of their rooms no later than 4:00 p.m. on Commencement Day. This deadline is enforced so that rooms can be prepared for Reunion Weekend and Language Schools.
Check-out
There is no need to return to the check-in station. Please deposit your access cards in the boxes provided outside the main entrance of your dormitory as you leave. Thank you!