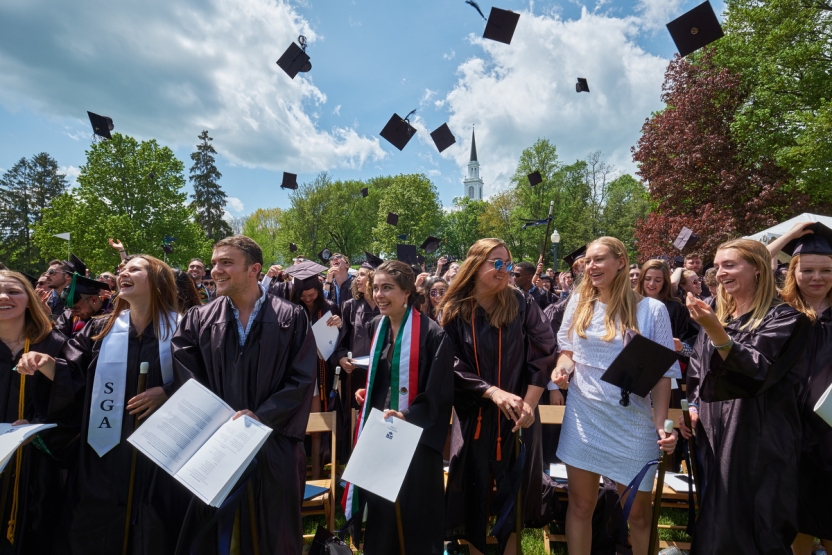 Congratulations, seniors! In May we celebrate your academic achievements with a variety of activities, culminating in the conferring of degrees at a formal ceremony on Commencement Day. Please take a moment to review this information and understand how you need to prepare for graduation.
The Registrar's Office sent an email to eligible seniors in February to declare your intent to graduate. You must meet all graduation requirements to receive a diploma on stage during the Commencement ceremony. Nongraduating seniors may participate in Commencement exercises but will not be called to the stage. Students unsure whether they have met all requirements should contact the Registrar's Office at registrar@middlebury.edu.
Senior Deadlines
Seniors must meet the following deadlines to participate in the Commencement ceremony.
Sunday, May 1 
Notify the Registrar's Office if you are planning to participate in the Commencement ceremony. For double and joint majors, declare which department you wish to march with. Note: Nongraduating seniors may march and be seated with graduating seniors, but they will not cross the stage for a diploma.
Returning Febs must contact Residential Life to arrange for on-campus Commencement Weekend housing.
Order printed graduation announcements from Jostens or the College Store for delivery before Commencement.
Monday, May 23
Decline Participation
Notify the Registrar's Office by noon if you are not planning to attend graduation.
Wednesday–Friday, May 25–27   
8:30 a.m.–5:00 p.m.
Cap and Gown Distribution
Pick up cap, gown, and keepsake Commencement invitations at the College Store.
Saturday, May 28
9:00 a.m.–3:00 p.m.
Final Cap and Gown Distribution 
Last chance to pick up cap, gown, and keepsake Commencement invitations at the College Store.
Sunday, May 29
Commencement Day
9:00 a.m. Processional Lineup
Seniors check in at registration tents in front of the Davis Family Library.
11:00 p.m. Graduate Departure 
Graduates must be moved out of residence halls.
Feb Grads and Nongraduating Seniors
Participation
We invite recent Feb grads to return in May to participate in Commencement with fellow graduating seniors to receive their diplomas.
Nongraduating seniors who will complete their degree requirements after May but before February of the following year can participate in the Commencement ceremony, wear a cap and gown, and march with their department. However, they do not walk across the stage for a diploma. They remain seated while the graduating seniors receive diplomas and canes. President Patton will recognize Febs and those who have not yet completed their degree requirements as a group during the ceremony.
Please notify the Registrar's Office no later than May 1 if you are planning to participate in Commencement. Please indicate your name as you wish it to appear in the Commencement program, as well as your hometown or city, and state or nation. Double and joint majors must indicate which department they wish to march with.
Housing
Nongraduating seniors (those completing degree requirements after May 2022 but by February 2023) are allowed to stay on campus during Commencement Week. Students wishing to stay must either be registered to participate in Commencement with the Registrar's office, or sign up to participate in senior week activities with the Student Activities office. The Registrar's and Student Activities Offices will share with Residential Life directly who has registered to stay on campus.
Returning Febs must make special arrangements for on-campus weekend housing no later than May 1 by filling out this form. Weekend housing is available from 5:00 p.m. on the Thursday of Commencement Weekend to 11:00 p.m. on Sunday.
Please note: All students must move out of residence halls no later than 11:00 p.m. on Commencement Day so the College can prepare rooms for the Commencement 2020/20.5 ceremony on Tuesday, and for Reunion Weekend and Language Schools.
Feb Celebration
Questions about the Feb Celebration in January should be directed to febceleb@middlebury.edu.
Regalia and Attire
Middlebury College provides complimentary regalia (caps and gowns), which may be kept as souvenirs. You may pick up caps, gowns, and two keepsake Commencement invitations from the College Store (802-443-5334) May 25–27 (8:30 a.m. to 5:00 p.m.) and May 28 (9:00 a.m. to 3:00 p.m.).
Please honor this dignified occasion and your family by wearing appropriate clothing and footwear. Dress for the weekend is typically smart casual. All ceremony participants must wear regalia at Commencement.
Tips
You wear the tassel on the right side of the mortarboard until after the bachelor's degree is conferred, at which time you move the tassel to the left.
The dye in the gowns may bleed when wet. If it rains, you may want to wear rain gear beneath the gown to protect your clothing. The College provides ponchos at lineup that you can use for this purpose.
Remember to remove your tassel before throwing your cap!
Senior Awards
Individual departments and programs will present departmental awards and prizes at their Commencement Weekend receptions or at other end-of-year events of their choosing. Departments or programs will notify students.
Phi Beta Kappa
Students elected to Phi Beta Kappa, the nation's oldest academic honor society, are notified via email no later than 5:00 p.m. the Thursday before Commencement. The Phi Beta Kappa ceremony is Saturday at 9:00 a.m. in the Olin C. Robison Concert Hall at the Mahaney Arts Center. Continental breakfast is available in the lobby at 8:30 a.m. Phi Beta Kappa recipients and their guests are welcome.
Class Photo
On Friday the senior class gathers in front of Middlebury Chapel for a class photo. Check the Senior Week schedule for the time. Order information will be provided by the Senior Week Committee.
Commencement Day Instructions
Arrive at the Davis Family Library at 9:00 a.m.
Check in at the correct registration tent. You will check in alphabetically by last name (look for signs on each of four tents). You will receive the tassel for your mortarboard here!
Proceed to the walkway along Starr Hall and the Axinn Center—only after checking in at the registration tent.
Locate the department/program with which you have chosen to march. Signs for each department will be posted along both sides of the walkway in alphabetical order. You will march in two lines, divided roughly in half by department (A–I and I–T). Line up alphabetically by last name within your department, as indicated on the sign. Staff from the Dean of Students Office will be there to assist.
Remain in line and wait for the two student marshals to begin the procession. All seniors should be registered and lined up by 9:40 a.m. We do not wait for late arrivals!
The procession begins at 9:50 a.m. Please remain in double lines as you march.
As prompted by the student marshals, the procession will stop when it reaches the senior seating area. The two lines of seniors turn to face each other and step back to let the faculty pass between. Please applaud your faculty as they pass.
Once faculty have passed through, follow the student marshals to your seats.
At the end of the ceremony, you will "recess" in similar fashion. Stand at your seats and file out after the faculty, in the same order that you marched in. The recessional proceeds up the hill to the chapel lawn for Commencement luncheon. Please prearrange a meeting place with your family.
Diploma
The folder you receive on stage at Commencement contains your diploma. Please take it with you after the ceremony.
Graduate Departure
All seniors must move out of residence halls no later than 11:00 p.m. on Commencement Day. This deadline is enforced so that rooms can be prepared for Commencement 2020 on Tuesday, Reunion Weekend, and Language Schools. Be prepared! If possible, ship nonessential items home in advance. Pack remaining items during Senior Week.