Dick Forman
Director of Jazz Activities; Affiliate Artist; Accompanist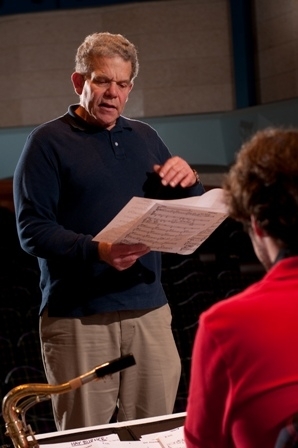 Office

Mahaney Arts Center 318

Tel

Email

Office Hours

Mon. 1-2 PM; Thurs. 12-1 PM; and by appointment
Additional Programs
Wearing a variety of hats, Dick Forman has been part of the College community for decades. As the Music Department's Director of Jazz Activities, he directs both The Sound Investment Jazz Ensemble, the College's 17-piece big band, and the Department's Jazz Workshop. Dick is also on the Affiliate Artist faculty, teaching jazz piano and jazz Voice.
In addition, The Dick Forman Jazz Group has been a part of the regional jazz scene for more than 25 years, performing at clubs, festivals and on Public Radio, as well as at countless private events.
Dick lives in Salisbury, with his wife, Michele, an MUHS history teacher who was National Teacher of the Year in 2001.
Courses Taught
Course Description
Introduction to Jazz Methods for Beginning and Intermediate Jazz Musicians
In this course we will explore several key methods used by jazz musicians to increase their mastery of the jazz language. Classwork will focus on using the voice to unlock jazz creativity, then using such methods as transcribing, backing tracks and developing critical listening ability as well as exploring a number of theoretical approaches to improvisation, and playing in small groups. Coursework will include transcription exercises, written analyses and recordings as well as an independent practice and rehearsal schedule. Instrumental or vocal proficiency is required; previous jazz experience is not. The ability to read music and basic theory knowledge are also required. Beginning and intermediate jazz players are encouraged to enroll. (Approval only)
Terms Taught
Spring 2023
Requirements
ART
Course Description
Performance Lab
Credit can be conferred for performance in faculty-supervised ensembles: (see listing of "Ensembles" in the requirements section). One unit of credit to accrue over two semesters (spring then fall only). The appropriate supervising faculty will give grades, based on attendance and quality of performance. A student should inform the ensemble director of intent to sign up for this course before starting, and should actually register for MUSC 0205 only the SECOND of the two terms by adding it as a fifth course. MUSC 0205 does not fulfill any major course requirements and may not be taken more than once. (Approval required)
Terms Taught
Fall 2019, Spring 2020, Spring 2021, Fall 2021, Spring 2022, Fall 2022, Spring 2023, Fall 2023
Requirements
ART
Course Description
Performing Jazz
In this course we will explore language, idiom, and improvisation in the mainstream and bop traditions of jazz. In-class work will focus on repertoire, jazz theory, approaches to improvisation and playing in a combo. Additional work will include written analyses, transcription exercises and self-recording, anchored by independent listening and practice. Instrumental or vocal proficiency is required; previous jazz experience is not. Basic theory knowledge and the ability to sight-read are advised. (Instructor approval) 3 hrs. lect/disc.
Terms Taught
Fall 2020, Spring 2021
Requirements
ART