Logan Fischer
Assistant Laboratory Professor in Chemistry/Biochemistry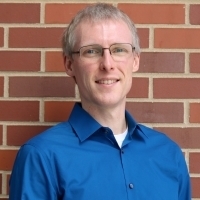 Office

McCardell Bicentennial Hall 630

Tel

Email

Office Hours

Spring 2023: In MBH 630, Mon. 11am-12pm, 5:30-6:30pm; Tues. 11am-12pm; or by appointment
Additional Programs
Dr. Logan Fischer grew up in a small farming community in Northwest Iowa. He received his B.S. in Chemical Sciences from Wayne State College in 2014. After working in a quality control laboratory of an egg-product factory for a time, he joined the lab of Dr. Arthur Winter at Iowa State University computationally and experimentally developing photocleavable protecting groups and received his Ph.D. in 2021.
Dr. Fischer's current research interests are the development and implementation of more lecture relevant and sustainable experiments for the organic chemistry laboratory sequence.
Courses Taught
Course Description
General Chemistry I
Major topics will include atomic theory and atomic structure; chemical bonding; stoichiometry; introduction to chemical thermodynamics. States of matter; solutions and nuclear chemistry. Laboratory work deals with testing of theories by various quantitative methods. Students with strong secondary school preparation are encouraged to consult the department chair for permission to elect CHEM 0104 or CHEM 0107 in place of this course. CHEM 0103 is also an appropriate course for a student with little or no prior preparation in chemistry who would like to learn about basic chemical principles while fulfilling the SCI or DED distribution requirement. 3 hrs. lect., 3 hrs. lab, 1 hr. disc.
Terms Taught
Fall 2022
Requirements
DED, SCI
Course Description
Organic Chemistry I: Structure and Reactivity
The course will provide students with an introduction to the structure and reactivity of organic molecules sufficient to continue directly to the study of biochemistry (CHEM 0322). Topics covered will include models of chemical bonding, acid-base relationships, three-dimensional molecular structure (conformations and stereochemistry), reaction mechanisms and energy diagrams, substitution and elimination reactions, carbonyl reactions (additions, reductions, interconversions, and alpha-reactivity), and the fundamentals of biological molecules (carbohydrates, DNA, and RNA). Laboratory experiments will relate to purification techniques (recrystallization, distillation, extraction, and chromatography), as well as microscale organic reactions that complement the lecture material. (CHEM 0104 or CHEM 0107) 3 hrs. lect., 3 hrs. lab.
Terms Taught
Fall 2021, Spring 2022, Spring 2023, Fall 2023
Requirements
SCI
Course Description
Organic Chemistry II: Synthesis and Spectroscopy
In this course we will explore how organic molecules are made and their structures are identified. The study of organic reactions will continue from CHEM 0203 with radical reactions, alkene and alkyne additions, aromatic reactions, oxidations and reductions, and additional carbonyl reactions. Emphasis in this course will be placed on using reactions in sequences to synthesize larger and more complex molecules. The theory and practice of mass spectrometry and UV-Vis, IR, and NMR spectroscopy will be studied as a means to elucidate the exact structures of organic molecules. Laboratory experiments will focus on synthetic techniques that complement the lecture material and the identification of complex unknowns via
GC-MS, IR, and NMR. (CHEM 0203) 3 hrs. lect., 3 hrs. lab.
Terms Taught
Fall 2021, Spring 2022, Fall 2022