Christian Keathley
Professor of Film and Media Culture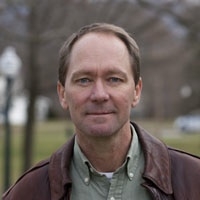 Office

Axinn Center 211

Tel

Email

Office Hours

On leave 2023-2024
Additional Programs
Christian Keathley is the Walter J Cerf Distinguished Professor of Film & Media Culture.  He teaches Film History, International Cinema, Authorship & Cinema, French New Wave, and Film & Literature, among other courses.
Keathley, who arrived at Middlebury in 2002, holds a PhD in Film Studies from the University of Iowa, an MFA in Filmmaking from the School of the Art Institute of Chicago, and an MA and a BA in English and Film Studies from the University of Florida.
He is the author of Cinephilia and History, or the Wind n the Trees (Indiana UP, 2007), as well as a variety of essays in journals such as Screen, Movie, Framework, Photogénie, and The Cine-Files, and in volumes such as The Last Great American Picture Show, Directed by Allen Smithee, and The Language and Style of Film Criticism.
Keathley is also co-author, with Catherine Grant and Jason Mittell, of The Videographic Essay: Criticism in Sound & Image (caboose books, 2016; second edition revised and expanded 2019). Now available online as The Videographic Essay: Practice and Pedagogy. http://videographicessay.org/works/videographic-essay/index
He is a founding co-editor of [in]TRANSITION: Journal of Videographic Film & Moving Image Studies, recipient of the 2015 Anne Friedberg Innovative Scholarship Award of Distinction from the Society for Cinema and Media Studies. http://mediacommons.futureofthebook.org/intransition/
Along with his Middlebury colleague Jason Mittell, Keathley is the co-recipient of two grants from the National Endowment for the Humanities for "Scholarship in Sound & Image: A Workshop on Videographic Criticism" (2015, 2017, 2018), a summer program for teaching videographic criticism to faculty from around the world.  For these workshops, Keathley and Mittell were recipients of the 2020 Innovative Pedagogy Award from the Society for Cinema and Media Studies.
Keathley is currently at work on several projects: an essay video, The Signature Effect, that explores the relationships between himself, the Warner Bros director William Keighley, and their shared ancestral home of Keighley, West Yorkshire, England; and a BFI Film Classics volume on All the President's Men, co-authored with Robert B Ray.