Dima Ayoub
Associate Professor of Arabic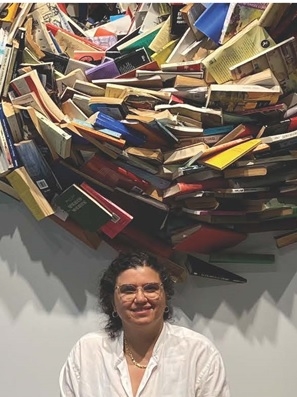 Office

Voter Hall 008

Tel

Email

Office Hours

FALL 2023: Tuesdays 3:30-5:30, Wednesdays 3:30-4:30, and by appointment.
Additional Programs
Dima Ayoub, Ph.D. (McGill University) is an Assistant Professor of Arabic and C.V. Starr Junior Faculty Fellow in International Studies and the former director of the Middle East studies program. Her book manuscript Paratext and Power: Modern Arabic Literature in Translation rewrites the social and cultural history of modern Arabic literature in translation by centering the role of paratexts in addition to publishers, translators, and writers.
Dr. Ayoub's work connects the fields of Digital Humanities with studies of Arabic and comparative literature – she has developed a digital archive of modern Arabic literature in English, French, German and Spanish translation. To learn more about the project go here. To learn more about Dr. Ayoub's work with Middlebury students go here. In 2020-2021, she was a Digital Liberal Arts Faculty Fellow.
Areas of teaching/expertise: modern Arabic literature; Critical translation theory; Digital Humanities; Anglo-Arab literature; Arab-American literature; Arab cinema; Empire and postcolonial Studies; Postmodern literature; Gender studies, Arab feminism(s); Arab masculinities; Queer Arabic literature; Literatures of migration and diaspora; Arab-Jewish literature and culture. 
Publications
2021    "Multilingual Others: Transliteration as Resistant Translation." Multilingual Literature as World Literature. Edited by Wen-Chin Ouyang and Jane Hiddleston. London: Bloomsbury, 2021.
2020    Ayoub, Dima. "Politics of Paratextuality: The Glossary Between Translation and the Translational." Journal of Arabic Literature. 51.1 (2020): 27-52.
2019    Ayoub, Dima. "Diasporic Slippages: Accent and Dialect in Translation." Journal of Middle Eastern Literatures. 22.1 (2019): 23-35.
2019    Ayoub, Dima. "The (Un)Translatability of Translational Literature: Ahdaf Soueif's The Map of Love between English and Arabic." Translation Studies. 12.3 (2019): 308-320.
Recent Public & Invited Talks:
NYU Abu Dhabi Art Gallery Navigating Digital Identities, Translation, Bodies, and Paratexts [A conversation with Lee Blalock and Dima Ayoub] Duke University, Middle East Studies Center "What Can the Digital Humanities Learn from Arabic Literature in Translation?"
University of Maryland Baltimore County, Gender Women's, + Sexuality Studies "Exploring Gender Ambiguity & Non-Conformity in Arabic."
Hamad Bin Khalifa University, 11th International Translation Conference. Keynote address "Towards a Just Translation: COVID 19 and Current Changes in Translation and Interpreting Studies"
Association of Adaptation Studies Conference, Queen Margaret University Edinburgh, Edinburgh, Scotland.  Keynote address: "Strangers in our Midst: The Paratextual Labor of Arabic Literature in Translation"
Select Papers and Presentations:
"Talking Gender: Fluidity, Pronouns, and the Arabic Language. Community Conversation. Lebanese American University New York City Head Quarters. New York City, NY. February 2020.
 "Transliterating Right-to-Left Languages." NYU Abu Dhabi Winter Institute in Digital Humanities, New York University, Abu Dhabi, United Arab Emirates. January 2020.
 "Transliteration as Resistant Translation." Abdelkébir Khatibi: Literature & Theory conference, Dartmouth College, Hanover, NH. November 2019.
"Lebanon Protests." Public conversation with Tarek El Ariss and Paul Salem. Dartmouth College, Hanover, NH. November 2019.
 "Paratext and Power in Arabic Literary Translation." Forum Transregionale Studien, Europe in the Middle East—The Middle East in Europe (EUME), Berlin, Germany. July 2019.
"Glossary in Translation." Seventeenth International Conference on New Directions in the Humanities. University of Granada, Granada, Spain. July 2019.
"Glossing the Glossary: Digital Approaches to Paratexts and Power in Arabic Literature." The Cultural Turn in Arabic Literary Production, Conference in Celebration of the 50th Anniversary of the Journal of Arabic Literature, Columbia University, New York. April 2019.
"Digitizing Paratexts in Translation: Between Distant and Close Readings." Histoire, langues et textométrie Colloque, Université Paris, Sorbonne, Paris. January 2019.
"Itinerant Paratexts in Translation." Keynote lecture at Islamic Studies Within a Global Context Conference, Institute of Islamic Studies, McGill University, Montréal. April 2018.