Eric Moody
Assistant Professor of Biology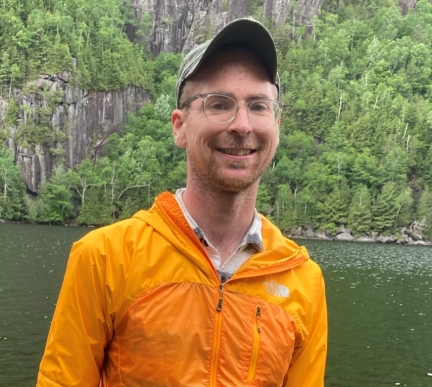 Office

McCardell Bicentennial Hall 327

Tel

Email

Office Hours

Monday 2:00-3:00, Wednesday 9:45-10:45, Thursday 11:00-12:00
Additional Programs
| Links | Social Links |
| --- | --- |
| Links | Social Links |
Areas of Interest
In a world of extremes, I believe we can learn and draw inspiration from the amazing organisms that survive in the face of what we would consider extreme physiological challenges. In the Evolutionary Ecosystem Ecology (E3) lab, we study how aquatic organisms adapt physiologically to extreme environments and what impacts this trait variation has on ecosystem function.
Current research foci in the lab include:
1) Environmental drivers of selection on functional and stoichiometric traits of aquatic invertebrates
2) Adaptation of fish to persistent organic pollutants in coastal salt marshes and its implications for salt marsh nutrient cycling
3) Adaptation of Daphnia to extreme eutrophication in temperate lakes and its implications for lake restoration
4) Conservation and natural history of threatened and endangered desert fishes
Visit the lab website to learn more about our research or to join the team!
Publications
Butts T.J., E.K. Moody, & G.M. Wilkinson. 2022. Seasonal dynamics of zooplankton nutrient recycling in a hypereutrophic reservoir. Journal of Plankton Research 44: 839-853. 
Xie J.Y., K.S. Kim, D. Powell, H. Espinosa-Pérez, E.K. Moody, & K.J. Roe. 2022. Population genetic structure of the endemic fish Gambusia marshi from the Cuatro Ciénegas basin and its outflow in Coahuila, Mexico. Aquatic Conservation: Marine and Freshwater Ecosystems 32: 1263-1276. 
Armstrong M.E.*, D. Minkoff, A.H. Dittman, D. May, E.K. Moody, T.P. Quinn, J. Atema, & W.R. Ardren. 2022. Evidence of an olfactory imprinting window in embryonic Atlantic salmon. Ecology of Freshwater Fish 31: 270-279. 
Moody E.K., T.J. Butts, R. Fleck, P.D. Jeyasingh, & G.M. Wilkinson. 2022. Eutrophication-driven eco-evolutionary dynamics indicated by differences in stoichiometric traits among populations of Daphnia pulicaria. Freshwater Biology 67: 353-364. 
Moody E.K., K.L. Sterup*, & M.L. Lozano-Vilano. 2021. Morphological evidence of maladaptation to introduced predators in Gambusia senilis from its extant range in the Conchos basin (Chihuahua, Mexico). Western North American Naturalist 81: 372-384. 
Hopfensperger K., E. Larson, S. Washko, & E. Moody. 2021. Elevate your work through incorporation of public engagement. Freshwater Science 40: 221-227.