Jeff Byers
Philip Battell & Sarah F. Cowles Stewart Professor of Chemistry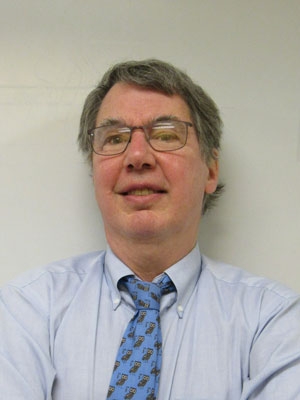 Office

McCardell Bicentennial Hall 551

Tel

Email

Office Hours

Fall 2023: On leave
Additional Programs
Jeff Byers is a synthetic organic chemist, having received a B.S. degree from the University of Rochester in 1979 and a Ph.D. from Dartmouth College in 1984, where he worked in the group of Thomas A. Spencer . He held a postdoctoral fellowship in the group of Gary Keck at the University of Utah before joining the Middlebury faculty in 1986. Jeff is currently on leave.
His teaching interests lie predominately in General Chemistry (CHEM 0103, CHEM 0104) and Introductory and Advanced Organic Chemistry (CHEM 0241, CHEM 0242 and CHEM 0442). He has also taught Freshman Seminars entitled "Fraud, Foolishness, and Serendipity", and "Smart Energy Choices" in recent years.  He has also been experimenting in the use of social networking sites such as Facebook as tools for collaborative learning in chemistry courses.
Hobbies and Interests included hiking (especially peak-bagging), skiing (nordic and alpine), running and piano.
He authors a blog on trailrunning in Addison County called "The Middlebury Trailrunner"
Publications
"Social Networking Sites for Online Collaboration in Chemistry Courses:  A Facebook Experiment"  Byers, J. H.  The Chemical Educator, 2011 (online journal).
"Radical Aromatic Substitution with Benzene Chromiumtricarbonyl" Byers, J. H.*; Neale, N. R.*; Alexander, J. B.* Gangemi, S. P.* Tetrahedron Lett. 2007, 48, 7903-7905.
"The Radical Addition of Dimethyl 2-Ethynylcyclopropane-1,1-dicarboxylate to Electron-Rich Olefins" Byers, J. H.; Goff, P. H.*; Janson, N. J.*; Mazzotta, M. G.*; Swigor, J. E. Synthetic Commun. 2007, 37, 1865-1871.
"Radical Additions to (n6-Styrene) Chromium Tricarbonyl" Byers, J. H.; Janson, N. J.* Organic Lett. 2006, 8, 3453.
"Thiocarbonyldiimidazole" Byers, J.H. Encyclopedia of Reagents for Organic Synthesis, L. A. Paquette, Ed. Wiley, 2006.
"Radical Reactions Mediated by Cyclobutadieneiron Tricarbonyl" Byers, J. H.; Sontum, S. F.; Dimitrova, T. S.*; Huque, S.*; Zhang, Y.*; Zegarelli, B. M.*; Jasinski, J. P; Butcher, R. P. Organometallics 2006, 25, 3787.
"Tandem Radical-Electrophilic Annulations to Pyrrole" Byers, J. H.; DeWitt, A.*; Nasveschuk, C. G.*; Swigor, J. E. Tetrahedron Lett., 2004, 45, 6587-6590.
"A One-step Radical Synthesis of Pyrrol-2-Acetic Acids" Byers, J. H.; Duff, M. P.*; Woo, G. W.*, Tetrahedron Lett., 2003, 44, 6853-6855 .
"Syntheses of 3-Acylindoles via the Alkylation of the Dianion of 3-Acetylindole" Byers, J. H.; Zhang, Y.* Heterocycles, 2002, 57, 1293-1297.