Mez Baker-Medard
Associate Professor of Environmental Studies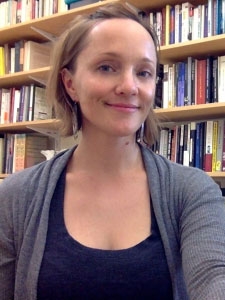 Office

Franklin Env Ctr-Hillcrest 215

Tel

Email

Office Hours

Spring 2023: Tuesday 12:00 - 1:00 and Thursday 1:30 - 2:30 by appointment in Calendly.
Additional Programs
B.A. Smith College; Ph.D. University of California Berkeley
Areas of Interest: Interdisciplinary research focused on the intersection of human geography, conservation science, environmental politics, and gender studies.
Mez Baker-Médard is an Assistant Professor of Environmental Studies.  Her research broadly explores how different natural resource governance strategies influence conflict arising at the interface of extractive industry and biodiversity conservation.  She is especially interested in how the benefits and burdens of these conflicts are spread across different sectors of society in relation to gender, race, class, and nationality.
Professor Baker-Médard's research focuses on marine fisheries management in Madagascar, specifically looking at how access to and control over marine resources is constructed and contested in various locales extending from coastal villages to international policy arenas.  By examining state-managed, co-managed and community-managed conservation projects, her research investigates how different configurations of authority (the capacity of politico-legal institutions to influence other social actors) transform people's understanding of and claims to natural resources. 
Professor Baker-Médard has teaching experience in three other U.S. Universities and two Malagasy Universities.  Her interests in conservation and social justice have led her to work with international conservation organizations such as the Wildlife Conservation Society, Conservation International, and the World Wildlife Fund as well as community-based organizers based in Madagascar, South Africa and the San Francisco Bay Area.
Her other interests include snowboarding, rock climbing, softball, pottery, and dancing Salegy.
| Links | Social Links |
| --- | --- |
| Links | Social Links |