Natalie Eppelsheimer
Associate Professor of German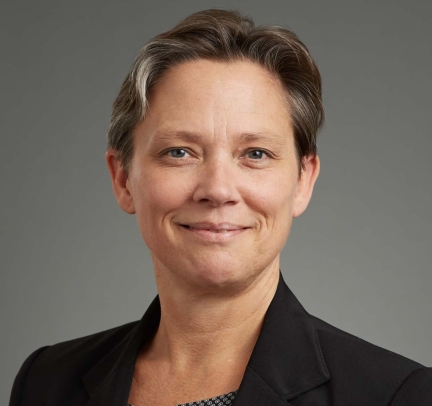 Office

FIC 225

Tel

Email

Office Hours

Fall 2023: Monday 11:30 a.m.-12:30 p.m., Wednesday 3:30-4:30 p.m. and by appointment.
Additional Programs
Natalie Eppelsheimer is a native Rheinländerin. She holds a Staatsexamen in English and Biology from the Rheinische Friedrich-Wilhelms-Universität Bonn, an M.A. in German Studies from the University of Arizona, and a Ph.D. in German with emphasis in Comparative Literature from the University of California, Irvine. She joined Middlebury in 2008.
At Middlebury, she teaches German language classes as well as upper-level courses in German and Comparative Literature, focusing on representations and memorialization of the Holocaust, on exile and refugee experiences, on colonialism and racism, and on sustainability. 
Professor Eppelsheimer's research activities focus on refugee and migration studies, Holocaust refugees in colonial territories, anti-racist pedagogy, inclusive language teaching, (inter-)cultural competence, and sustainability. She regularly presents her work at national and international conferences. Her work has been published in various journals and books. In 2019, her book Roads Less Traveled: German Jewish Exile Experiences in Kenya 1933-1947 was published with Peter Lang, Oxford.
Recent articles include:
"Teaching Karneval: Costumes, cultures, and cultural appropriation." In Unterrichtspraxis/ Teaching German; published as "early view" May 4, 2023; https://onlinelibrary.wiley.com/doi/10.1111/tger.12237
"Heimaten, Heimatsprachen und Sprachheimaten bei Stefanie Zweig." In: Sprache der Migration. Migration der Sprache. Sprachidentitäten und transkulturelle Literatur im Zeitalter der Globalisierungsprozesse. Sonderausgabe des Jahrbuchs für Internationale Germanistik, eds. Max Graff and Sandro Moraldo (2022): 413-422.
"Some had a farm in Africa – Holocaust survivors as settler-colonists in Kenya." Lessons & Legacies Conference volume XV, eds. Patt Avinoam and Erin McGlothlin, Northwestern UP (2023): 12-29 (in press).