Pavlos Sfyroeras
Professor of Classics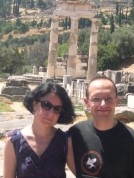 Office

Twilight Hall 210

Tel

Email

Office Hours

F23: Wednesday 2-4, Thursday 2-3, Friday 1-2 or by appointment
Additional Programs
Primarily a Hellenist, I teach courses intended to introduce students to the authors of a period such as the 5th century BC or to a genre such as comedy or the novel. A central concern of mine is the interface of ancient literature and religion. Consequently, I often venture into the manifestations of the sacred in Greek culture and offer seminars on Greek religion in general or on a specialized topic such as rites of passage. I also enjoy teaching all levels of Greek and Latin; my favorite authors for the more advanced levels include Homer, Pindar, Aristophanes, Thucydides, and Plato on the Greek side, Plautus, Tacitus, and Apuleius on the Latin. In all my teaching, whether in the original languages or in English, I seek to bring students into contact with great minds that, while operating under different circumstances and with different categories from our own, have shaped profoundly the way we think. This combination of the familiar and the foreign is, I believe, a crucial component of a liberal education.
Areas of Interest
My research focuses on the epic, choral, and dramatic poets of archaic and classical Greece; like my teaching, it tends to explore the mythic and ritual dimensions of literature. In addition to several articles on Aristophanes, Pindar, Bacchylides, Euripides, and Homer, my monograph The Feast of Poetry: Sacrifice and Performance in Aristophanic Comedy is forthcoming from Harvard University Press.I am currently working on two book-length projects, tentatively entitled "Aristophanes Sophos: Comedy and Philosophy in the Late 5th Century" and "Pindar's Epichoric Mythmaking."
Publications
PAVLOS SFYROERAS
Select Publications
• "Sacrificial Feasts and Euripides' Cyclops: Between Comedy and Tragedy?", in A.P.
Antonopoulos, M.M. Christopoulos, G.W.M. Harrison (eds.), Reconstructing
Satyr Drama. MythosEikonPoiesis (Berlin: De Gruyter, 2021) 361-373.
• "Wings or Armour? Costume, Metaphor, and the Limits of Utopia in Aristophanes'
Birds," Illinois Classical Studies 45.2 (2020) 310-332.
• "Laughter and Collective Trauma in Aristophanic Comedy", in E. Hall and P. Swallow
(eds.), Aristophanic Humour: Theory and Practice (London and New York:
Bloomsbury, 2020), pp. 69-78, 224-226.
• "The Music of Sacrifice: Between Mortals and Immortals," Greek and Roman Musical
Studies 8.1 (2020) 97-110.
• "Pindar at Colonus: A Sophoclean Response to Pindar's Olympians 2 and 3," in R.
Andujar, T.R.P. Coward, T.A. Hadjimichael (eds.), Paths of Song: The Lyric
Dimension of Greek Tragedy. Trends in Classics 58 (Berlin: De Gruyter, 2018),
pp. 65-86.
• "Like Purple on Ivory: A Homeric Simile in Statius' Achilleid," in A. Augoustakis
(ed.), Flavian Poetry and its Greek Past. Mnemosyne Supplement 366. (Brill:
Leiden, 2014), pp. 235-248.
• "The Battle of Marathon: Poetry, Ideology, Politics," in K. Buraselis and E. Koulakiotis
(eds.), Marathon: The Day After (Athens, 2013) 75-94.
• "Eirēnē Philheortos and Dionysiac Poetics in Aristophanic Comedy" in N. Birgalias, K.
Buraselis, P. Cartledge (eds.), War, Peace, and Panhellenic Games: in Memory of
Pierre Carlier (Athens, 2013), pp. 651-667.
• "The Comic Poetics of Apollo in Aristophanes' Knights," in L. Athanassaki, R.P.
Martin, J.F. Miller (eds.), Apolline Politics and Poetics. Proceedings of a
Conference at the European Cultural Center of Delphi, July 4-11, 2003 (Athens,
2009) 501-519.
• "The Scepter and Achilles' Oath in Iliad 1.233-246," in E. Karamalengou (ed.),
Antiphilêsis. Studies on Classical, Byzantine and Modern Greek Literature and
Culture in Honour of J. Th. Papademetriou (Stuttgart: Franz Steiner Verlag,
2009) 48-56.
• "Pothos Euripidou: Reading the Andromeda in Aristophanes' Frogs." American
Journal of Philology 129 (2008) 299-317.• "From Sacrifice to Feast: A Ritual Pattern in the Comedy of Aristophanes," in D.L.
Cairns (ed.), Law, Rhetoric and Comedy in Classical Athens. Essays in Honor of
Douglas M. MacDowell (Duckworth/Classical Press of Wales, 2004) 251-268.
• "Olive Trees, North Wind, and Time: A Symbol in Pindar, Olympian 3," Mouseion,
Series III, 3 (2003) 313-324.
• "Silence and Comic Language in Aristophanes," in S. Jäkel and A. Timonen (eds.), The
Language of Silence, vol. 1. Annales Universitatis Turkuensis 246 (Turku, 2001)
50-70.
• "What Wealth Has to Do With Dionysus: From Economy to Poetics in Aristophanes'
Plutus." Greek, Roman, and Byzantine Studies 36/3 (1995, published 1996) 231-
261.
• "The Youth, the King, and the Fairy: Bacchylides 17 and the Ballad of the Swimmer."
Archaiognosia 8 (1993-94, published 1995) 277-302.
• "The Ironies of Salvation: The Aigeus Scene in Euripides' Medea." The Classical
Journal 90 (1994-95) 125-42.
• "Fireless Sacrifices: Pindar's Olympian 7 and the Panathenaic Festival." American
Journal of Philology 114 (1993) 1-26 (reprinted in G. Nagy (ed.), Greek
Literature, vol. 3 [New York, 2001]).