Pieter Broucke
Associate Dean for the Arts; Professor and Architectural Studies Track Director, History of Art and Architectural Studies; Assoc Curator, Ancient Art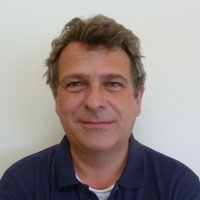 Office

Johnson 213

Tel

Email

Office Hours

Fall Term 2023-Monday & Wednesday 8:15 a.m.-9:45 a.m., and by appointment (75 Shannon St-Room 118)
Additional Programs
Pieter Broucke joined the department in the fall of 1995. His areas of expertise are ancient art and architectural history. His research focuses on the intersection of these two areas, Greek and Roman architecture.
Dr. Broucke holds a Professional Degree in Architecture from Ghent, Belgium, an M.A. in Archaeology from the Center for Ancient Studies at the University of Minnesota, and a Ph.D. in History of Art and Architecture from Yale University. His doctoral dissertation with J. J. Pollitt focused on the Temple of Olympian Zeus at Agrigento, Sicily, the largest Doric temple constructed by the ancient Greeks.
He published The Archaeology of Architecture: Charles Robert Cockerell in Greece and the Levant, 1807-1810 (New Haven: Yale Center for British Art, 1994), and various articles and abstracts dealing with ancient architecture and sculpture.