Thomas Moran
John D. Berninghausen Professor of Chinese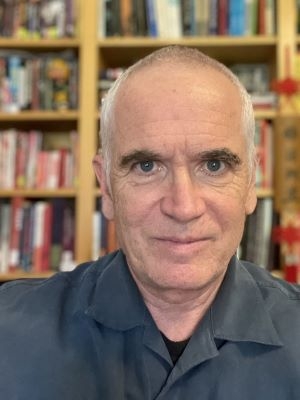 Office

Voter Hall 105

Tel

Email

Office Hours

SPRING 2023: Monday 9:30-11:00, Wednesday 4:00 to 5:30, and by appointment.
Additional Programs
John D. Berninghausen Professor of Chinese Thomas (Tom) Moran has a Ph.D. in modern Chinese literature from Cornell University and has been at Middlebury since 1994. He teaches courses in modern and contemporary Chinese literature, film, and documentary film, as well as in Chinese language, including beginning Mandarin for many years and more recently 2nd-year Mandarin. He has taught First Year Seminars on the culture of mountains East and West, the discourse of nature in Chinese civilization and, most recently, "Fate, Filial Piety and Passion in Chinese Civilization."
Tom is currently serving his fourth term as Chair of the Greenberg-Starr Department of Chinese Language and Literature. He has been Director of East Asian Studies (2009-2011), acting director of the Literature Program (2009-2010), and director of the C.V. Starr Middlebury School in China, Beijing (spring 2011). He has received grants from the Committee for Scholarly Communication with the People's Republic of China, the Center for Chinese Studies at the National Library of Taiwan, the Blakemore Foundation, and the Fulbright Senior Scholar Program.
Tom is the editor of Dictionary of Literary Biography: Chinese Fiction Writers, 1900-1949 (2007) and co-editor of Dictionary of Literary Biography: Chinese Fiction Writers, 1950-2000 (2013). For these volumes Tom wrote the introductions and the essays on the writers Ding Ling, Zhang Tianyi, Gao Xingjian, and Liu Heng. Tom and co-editor Christopher Lupke of the University of Alberta published their co-edited Dictionary of Literary Biography: Chinese Poets Since 1949 in 2021, and they have begun work on a second volume on contemporary poets for the series.
Tom has published many book chapters and articles and as well as translations of modern and contemporary Chinese plays, short stories, film scripts, and essays. He most recently published works are his book chapter "Resignation Open-Eyed: On the Chinese Novel Rickshaw Boy by Lao She," in The Wiley Blackwell Companion to World Literature (John Wiley & Sons Ltd/Inc., 2020), and his translation of Chen Fangming, "Yu Guangzhong's Modernist Spirit: From In Time of Cold War to Tug of War with Eternity," in Chinese Poetic Modernisms (Brill, 2019). Tom wrote about the poet Yu Guangzhong for the DLB volume on poets, and his video lecture on Rickshaw Boy, which Tom prefers to call Camel Xiangzi, is one of the lectures by scholars that are available here: https://u.osu.edu/mclc/log-in/
Tom has been affiliated with Middlebury's program in environmental studies since 2004. His article "Lost in the Woods: Nature in Soul Mountain" (Modern Chinese Literature and Culture, Vol 14, No 2, Fall 2002), a study of a novel by Nobel Laureate Gao Xingjian, was one of the first works of ecocriticism about modern Chinese literature. He has published translations of selections from the late Chinese essayist and deep ecologist Wei An's "Things on Earth," which have appeared in "Mānoa," "Cerise Press," and the "New England Review."
Before beginning graduate school at Cornell in 1984, Tom majored in Journalism, English, and Education at Syracuse University, worked as a carpenter's assistant, taught sixth grade at the International School of Beijing and eighth grade at Holy Redeemer School in Washington, D.C. Tom is from northern Virginia (he is a graduate of the high school that Tom is very happy and proud to say has been renamed John R. Lewis High School), and he now lives in Ripton with his wife, Rebecca Purdum (http://rebeccapurdumpaintings.com/). Tom and Rebecca volunteered for more than a decade as "citizen scientists" for the Vermont Breeding Bird Atlas, Vermont Forest Bird Monitoring Program and Mountain Birdwatch, and they spend as much time as they can outside learning as much as they can about flora and fauna.
Areas of Interest
Modern Chinese fiction
Chinese nature and landscape literature
Chinese cinema