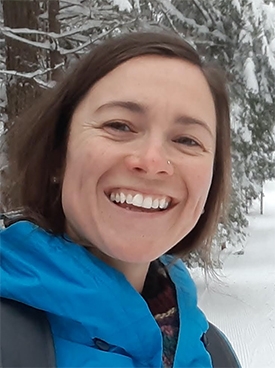 Erin Morrison (she/her)
Erin Morrison works as the Assistant Director for Student Activities for Leadership Development. She began working with Middlebury College in the fall of 2019. Prior to Middlebury, Erin worked with organizations in Addison County, Vermont that focused on youth and family programs. Outside of work, Erin enjoys life with her daughter doing endless arts and crafts and outdoor adventures.
Isabel Lickey (she/her)
Hi! My name is Isabel Lickey and I am a rising senior from Portland, Oregon. I am a philosophy major, psychology minor on the pre-med track. Outside of school, I love to bike, kayak, hike—anything that gets me outside! I'm excited to be working with the Orientation team again this year! 
Ashley Chimelis (she/her)
Hey there! My name is Ashley Chimelis and I am a junior from Chicopee, Massachusetts. I am a Spanish and Secondary Education Studies double major, though I also love to take film classes just for fun. I love animals, coffee, performing arts, spending time with my loved ones, and trying new things! I can't wait to welcome new students and their families to the Middlebury College community with the Orientation team this year!