The Education Studies Program prepares you to effectively contribute to a more just, compassionate, and equitable society by developing self-awareness, critical lenses, analytical frameworks, and pedagogical content knowledge manifested in meaningful practices.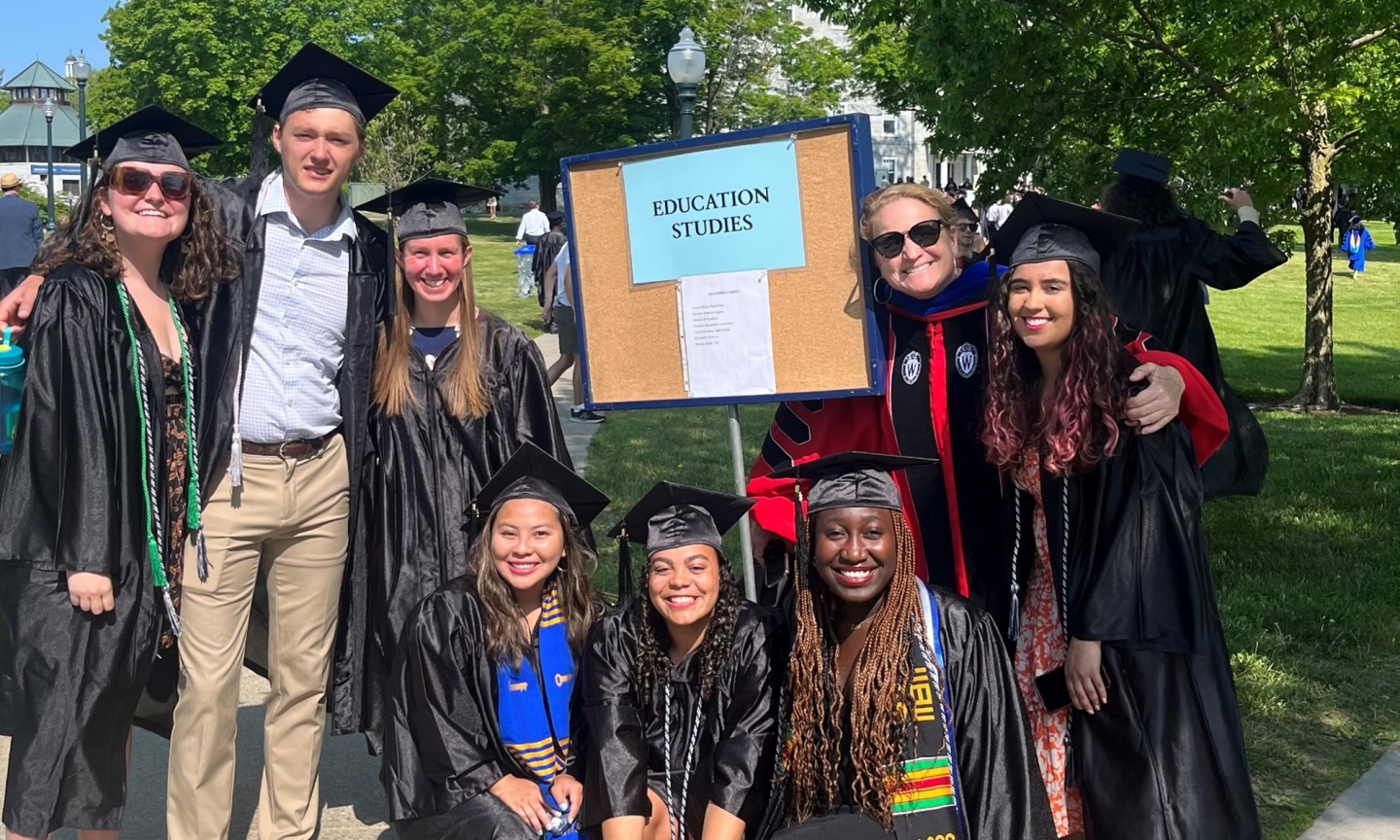 What Is Education?
We expect our students to engage in intellectual risk taking, critical inquiry, experiential learning, creative problem solving, and reflection as they consider the theory, research, and practice of education.
In his text How to Be an Antiracist, Ibram Kendi writes, "Being an antiracist requires persistent self-awareness, constant self-criticism, and regular self-examination." In EDST we have a similar commitment, this is our mission statement:
We believe that we must become a more inclusive and just society. We must honestly name and relentlessly address the educational inequities that we have created and that we sustain as individuals and members of multiple communities. In our formal settings, whether a kindergarten class or Middlebury College seminar—and in our informal interactions with one another—we seek to embody the intellectual understandings, the humility, and the empathy essential to this work.
Our Curriculum
Education studies offers courses and practical classroom experiences that allow you to explore the profound ways that education and teaching affect children's lives. Our students confront issues of what and how to teach in this rapidly changing world, but they also grapple with issues of equity, social justice, poverty, race, and ethnicity as they work directly with K–12 youth, locally and globally.
Our minors find their vocations as classroom teachers, administrators, school psychologists, researchers, and professors. Education studies joint majors can seek initial licensure as classroom teachers through our program by electing to participate in the licensure track.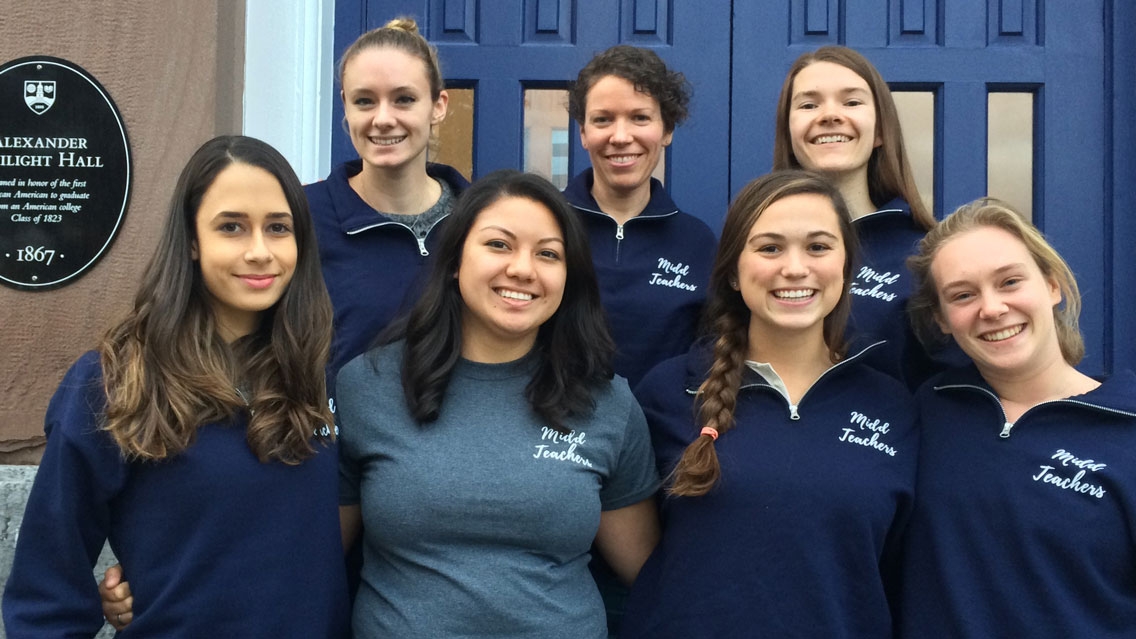 Student and Faculty Work
Students often collaborate with faculty in education studies and across campus, as well as with colleagues in volunteer and service learning programs, including the following and many more:
MiddArts Program
MiddCORE
Costa Rica Internships
Urban Education Internship
Bread Loaf School of English
Summer Language Schools
Center for Teaching, Learning, and Research
Center for Careers and Internships
Center for Civic Engagement
Special winter term courses
Consortium for Excellence in Teacher Education (CETE)
Vermont Council for Teacher Education (VCTE)
Teaching and Learning in the Liberal Arts: Constructing Meaningful Connections
The Education Studies Program is grounded in and grows out of the strength and excellence of the Middlebury College liberal arts curriculum. The College's aim has been to educate students in the liberal arts tradition who can bring their learning to bear on practical and significant real-world problems and concerns. In gaining a well-balanced liberal arts education, the Middlebury student majors in a recognized field of inquiry and undertakes a minor in education studies that provides a cross-disciplinary focus on the teaching and learning process. Taken together with distribution requirements in the humanities, social sciences, natural sciences and mathematics, and foreign language and cultures, the coursework in the major and the education studies minor provide prospective teachers with the analytical framework and content knowledge pivotal to engaging in reflective instruction in the practicum and in their first years of teaching.
Through a curriculum that emphasizes both breadth and depth in the selection of courses in different fields, Middlebury students develop conceptual understanding and interdisciplinary perspectives. Gaining informed, multiple viewpoints on a wide range of problems and concerns also helps students develop empathy, as well the disposition for critical inquiry necessary for any professional career and for effective participation in a democratic society. Such liberal arts preparation, in particular, fosters and facilitates reflective practice in beginning teachers and the effective development of their problem-solving, decision-making, and communication skills. These skills and habits of mind are essential to the creation of an inclusive learning community that is intellectually challenging for a diverse population.
While the foundation of the Education Studies Program (EDST) rests on the excellence of the College's liberal arts curriculum, EDST depends on strong connections and collaboration with liberal arts faculty from every discipline as well as colleagues in volunteer and service learning programs. The connections and collaborations include the MiddArts Program; MiddCORE; Costa Rica Internships; the Urban Education Internship; the Bread Loaf School of English; the Summer Language Schools; Information Technology Services; the Center for Teaching, Learning, and Research; the Center for Careers and Internships; the Center for Civic Engagement; special winter term courses; the Teacher Resource Room; our Liberal Arts Mentors; the Consortium for Excellence in Teacher Education (CETE); and the Vermont Council for Teacher Education (VCTE).
The Education Studies Program works closely and collaboratively with our colleagues in the primary–12th-grade educational community. We are fortunate to work in a state and county that has a deep commitment to providing high-quality education to the children of our community. Through dialogue in classes and seminars, through thoughtful discussions in supervisory conferences, and on other mentoring occasions, together with our K–12 partners, ourselves, and our students, the colleagues with whom we work in the P–12 settings embody that commitment. Not only does partnering offer extended opportunities for on-site visits and clinical preparation for preservice teachers, but it also enriches the entire educational community through professional development and other support services that utilize College resources and personnel. Finally, the Partners in Education (PIE) grant creates further opportunities for innovative and creative collaborations between the Addison Central School District and the Education Studies Program.