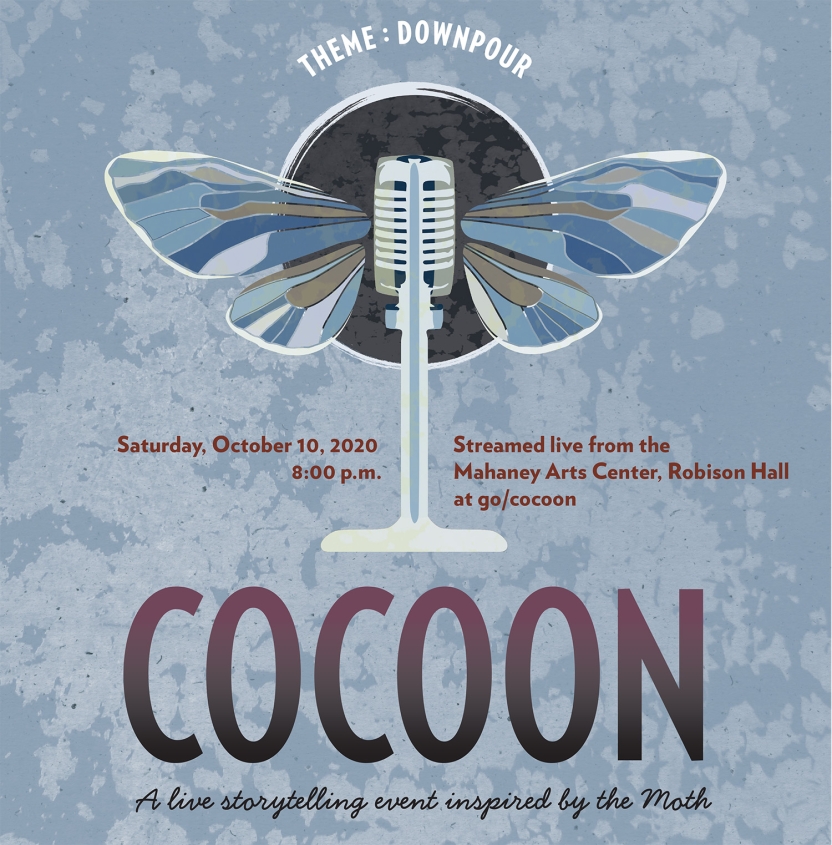 Inspired by the popular storytelling phenomenon The Moth, Cocoon is a special evening of true stories told live and without notes.
 
This year's virtual edition, on the theme of "Downpour," will feature storytellers Emily Ballou '21, Regina Fontanelli '22, Megan Brakeley '06, (food and garden educator at The Knoll) and Tim Parsons (Middlebury's campus horticulturalist.)
Middlebury Moth-Up producer Alexandra Burns '21.5 will host, with Mahaney Arts Center Technical Director Mark Christensen providing the musical interludes. The event is co-organized by Middlebury Moth-Up students Elsa Rodgriguez '21, Zeinab Thiam '21, Hannah Bensen '21, Ruhamah Weil '21, Elissa Asch '22.5, and Alexandra Burns '21.5, in partnership with Mahaney Arts Center director Liza Sacheli.
This eighth-annual community-wide event is produced by the Middlebury MothUp in partnership with the Mahaney Arts Center. For mature audiences: adult language. Free and open to all.
Answer an audience question: After your last downpour, how did you get dry?
Watch Cocoon on the MAC Digital Stage