Program alumni are the best resources for students interested in going abroad, and they are available to answer your questions. If you would like to talk to a recent student about their experience in China, get in touch with the advisor, Bill Mayers.
Paige Alexander, Franklin & Marshall College, Beijing
Before coming to this program, I did not fully understand how truly magical our world can be. I came to MIC Beijing with decent reading and writing skills, but no speaking skills! I could barely get out a "我不知道," but this program's structure and staff offer an amazing support structure. As my Chinese improved, I also had the chance to create a real relationship with my roommate, 路瀛 (pictured here),instead of the broken sentences and quick pleco searches that we had both grown accustomed to. 路瀛 and I started sharing and discussing some of the many fascinating culture differences (and similarities!) between America and China. The bonus was that I was also able to practice Chinese.
Everyday I had the opportunity to explore Beijing, and I went to countless temples, museums, and even parks. I even tried danced along with the old Chinese women once or twice! I had the opportunity to explore new personal identities, as well as look at life through a new, broader lens. The program was difficult, in both an academic and an emotional sense, but the skills I learned because of it, from environmental adaptation to patience, made it well worth it.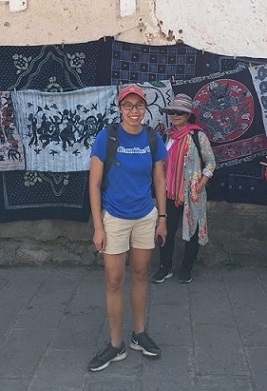 Clare Auld-Brokish, Wellesley College, Kunming
What better place to spend time in China than in Kunming? As a bustling city at the heart of economics, politics, and culture in southwestern Yunnan province, its relaxed atmosphere also gives its inhabitants the opportunity to enjoy its stunning natural vistas. With its immense diversity of culture, ethnicity, and ecology, Kunming offers a truly unique and engaging study abroad experience.
Middlebury gave me the autonomy and support to make what I wanted of this experience both academically and culturally, with the specialized one-on-one course and regular cultural group outings. The rigorous classes, complemented by the language pledge and my local roommate, fully prepared me to enter confidently into Chinese culture. I had a lot of fun marveling at the nuances of the new world I accessed as my language skills improved. I particularly loved spending afternoons exploring the city by bike and public transit.
Living in a new culture imbued me with maturity and resilience. Successfully navigating a new language gave me self-confidence and a new understanding of the world and my place in it. Participating in the Middlebury Schools in China imparted upon me a deeper respect and admiration for the country of my origin and changed the trajectory of my career goals. I am emboldened to realistically aspire to a future in which China plays a big part.
Over the semester, I gained many friends, both American and Chinese, who provided me with a strong community in Kunming. I could lean on them for support during trying times and could always find them for a good laugh. Long after we parted ways in China, I continue to rely on these friends.