Middlebury offers a track for students studying architecture, art history, and related disciplines, in Montevideo. Students not interested in enrolling in a track may opt to participate in our standard, direct-enrollment program.
Click here to watch a presentation about Architectural Studies in Uruguay
The Universidad ORT has an outstanding Architecture department that features a wide range of subjects, from design to technology. The program is internationally recognized for the quality of its curriculum, its faculty and administration, and the resources available to students.
The department's building itself stands out for its spacious rooms for projects, labs, auditorium, hemicycle, a specialized library, and workshop, as well as its Innovation and Entrepreneurship Center. The Architecture program at ORT is built on a strong practical foundation, with some courses taking place on actual building sites, working on real-world projects. 
Students on the program can increase their professional skills while integrating themselves into the Uruguayan academic environment and developing their Spanish. In addition to coursework, students will have the opportunity to apply classroom learning in a real world setting through a credited academic internship at the Ministry of Education or at private studios, taking advantage of the Middlebury School Abroad's network of partner organizations in Montevideo.
You can learn more about the Universidad ORT's Architecture program their website.
Core Courses
The following courses are approved for the Architectural Studies track. Depending on student interest and abilities, other courses may be recommended on a case-by-case basis. Please note that not all courses listed below are offered every semester.
Proyecto 1: Architectural Design Studio 1
This course is an introduction to design methodologies in architecture. In this course students will understand both the conceptual and material aspects of the design process, and have the ability to integrate them into a cohesive and unified product.
Proyecto 2: Architectural Design Studio 2
Some of the objectives of this course are: to introduce the design practice learning process; to develop an architectural proposal of moderate complexity; to understand interior space and its relationship with outdoor space; and to explore basic integration of constructive and structural systems.
Taller de Arquitectura y Arte: Art and Architecture Studio
Some of the objectives of this course are: to develop creativity through architectural design with artistic emphasis; to present theories and concepts of various artistic disciplines (painting, sculpture, music) and include them into the design process; and to analyze and explore composition, materiality, shape, color, and texture.
Procedimientos Constructivos 4: Práctica
The format of this course is a combination of lab work with hands-on assignments and general theoretical explanations. This course usually involves a community-based project with a community partner in a neighborhood in Montevideo.
La Conformación de la Región
This course explores history, theory and criticism of architecture in Uruguay and the surrounding region. Students will learn about the history and theories of architecture and urbanism and their application to the Latin American architecture debate.
Other available courses
Fall Semester 
Project (II, IV, VI, VIII) 
Project Management II
Building Procedures (II, IV)
Architecture in the World Today
The Historical Conformation of the Region
Renewable Energies
Environmental Management
Structures
Spring Semester
Project (I, III, V, VII) 
Project Management I
Building Procedures (II, IV)
Theory and Practice of Urbanism 
Urban Planning
Structures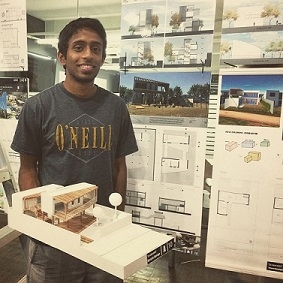 Student Profile
Ujay Siddharth, Middlebury College
I found my academic experience at the Facultad de Architectura at Universidad ORT Montevideo to be extremely helpful to my Architectural Studies track here at Middlebury College. One of the primary strengths of the Middlebury architecture program is the emphasis the college places on hand-drawing building plans and sections. In the modern digital world however, much of architectural drawing takes place in online computer-driven programs. I found my experience at Universidad ORT particularly helpful because of the focus my professors put on developing technical skills of architectural design. I learned how to effectively use AutoCad to draw plans and sections which sped up my production process immediately. I also gained experience in 3D modeling programs such as SketchUp and additional rendering programs to create realistic 3D representations of my work. With tools such as these, I feel more confident in producing better work for the multiple design elements I will need in future architectural projects.
Additionally, I found that learning about architecture in a different socio-cultural environment very beneficial to how I viewed architecture as a discipline. Through attending a program based in South America, I was immediately exposed to a number of influential Latin-American architects and theorists, each with their own ideas of building/city construction and design. This broadened my perspectives of architectural form and use of materials and also changed how I designed my own projects. The program helped me understand non-Western concepts of architecture, something that is important to challenging dominant tropes in the discipline.
Overall, I consider my academic experience abroad at Universidad ORT Montevideo to have been very valuable in building my architectural knowledge. The program provided me with opportunities to improve my technical skills as well as build upon my theoretical knowledge of the discipline. I would highly recommend studying abroad in Universidad ORT Montevideo and learning in an academic environment different from our own.