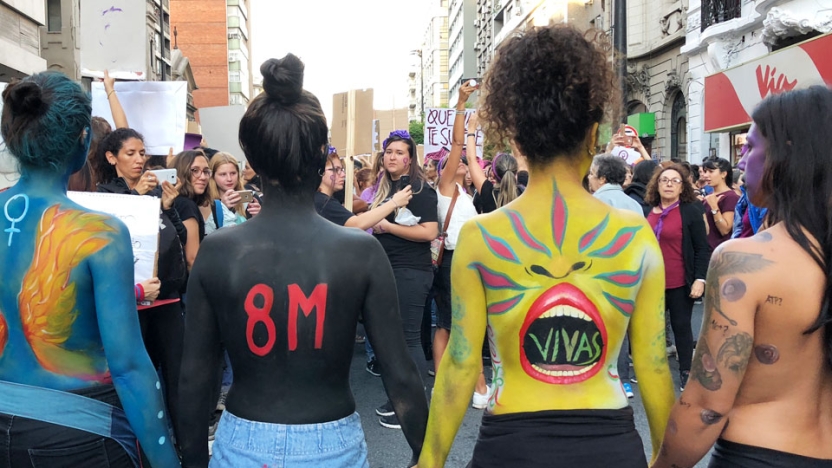 Studying abroad isn't just about academics. It is equally as important to make time to engage with your host communities.
The Middlebury School in Uruguay encourages students to go beyond the traditional study abroad path and explore the many ways they can enrich their experience.
About Montevideo
Fought over by Argentina and Brazil, Uruguay gained independence in the early nineteenth century. For most of its history, it has been a major cattle-raising country and, like Argentina, celebrates its gaucho heritage. During the first half of the twentieth century, Uruguay was the most stable nation in South America, with strong social welfare programs and a relatively egalitarian social structure that made it known as "The Switzerland of South America." However, changes in world trade patterns led Uruguay into economic and political decline, produced the famous Tupamaros movement, and resulted in military rule. Democratic government was restored in 1985, and the country's rich heritage of egalitarian and social welfare policies continues to be felt.
Nearly half of Uruguay's three million inhabitants call Montevideo home. Located on Uruguay's southern coastline and separated from its more famous western neighbor in Argentina by the estuary of the world's widest river, el Río de la Plata, Montevideo is a different world from Buenos Aires.
While it, too, is a cosmopolitan city, also of primarily Spanish and Italian heritage, there is also a significant African influence. Smaller and calmer than Buenos Aires, Montevideo nonetheless boasts the usual cultural and entertainment facilities of a major city: including historical monuments, museums, theaters, cinemas, a varied and fascinating, if somewhat under-maintained architecture, the famous Avenida 18 de Julio, as well as stunning beaches, and a unique and lively nightlife.
Student Suggestions
The suggestions below are based primarily on recommendations that we've received from former students.  This list is by no means exhaustive; rather, it is meant merely as a starting point for exploring all of the ways you can get involved in Uruguay!
Outdoor and Physical Activities
Perfil Gym: Located at 21 de Septiembre, 2884
Club Defensor Sporting: Located at 21 de Septiembre, 2362. Be sure to check in with Sylvia before joining so that they don't charge you a registration fee!
Social Media
Don't underestimate the power of Facebook and other social media platforms to help you connect with your host community. For example, you can join the Montevideo International Students Facebook group.
"I used Facebook a lot to browse events and programs in the area…you can search any topic…once you start liking things in Montevideo, Facebook will give you other events on your feed." Amanda Spiller (Bowdoin College), Fall 2016
"I'd recommend joining Montevideo International Students (MIS) on Facebook. It's a group that organizes interesting cultural activities and trips for international students. It's run by Uruguayans our age, so it's also a good way to make friends." Marième Diop (Swarthmore College), Spring 2017
"…the MIS group is an extremely helpful way of connecting with Uruguayan people and culture. They organize tours, parties, and other events so that international students can make the most of their time in the country. The best part is that most of the events are free or extremely discounted. All the members are very welcoming and friendly as well. They also coordinate with BAIS (Buenos Aires International Students) from time to time, which is a great way to extend the experience beyond the borders of Uruguay. You can find them on Facebook and Instagram to see all the amazing events they have!" Jillian Duncan-Taylor (Middlebury College), Spring 2017
University-Related Activities
Some of the universities may also sponsor general events and/or events catered to international students and other special-interest groups. Be sure to connect with the international students' office, other university departments, and student organizations via Facebook and check their websites for upcoming events. Also be on the lookout for flyers and student group tables once you're on campus!
Universidad Católica del Uruguay
Deporte y recreación: Visit this page to learn about sports at UCU, including indoor soccer, volleyball, basketball, handball (women's), swimming, outdoor soccer, and field hockey.
Expresión artística: Visit this page to learn about arts-related workshops and activities at UCU, including chorus, visual arts, and theater.
Participación y vida estudiantil: Visit this page to learn about other student groups and student life initiatives at UCU.
Universidad ORT
Actividades deportivas: Visit this page to learn about sports and other recreational activities offered at ORT, including basketball, futsal (indoor soccer), handball, field hockey, swimming, tennis, and volleyball.
Programa padrinos: Visit this page to learn about ORT's padrinos program, which is a buddy system for international students. This is a great way to connect with a fellow ORT student!
Universidad de la República
Bienestar universitario: This page acts as a hub for student life information at UDELAR.Be sure to check out the cultura and deporte tabs for information about cultural and sports-related activities and events!
Information and Resources
Governmental Information
City of Montevideo
Governmental Information
U.S. Embassy in Uruguay
Cultural Resources
Diarios (Daily Newspapers)
Diario La Diaria
Diario El Observador
Diario El País
Seminarios (Weekly Newspapers)
Internet Radio
El Espectador
Sarandí
Radio Nacional Uruguay
Música, Arte, Cine, Teatro, Espectáculos
www.cartelera.com.uy
www.teatrosolis.org.uy/index_1.html
www.montevideo.gub.uy/ciudad-y-cultura/agenda-cultural
www.turismo.gub.uy
cultura.mec.gub.uy
www.cce.org.uy
Museos
Museo del Fútbol
Museo Nacional de Artes Visuales
Museo Blanes
Museo Torres García
Museo del Carnaval
Espacio de Arte Contemporáneo
Museo de Artes Decorativas: Palacio Taranco
Cabildo de Montevideo
Museo Figari
Museo Histórico Nacional
Museo Nacional de Antropología
Museo Zorrilla
Museo de las Migraciones
Museo Nacional de la Historia Natural