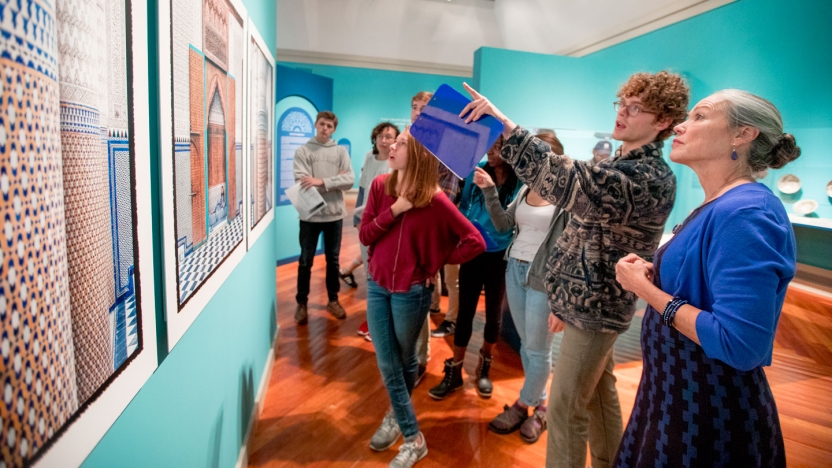 Interdisciplinary Approach
The first-year seminar is an interdisciplinary program supported by faculty from all across the College. Unlike other courses that are driven by content coverage, the first-year seminar uses intriguing content topics to establish a strong foundation in the most essential skills for college-level work. Take, for example, these wide-ranging seminars offered recently:
Courses offered in the past four years. Courses offered currently are as noted.
Course Description
Fascinating Rhythm: Rhythmic Analysis
Swing, groove, pocket, grid…these and many other terms like them are used to describe the musical element known as rhythm. Though often deemphasized in musical criticism and analysis in relation to pitch/melody, rhythm is inextricable from the musical experience. In this course we will discuss the underrated but undeniable importance of rhythm in the music to which we love to dance, study, or exercise. Through journaling, analysis, performance, and listening, students will develop tools to describe rhythm with greater nuance and depth. Though music from all cultures will be welcomed, the primary focus will be music influenced by the African Diaspora. Open to all musicians and enthusiasts alike.
Terms Taught
Fall 2022
Requirements
ART, CW
Course Description
Time Around A Table: A Culinary History of Italy
Food is a window into the culture and values of any society. In this seminar we will explore the history of Italian culture by investigating the ever-changing issues relating to food, through books, articles, films, recipes, and cooking. How did production and consumption change over time? What did the Ancient Romans eat? What was Italian cuisine like before pasta and tomatoes? What triggered the Italian appetite to change? Such questions allow us to examine what culinary choices reveal about today's Italy. 3 hrs. sem.
Terms Taught
Fall 2020
Requirements
CW, EUR, HIS
Course Description
Science and Democracy
The scientific method has been heralded as inherently democratic, based as it is on observation rather than authority. Yet the relationship between science and democracy is much more complex, with scientists carrying authority based on their specialized knowledge. In this seminar we will explore the challenges of integrating science and democracy, investigating how science can be used to serve democratic goals and where there are tensions. We will consider such questions as whether or not the commercialization of science makes it difficult to serve the needs of a diverse society well, whether or not it is important to have diverse representation within scientific communities in order to produce objective knowledge, and what the appropriate role of scientific experts might be in developing sound public policy on topics such as climate change, health policy, medical research, and food safety. 3 hrs. sem.
Terms Taught
Fall 2019
Requirements
CW, PHL
Course Description
Playing Dead: Feminist Readings of TV Crime Drama
Our television screens are populated with crime dramas, some focusing on the independent investigator, others on the police, and still others on the technicians who help secure evidence. In this course we will explore the cultural beliefs and biases implicit in these shows. Using a feminist lens, we will explore the grammar of this genre in terms of race, class, gender, and sexuality. Who gets defined as the criminal, who the victim, and why? What makes crime dramas pleasurable, and why do we watch them even when they are formulaic? How have they changed over time? 3 hrs. sem.
Terms Taught
Fall 2020
Requirements
AMR, CW
Whether an FYS is taught by a musician, a biologist, or a historian, the learning outcomes are the same. We expect that new students will find many upcoming seminars appealing, and we will assign new students to one seminar among several that they indicate are intellectually intriguing to them.
Complete Course Listings
Courses offered in the past four years. Courses offered currently are as noted.