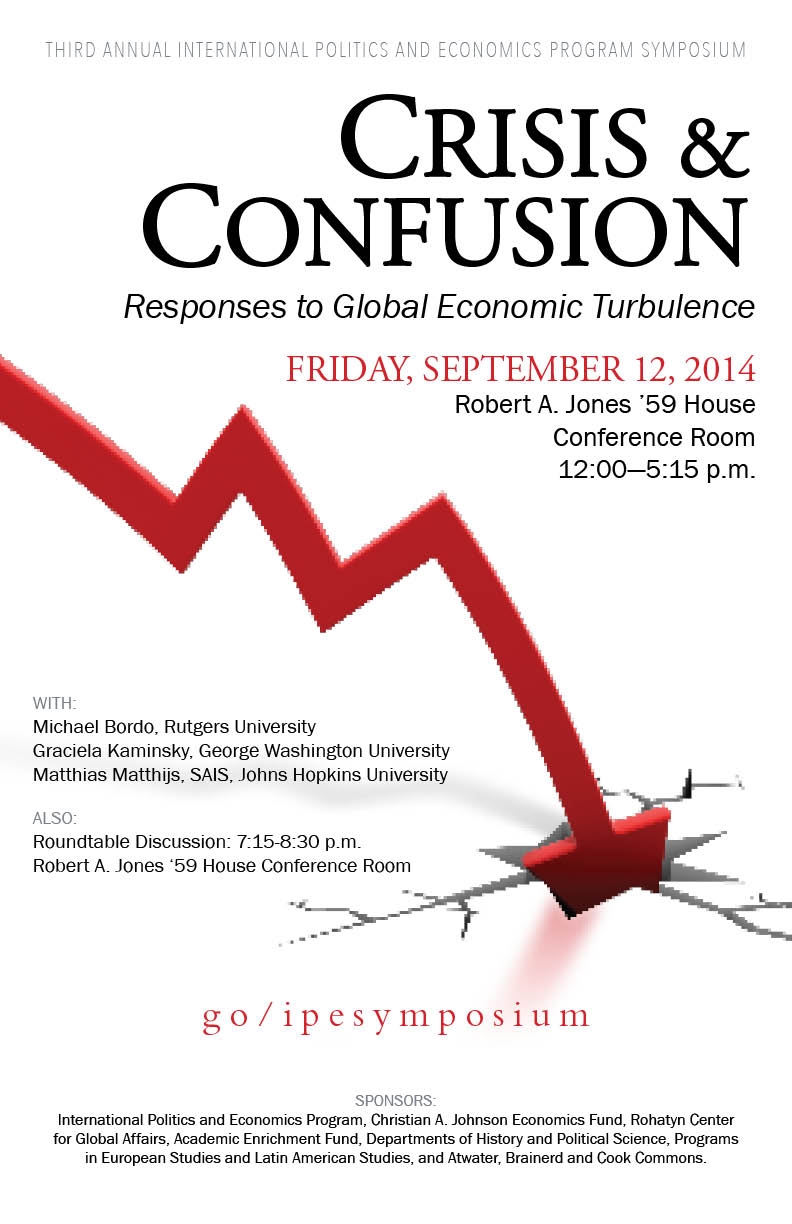 ---
2014 Symposium
Third Annual International Politics and Economics Symposium
Crisis and Confusion: Responses to Global Economic Turbulence
Friday, September 12, 2014
Robert A. Jones '59 House Conference Room
 
Economic crises are recurring features of the global economy. Incidents may be spread across decades or continents, but they share many characteristics. Often, economic crises cause social and political upheaval. In this symposium, we examine a range of economic crises, delve into their causes and consequences, and discuss optimal policies for dealing with their aftermath.
Schedule
12:00-5:15 PM Three Panel Discussions
Robert A. Jones 59' House Conference Room
12:00-12:15 PM
Welcome and Opening Remarks by Allison Stanger
Director of International Politics and Economics
12:15-1:45 PM Panel One: Is the Crisis of 2007-2008 Unusual?  An Historical Perspective by Michael Bordo
Board of Governors Professor of Economics, Rutgers University
Moderator: Leticia Arroyo Abad, Economics
Student Chair: Forest Jarvis '15
2:00-3:30 PM Panel Two: Sovereign Crises in Latin America by Graciela Kaminsky
Professor of Economics and International Affairs, George Washington University
Moderator: Racha Moussa, Economics
Student Chair:  Josh Kruskal '15
 
3:45-5:15 PM Panel Three: Do Washington and Berlin Handle Economic Meltdowns Differently? Ideas and Leadership during Times of Crisis by Matthias Matthijs
Assistant Professor of International Political Economy, John Hopkins School of Advanced International Studies
Moderator: Jeffrey Cason, Political Science
Student Chair: Sanela Smaka '15
7:15-8:30 PM Roundtable Discussion
Robert A. Jones '59 House Conference Room
Michael Bordo, Graciela Kaminsky, Matthias Matthijs
Chair: Allison Stanger
 
Sponsors
International Politics and Economics Program
C.A. Johnson Economics Fund
Rohatyn Center for Global Affairs
Academic Enrichment Fund
The Departments of History and Political Science
The Programs in European Studies and
Latin American Studies
Atwater Commons
Brainerd Commons
Cook Commons