Career Paths
There are great variety of careers that you can pursue with a B.A. in Neuroscience.
Many students begin working directly after receiving their B.A.s, for instance in careers such as being a research technician in a lab, working in industry (e.g. pharmaceuticals), becoming a STEM teacher in a K-12 setting, science communication and journalism, and science advocacy and policy.
Some students may be interested in pursuing further study in Neuroscience in either an M.A. or a Ph.D. program, which can, in addition to the above routes, open doors to further research lab positions and positions as a faculty member at a college or university, as well as careers in government health and regulatory agencies (e.g. NIH, FDA, CDC), and law (e.g. patent law).
Some students may go on and pursue a medical degree or a degree in public health as well.
Where are you now? Let us know.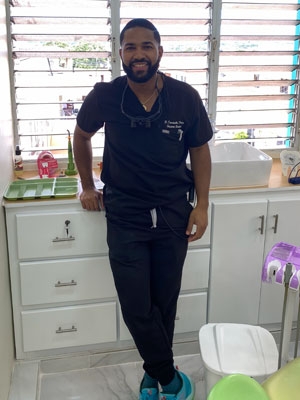 Bryan Caraballo-Perez '18 
Bryan is currently a third-year student at Columbia University's College of Dental Medicine. At Columbia, Bryan serves as the vice president of the Hispanic Student Dental Association (HSDA) and the class representative of the Student National Dental Association (SNDA). He is also involved with the NYC Urban Ambassadors, a DOE initiative that partners up with public high schools to provide mentorship and leadership training to historically underserved young men. After receiving his D.D.S., Bryan plans to enroll in medical school to pursue further training in oral and maxillofacial surgery.
A Posse Scholar, Bryan arrived at Middlebury knowing that he wanted to pursue a career in dentistry, and the summer after his sophomore year, he was selected to participate in the Summer Medical and Dental Education Program (SMDEP) at Columbia University. The Spring of his junior year he studied abroad in Madrid, Spain and says that this was the best time of his life. He wishes he would have done the entire year abroad.
"The neuroscience major allowed me to find the ideal school-life balance every Middkid wants," Bryan reflects. He felt as though the curriculum was constantly challenging his problem solving and critical thinking skills, but never to unhealthy stress levels. While completing a major in neuroscience, he was able to pursue other interests such as hosting a WRMC radio show and playing club rugby.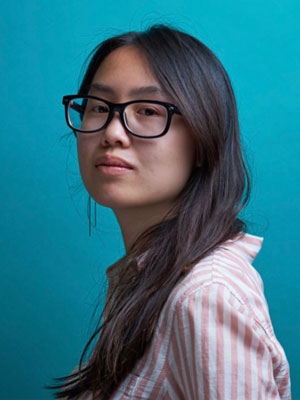 Jenny Do '18
Jenny is currently a 2nd year genetic counseling student at the University of Texas Health Science Center in Houston, TX (link). Here, she rotates in the largest medical center in the world and counsels patients on a variety of unique genetic indications. Most recently she finished a 5-week rotation in Texas Children's Hospital's metabolic diseases clinic. Upon graduation, she hopes to continue pursuing her interest in pediatric genetics with a focus on critical NICU consult cases.
Upon graduating from Middlebury in 2018, Jenny spent 2 years as a post-baccelaureate IRTA fellow (link) at the National Human Genome Research Institute. As part of Ellen Sidransky's laboratory researching Gaucher disease, she performed behavioral studies on a mouse model of Gaucher-associated Parkinson disease, as well as wet lab duties sequencing patients. On the post-baccelaurate program, Jenny says, "This program is a valuable stepping stone for gaining research experience and communicating science effectively. The responsibilities, resources, and patients I encountered all contributed to an overall preparedness for graduate school."
At Middlebury, Jenny majored in NSCI with a minor in Japanese. Her senior honors thesis in Clarissa Parker's lab was a pilot study investigating the utility of a genome-wide association study (GWAS) on amphetamine-induced withdrawal in mice. Reflecting on her time at Middlebury, Jenny says, "The NSCI program here was tight-knit and allowed me to take on many responsibilities that being in a larger university might have precluded. Doing a thesis here allowed greater insight into the research process and critical thinking skills that made me a competitive applicant.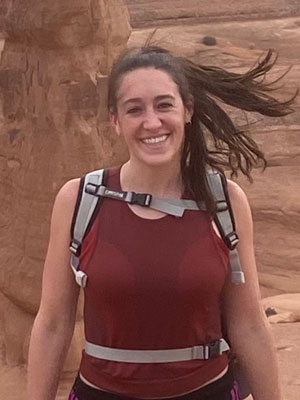 Caroline Jaschke '18
Caroline is currently a law student at Harvard Law School. At Harvard, she is a board member of the Environmental Law Society, has written for the Environmental Law Review, and leads an environmental justice team researching disparities in access to funding for water infrastructure projects in Mississippi's Delta region. She spent the summer after her first year of law school interning in the Environmental Protection Division of the Massachusetts Attorney General's Office. Following her second year of law school, she will spend part of her summer with a small environmental law firm based in Seattle and part of her summer with the Environmental Protection Agency in their Denver office.
At Middlebury, Caroline double majored in English and neuroscience. She used her senior thesis to bring together her two majors by writing about the ways in which Shakespeare and his characters cope with the recognition of their own mortality. She intertwined this with various psychology and neuroscience studies exploring this same concept. After Middlebury, Caroline spent two years working as a clinical research coordinator at Dana-Farber Cancer Institute. In this role, Caroline worked on clinical trials for multiple myeloma, helping to coordinate between doctors, nurses, and pharmaceutical companies and maintain proper documentation of the trials. From there, she made the pivot to law school and environmental law!
Caroline finds that her neuroscience background taught her how to sort through, comprehend, and then rearticulate complex, technical material - a skill that comes in handy for environmental law. Her science/healthcare background has also made her especially interested in the overlap between health and environment.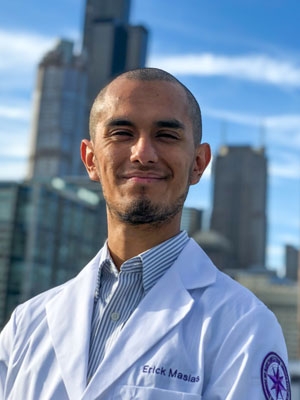 Erick Masias '18
Erick is currently a medical student at Northwestern University Feinberg School of medicine where he is the co-President of their Latino Medical School Association (LMSA) chapter and conducts community-based research. His research focus is in expanding professional mental health access to communities of color, particularly in boys and young men. His career goal after receiving his M.D. is to contribute to the reduction of health disparities in his hometown of Chicago.
At Middlebury, Erick completed a senior honors thesis in Professor Clarissa Parker's behavioral genetics lab. His project dealt with identifying the genetic underpinnings of alcohol use disorders (AUDs). He found working on his thesis to be very valuable: "It was the first time I was really undertaking self-directed learning to contribute novel findings to the scientific community." The research experiences he had in the lab were a huge asset in applying to research jobs for his gap year, which he ultimately did at a Harvard Medical School Lab in the Brigham and Women's Hospital in Boston. "There's no way I would have gotten the job and excelled early on without my research experience at Midd." While his research focus shifted upon arrival to medical school, he still finds parallels in the patience and dedication it takes to carry out a research project.
Erick found that in addition to his thesis work, he really appreciated the mentorship that the Neuroscience Program faculty provided support and guidance when seeking out opportunities after graduating. The relationships he made with his professors are what he values most when looking back at his Middlebury experience: "I was really fortunate to have professors that I keep up with regularly and will serve as life-long mentors!" 
Beemnet Amdemicael '18
Beemnet is currently a medical student at University of California San Diego School of Medicine. At UCSD, he serves as the treasurer of the Student National Medical Association (SNMA) and is a part of the Global Health Academic Concentration program. Through his selection for this program, Beemnet will travel to Quito, Ecuador in the Summer of 2022, where he will help with data collection and focus on developing a scientific article focusing on organophosphate mediated adverse effects of pesticides on neurobehavior in adolescence.
Beemnet was able to explore his passion for global health during his time at Middlebury. During the summer following his sophomore year, he secured funding through the Middlebury Center for Careers and Internships that allowed him to shadow Dr. Rick Hodes in Ethiopia. This experience was instrumental in his decision to pursue a career in global medicine. Furthermore, as a Spanish major, Beemnet had the incredible experience of studying at the Universidad Autónoma de Madrid for a semester.
Following graduation, Beemnet moved to New York City, where he worked as a clinical research coordinator at the Hospital for Special Surgery, helping conduct clinical trials focusing primarily on Scleroderma, Vasculitis and Myositis. Having spent three years at this position, Beemnet learned invaluable clinical and scientific skills that he uses daily as a medical student.
Beemnet is grateful for the rigorous neuroscience courses that helped shape his study strategies from his undergraduate studies, to MCAT prep and medical school. Being exposed to a wealth of information at such a fast pace, allowed him to learn how to focus on salient points, a valuable skill that is useful not just in academia, but all facets of life.