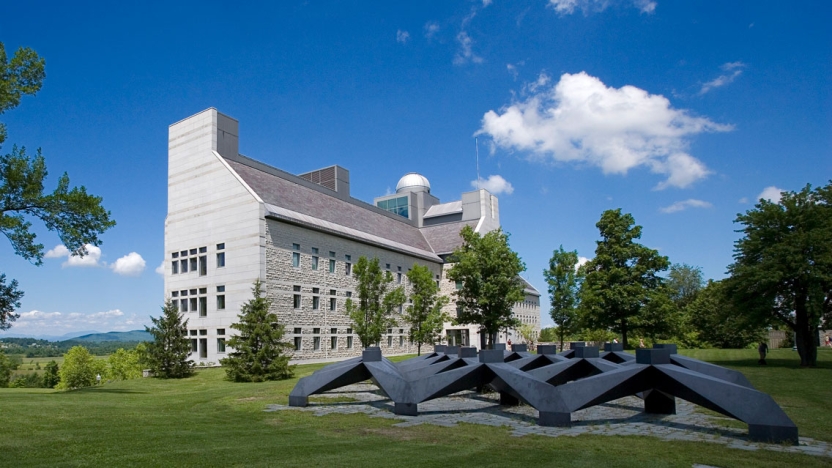 The Physics Department is located in McCardell Bicentennial Hall, an award-winning facility that is home to all science departments, the Mittelman Observatory, the science library, and the Sciences Technical Support Services.
We maintain state-of-the-art instrumentation used for both teaching and research. With study spaces that are functional and inviting, and with intense student-faculty interaction, we create an environment in which students can thrive individually and collectively.
Study Room
The facilities in the Physics Department include a study room for physics majors. Computers and printers are available for analyzing data or downloading and printing documents.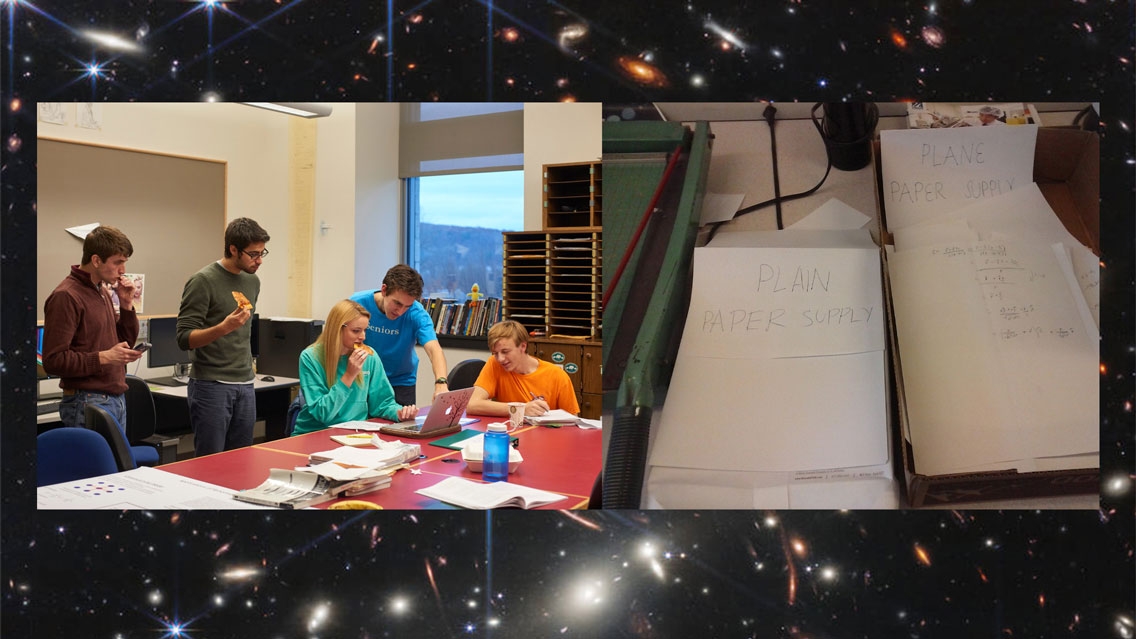 White boards and work spaces enable students to do what physicists do best: use mathematics as a tool for making sense of the universe. Less tangible, but equally important, the room helps build a sense of community as a place where faculty, staff, and students meet to share tea, cookies, and conversation each afternoon. A special thanks to our alums for creating an endowed fund to keep the cookies and tea coming in perpetuity!
Armstrong Library
Located on the main floor of Bicentennial Hall, Armstrong Library provides full services, including a research librarian and circulation staff.
Sciences Technical Support Services
All science departments at Middlebury College are supported by Sciences Technical Support Services, members of whom provide expertise in electronics, in-house machining, welding, and maintenance of advanced instrumentation.
Mittelman Observatory
Middlebury has the largest and best-equipped observatory of any institution in the state of Vermont. Located atop McCardell Bicentennial Hall, it consists of a dome housing a 24-inch telescope, a control room, and an observation deck equipped with three smaller telescopes.
Visit the Mittelman Observatory website for detailed information about the telescopes.
Instrumentation and Labs
The best way to learn physics is by doing physics. That means working on conceptually and mathematically challenging problems in each of our courses. It also means having access to sophisticated equipment in order to practice the skills of experimental physicists. The Physics Department maintains state-of-the-art equipment for experiments in optical spectroscopy, gamma-ray spectroscopy, low-temperature physics, condensed-matter physics, non-linear dynamics, and observational astronomy. 
Advanced Lab
Examples of experimental setups from our advanced lab.
Electronics Lab
Students enrolled in our electronics course maintain their own work spaces throughout the term, allowing them to tinker with projects all week long.
Research Lab
Each faculty member maintains a research space, either for theoretical or experimental work. A few examples of equipment from our research labs are shown here.