Program alumni are the best resources for students interested in going abroad, and they are available to answer your questions. If you would like to talk to a recent student about their experience in Chile, get in touch with the advisor, Alessandra Capossela.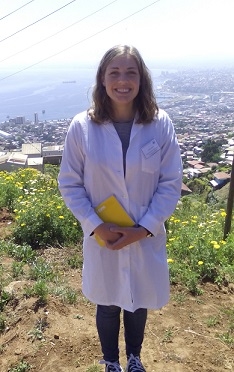 Kelly Kuehl, St.Norbert College, Valparaíso
Valparaíso is a remarkable city and I loved getting to know the people and culture of this colorful place. One of the most valuable ways that I was able to do so was through my internship at a community health clinic, CESFAM Marcelo Mena. This was a dynamic job with each day bringing new tasks and challenges. I was able to shadow physicians and nurses, plan and attend public health programs, and, my personal favorite, assist healthcare providers on home visits throughout the city. For my final project, I helped to coordinate a public health program to educate the public about the rights of immigrants to healthcare. This put both my language and organizing abilities to the test, and it gave me an opportunity to grow as a leader and deepen my understanding of the inequalities related to immigrant health. This was a formative experience, not only to my time abroad, but also as it applies to my life and passions in the United States.
I loved my internship, not only because it gave me hands on medical experience, but because it allowed me to form a deeper connection with the greater community. I was able to get out of the classroom and talk to people from all walks of life. I worked with people of all ages and backgrounds, held hands and shared smiles with countless community members that I would have never had the opportunity to meet otherwise. In this way, I got to know Valparaíso, the real Valparaíso, not as a city on postcard but rather as a community with flaws and struggles but also a strong and vibrant people. I got to know Valpo not only as study abroad student, but as active member of the community.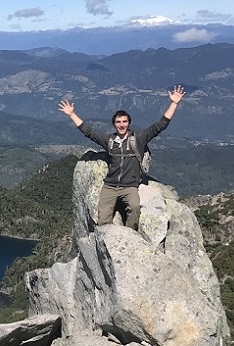 Mike Nunziante, Middlebury College, Santiago and Valdivia
When I arrived to Santiago in the fall to study music's role in social/community activism through the Human Rights program, I had little idea of the rewarding work and unexpected adventures that were to come. What was supposed to be one semester in Santiago extended into a year-long, profoundly formative experience that landed me at a sustainably-built music school in Rapa Nui (Easter Island) for the summer and then at the Universidad Austral de Chile in Valdivia for my second semester.
I am extraordinarily grateful for the opportunity to have studied in different parts of the country. In Santiago, I gained a holistic and multidimensional understanding of the history of Human Rights in Chile through independent research, community fieldwork in some of the city's marginalized neighborhoods, and discussion-based university courses at the Universidad Alberto Hurtado. I felt as though Santiago itself was my classroom as I traveled to different parts of the city to conduct interviews with artists and musicologists, attended concerts and museums for my research, and interned with Chilean organizations and the government as they worked to integrate communities with increasingly diverse migrant populations.
Moving to Valdivia for my second semester allowed me to immerse myself in southern Chilean culture. From my first bike ride through the small, relaxed city, I was captured by its lush greenery and winding rivers. My university coursework enriched my perspective about recent economic, historical, and cultural dynamics in Latin America, and I integrated into university life outside of the classroom by participating in on-campus music and dance workshops. I loved the "college-town" vibe of parts of the rainy city, and was fortunate to travel to many of southern Chile's breath-taking state parks and nature reserves to which Valdivia lays extremely close.
I believe, in full confidence, that studying in two different parts of Chile was one of the most impactful decisions I've made in my recent life. The opportunity to experience both bustling city life in Santiago and the slower pace of Valdivia made me appreciate the different colors of Chile and form profound relationships along the way. I extend a huge thank you to the Chilean program staff for their unwavering support during this journey. I appreciated every moment of it – all of the straightaways and the curves – and hope to return very soon!
Natalie Figueroa, Middlebury College, Human Rights Track in Santiago
The bustling rhythm captivated me from the second I stepped foot onto the streets of Santiago. The newly-inaugurated Human Rights track gave me the perfect balance of the Chilean university experience through Universidad Alberto Hurtado and practical experience through my internship and independent project. In one instance I would be discussing U.S. - Latin American relations with Chilean classmates, and in another I would be alongside government officials reviewing intercultural initiatives to integrate the recent wave of migrants.
Every day provided an opportunity to dive deeper and deeper into the history and culture of the city. The locals that I have had the pleasure of meeting welcomed me with open arms, eager to show me the Santiago life. We would be lost in a trance in the vast information from museums such as the Museum of Memory and Human Rights and the Chilean Museum of Pre-Columbian Art, and then we would be eating empanadas and with a café helado immediately after. The track fit me perfectly with an ample of facets to create a unique and formative experience. I shaped these opportunities to fit my needs while encompassing the larger theme of human rights, a theme in which I plan to continue working with as a career. The hospitality and love I have been so lucky to receive will never be forgotten, and I look forward to the day I (hopefully) can once again return.
Olivia Howell, Cornell University, Pre-Med Track in Viña del Mar
Through Middlebury School in Chile, I had the opportunity to enroll as an exchange student in the nursing school at the Universidad de Andrés Bello. As a pre-health student interested in global health and medicine, I can't imagine a more enriching experience than to be thrown into a real Chilean nursing curriculum where, right alongside my nursing classmates, I learned how to promote healthy lifestyles, prevent chronic illnesses, and perform basic medical procedures. For my clinical rotations, I was placed in a nursing home with scarce resources, learning to care for older adults with diminishing physical and mental capacities and minimal social support. I also worked in a public health clinic where I realized home visits in the hills of Valparaíso to care for my patient who had suffered the amputation of both his legs. My immersion in the world of Chilean public health allowed me not only to form really close relationships with my classmates, professors, and patients, but also to gain hands-on experience learning from and working in health settings that service patients from all socioeconomic backgrounds. For that reason, my study abroad experience through Middlebury was not just a trip to another country, but rather an opportunity to solidify my fluidity in Spanish, develop real relationships with Chilean people and culture, explore my academic interests more deeply and from a different perspective, and really create a life for myself in a new place.