Museum Studies and Art Theory Track
Students from Middlebury School in Puerto Rico studying at the Universidad de Puerto Rico, Recinto de Mayagüez (UPRM) have the option of enrolling in a Museum Studies and Art Theory Track. This interdisciplinary special track is comprised of two main components: direct-enrollment courses at the university and an independent research project coordinated by the School in Puerto Rico and taught by a local professor, or an academic internship in the field. This track will give students the opportunity to engage with the topic of Museum Studies in Puerto Rico in an interdisciplinary manner.
Museum Studies helps us understand the role of museums in society and our communities and the tasks that need to be performed for the conservation of historic, scientific, and cultural collections. In conjunction with courses about Art History and Theory from Puerto Rico and the Caribbean, museum visits, and internships, students will be able to experience Puerto Rican culture and apply their knowledge to the development of museums and cultural institutions in other contexts. The Museum Studies and Art Theory track at UPRM provides students with an opportunity to approach global art and museum theory from a Latin American and Caribbean point of departure.
Students not interested in enrolling in a track may opt to participate in our standard, direct-enrollment program.
View the gallery in a new window.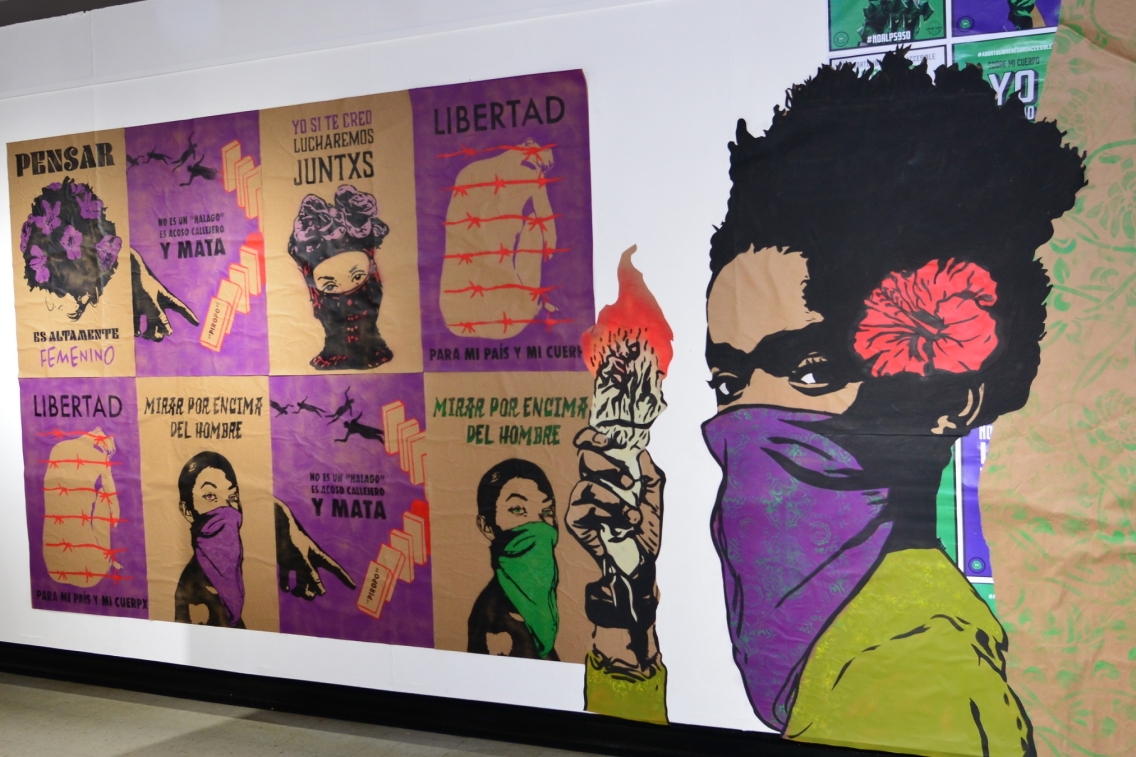 Gallery
Photographs from the BEMBA PR street art collective, taken by Carlos Díaz-Piferrer/UPRM Press.
The exhibit was called LATA│PAPEL│PEGA. Learn more here.
University Courses
Students will have the opportunity to take three courses alongside Puerto Rican students at the Universidad de Puerto Rico, Recinto de Mayagüez.  Some examples of courses that students can take include:
Introduction to Museum Studies
Fundamentals of Art Theory
History of Art in Puerto Rico
Art Appreciation
Introduction to Latin American Art
Modern and Contemporary Art in Latin America
Art Criticism 
Please note, some of the courses offered vary each semester.
Students will also take the Middlebury core course, Writing for Linguistic and Cultural Competence.
Internships
Students may have the option to work in institutions in Mayagüez under the supervision of Dr. Emilia Quiñones Otal, either at the Galería de Arte del RUM or at the Museo de Arte UPRM (MUSA). They will involve themselves in issues related to Museum and Art Theory Studies.
Research Project or Independent Study
Students may have the option to carry out a research project or independent study on a specific topic related to Museum Studies and/or Theory of Art with the support of a supervising professor who specializes in that field of study.
Students interested in interning or on a research project or independent study must verify that their home institutions will accept academic credit for the specific experience. General internship and research application procedures and deadlines will apply.